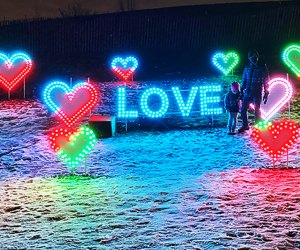 Best Things To Do in Chicago in February with Kids: Black History Month, Winter Games, and Drive-Ins
As Chicago begins to emerge from its COVID coma, outdoor activities still reign (or snow) supreme. Forest preserves and parks are offering unique story walks centered on Groundhog Day, Valentine's Day, and Black History Month. And check out Chinatown's Lunar New Year Parade, which will be converted to lion dancers visiting local businesses if the city can't close down streets this year. Museums are beginning to reopen safely (hallelujah!) giving families a chance to see the exhibits they may have missed in 2020 (including Bisa Butler Portraits at the Art Institute) and hosting fun events like Victorian Valentine making at the DuPage County Historical Museum or VIP private time at Kohl Children's Museum.
Look ahead to summer with Chi-Town Movies' Bring on Summer drive-in features, but don't forget to take part in all the traditional upper Midwest winter activities like sledding, tubing, skiing, and snowboarding. This winter, Chicagoans can even dine outside. Events are beginning to pop up again in Chicago! So stay safe and enjoy the winter as much as possible, as a better and busier 2021 begins to unfold.
While we are trying to promote safer activities that occur outdoors or with social distancing guidelines in place, please keep your family and others safe by always wearing a mask and maintaining appropriate distance. If you arrive at an event that appears too crowded, try using the "nearby" search feature on our event calendar to find something else to do.