Best of February: 20+ Things to Do in Chicago with Kids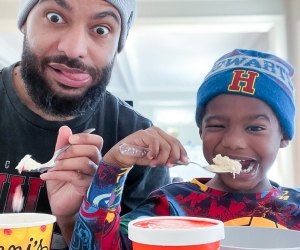 1/29/23
- By
Maureen Wilkey
Between Valentine's Day, Groundhog Day, and Black History Month, there are tons of fun things to do with kids in Chicago this February 2023. Here's a list of the best.
February in Chicago can seem like a drag. But, there are plenty of fun minor holidays with celebrations and lots of opportunities for families to create excitement and stave off boredom. Start the month off with Groundhog Day—you can celebrate by seeing where the movie was filmed in far northwest suburban Woodstock. The first Saturday in February is National Eat Ice Cream for Breakfast Day, and Chicago families can do just that at Jeni's stores in the city and suburbs. Cherish love for your kids with a Valentine's Day tea party in Logan Square, skate date in Mundelein, or movie and dinner at Indian Boundary Park. Black History Month is also punctuated by unique ways to celebrate African-American culture, like taking a tour of Bronzeville or learning more about the history of the month at Chicago History Museum.
Don't forget to take part in all the traditional upper Midwest winter activities like sledding, tubing, skiing, and snowboarding. Check out one of our favorite things to do indoors on a cold or snowy day, or leave the city entirely with one of our winter day trips from Chicago. Whatever you choose to do, you can make February a fan favorite.