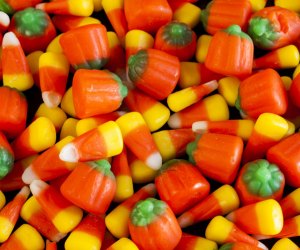 Where to Donate Halloween Candy in the Philly Area
It's that time of year again—the sugary treats are flowing freely from trick-or-treating, parties, and parades, and parents are either hiding their kids' Halloween haul or eating it themselves. There must be a better way, right? Never fear—Mommy Poppins has the solution. Whether you're in the city or the suburbs, you can find local businesses that'll turn sugar highs into good deeds.
Operation Gratitude
Operation Gratitude sends over 200,000 care packages to veterans, first responders, new recruits, wounded heroes, their caregivers, and other U.S. service members deployed overseas and their families. Put simply, this organization is built on spreading joy to those who serve our country. Families can put together care packages (including Halloween treats) and send them directly to Operation Gratitude.
Halloween Candy Buy Back
Halloween Candy Buy Backs are held at local businesses—typically (but not exclusively) dentist's offices. With the goal of removing excess Halloween candy from kids while supporting our troops, Halloween Candy Buy Back programs across the area donate the candy to the Soldiers' Angels organization. Sometimes kids receive a toothbrush in return! Looking for a participating business in your neighborhood? Just pop in your zip code and find the most convenient location. Insider tip: Call ahead to make sure the local business is accepting donations on the day you'd like to drop them off, and double-check for donation deadlines.
Looking for specific ideas in your area? Here are a few suggestions for donations—many of the following organizations also donate to our troops and veterans, but there are some special incentives when you drop off treats. Also, think about keeping it super-local by giving to neighborhood soup kitchens, shelters, food pantries, and retirement homes. Many take donations of unopened candy for residents and guests, and it's a great opportunity to introduce your kids to community service and stewardship.
Briglia Dental Group - West Chester, PA
Briglia Dental Group is hosting its 6th annual Halloween Candy Buy Back Program for children 2-14 in the West Chester area. Buy back days are November 1-3, and children will receive a dollar for every pound of candy donated (up to 5 pounds).
North Wales Library - North Wales, PA
Dr. Ronald Klein and his wife Sharon are supporting the Library's Halloween Candy Buy Back Program. Kids' candy will be weighed, and for every pound of candy that "Tips the Scales," Dr. Klein and his wife Sharon will donate $10 to the library! Buy back begins on November 1.
BounceU – Horsham, PA
Bring two pounds of Halloween candy into BounceU and receive a free Bounce Pass. Plus, all candy will be donated to our troops! Donations begin on November 1.
Photo provided by the author.