New Water Feature Playground in Union City, NJ A Big Splash With Kids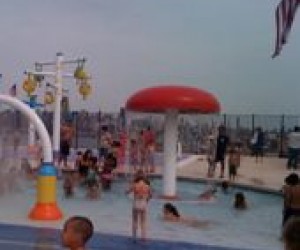 If you are looking for a free and fun place to take to the water this summer, look no further than Union City, NJ. Not only does the city boast one of New Jersey's best sprinkler parks, the newly opened Firefighter's Memorial Park is a dream come true for kids of all ages looking to keep cool during the hot summer days.

Long-overdue editor's note: Fireman's Memorial Park is only for Union City residents. You must prove your residency with photo ID and a utility bill.
Firefighter's Memorial Park (9th Street and Palisades Avenue)

This new park has two sections. First, a large Olympic-sized pool for the big kids. The pool has handicap access and goes only to 4'6" - perfect for swimming, splashing, and water handstands. The pool is open from 11am to 8pm Monday to Sunday, closely supervised by multiple lifeguards, and has rules to really let big kids enjoy the pool (no babies in diapers allowed in the big pool).

The little kids are not left out at Firefighter's Memorial Park! The second half of the park is just for kids 48" and under. There is a baby pool with a very gradual incline that goes to 1'6" deep. The deep side is flanked by a step with a triple row of sprinklers. The center of the pool is decorated with a huge mushroom that spews water and an arch that also sprays water on those who walk under it. The baby pool isn't the only feature for little kids. There is also a small sprinkler park. The firefighter theme is apparent here: there is a firefighter toy with a hose that kids can stand behind and control force and direction of the spray. The other fabulous feature are the overhead buckets, fish-themed, that dump water on those standing beneath them. To top if off, there is a spectacular view over Hoboken and the Hudson River from the sprinkler section of the park.

Not one detail was forgotten with this new park. There are plenty of restrooms and even a family restroom off the sprinkler park. While no food is allowed in the park, there is a pavilion right next door where you can relax and snack. The park is officially open from 9am to 9pm from April to October and open to all for free.


Union City Sprinkler Park (33rd Street and New York Avenue)

This is perhaps the best and biggest sprinkler park in New Jersey! The park has three sections. The best feature is the gated in baby pool (bigger than the one at Firefighter's Memorial Park). The baby pool has several spray and sprinkler features and goes to 1'6" deep, but is restricted to kids 48" and under with parental supervision. There are life guards to keep an extra eye on the kids. For older kids, there is a huge sprinkler section. There are sprinklers that spray up, spray down, arches that spray water, and even a sprinkler that snakes up and down out of the grounds spraying in every direction. Finally, this park has a big playground area. There are swings, jungle gyms with bars and slides for both big and little kids, a firetruck and police car themed jungle gym, and even a bucketball game area in the back of the park. There is one small bathroom on location. The pool and park hours are the same - 11am to 8pm for the pool, 9am to 9pm for the park.

Bonus Points!

What really gives both these parks bonus points is the fact that they are meticulously clean and safe. There is no moldy surface at the sprinkler park and you would never see burst water balloons, empty water bottles thrown around, or any other litter at these parks. Rules such as no food allowed are strictly enforced. The baby pool is often emptied out in the afternoon so that they can "add extra chlorine." Both parks are also well attended by life-guards and park staff that make sure that kids are safe that that there is no monkeying around. The staff makes sure that the pool areas don't get overcrowded. During busy hours, they will clear out the pool area (both parks) every 30 minutes and let a new group of people in so everybody gets a chance to splash around in the water. So put on your bathing suit (even babies must wear a suit to get into to the pool so don't forget!), grab your towel, and enjoy the water in Union City!
For more great summer fun check out our Summer Guide.