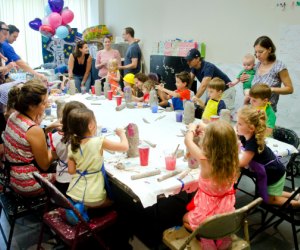 Fun Birthday Parties at New Jersey Museums
Touchy Feely stuff
Garden State Discovery Museum — Cherry Hill
This charming museum will satisfy your animal lover, scientist, and adventurer. With birthday parties ranging from princesses to pirates, cooking, dinosaurs and more, there's a theme for everyone. There's even a slumber party! Goodie bags can be purchased and food can be arranged through the on-site caterer.
Imagine That!!! — Florham Park
This hands-on museum appeals to preschool and young children with many opportunities for kids to pretend, play and engage their imaginations. There are seemingly endless options for birthday parties at Imagine That!!! with everything from a party spent exploring the museum to puppet shows, ice cream parties and themes that include arts and crafts, dance, pirates, race-cars and more. Imagine That!!! also specializes in parties for 1-year olds.
Conductor, Miner, Soldier, Cake
NJ Museum of Transportation — Wall Township
I understand there are some kids that enjoy trains (gasp!), so a party in a 100-year old train station, complete with a tour, a conductor or engineer's hat, train ride and a personalized ticket, would probably be pretty phenomenal. For up to 20 children.
Franklin Mineral Museum — Franklin
If it's digging and rocks your kid loves than this delightful museum is just the place. 'Mine' in one of three collecting areas, visit the fluorescent room and examine the glowing minerals, visit a full-size mine replica, examine Native American stone tools and admire the petrified wood display.
NJ Naval Museum — Hackensack
Throw a party at the New Jersey Naval Museum and let your little one be 'Captain for the Day.' The party includes a Captain's hat for the guest of honor, a certificate for the honorary Captain, a USS LING souvenir for each guest, birthday cake, punch and all paper goods, as well as a guided tour of the USS LING, a WWII era, 312-foot long submarine. This fascinating museum also includes torpedoes, a diving suit, a SEAL delivery vehicle, Vietnam-era patrol boats and loads of other interesting memorabilia.
Party Like an Art Star
Montclair Art Museum (MAM) — Montclair
The Yard School of Art at MAM offers birthday parties the include a tour of the museum for inspiration, followed by an art project lead by one of MAM's art teachers, or a chance to experiment with ceramics several different ways including air dry clay, kiln fired clay, and even wheel-throwing and kiln-fused glass. The party is two hours, with the first hour for creating and the second for partying. Food and decorations provided by you. Maximum 20 children. Ceramics and glass-fusing parties have special pricing. Note: Party hosts must be members, or non-members can bring the party to you with the MAM Art Truck.
Hunterdon Art Museum: Center for Art, Craft & Design — Clinton
This contemporary art and design museum, which is housed in an old stone mill, is a great place to take your burgeoning artist for a day of ceramics, jewelry or printmaking, tie dye, glass fusing, or Lego robotics. An art instructor will run the party, which will be held in two studios, one for the party and one for the creating. The museum will also provide tablecloths, balloons, and a birthday banner. You are responsible for food and other decorations.
Center for Contemporary Art — Bedminster
New Jersey keeps on giving when it comes to birthday parties that let your young artist and his or her friends express their inner Frida and Diego. At The Center kids can choose from seven creative and inspiring themes for their party that include ceramics, painting on canvas, jewelry making, printmaking, and artwork inspired by Monet, Van Gogh and O'Keefe. The classes are taught by an art teacher and an aide, and the center provides tablecloths, and balloons; you provide cake, food and additional decorations.
Science and Critters
Liberty Science Center — Jersey City
The Liberty Science Center offers a full-service bash that includes all day admission to the exhibit floors for all guests, birthday cake and refreshments, paper goods, downloadable invitations and thank you cards. A crown, sticker and goodie bag go to the birthday boy or girl, and a Liberty Science Center pencil for each guest. The party will begin with an hour of noshing and partying in a semi-private room. Various packages let you add on crafts and more goodies, including making your own crown or kaleidoscope, fossil hunting, and dissections, iMAX movies, simulator rides, and 3D movies.
Jenkinson's Aquarium — Point Pleasant
A visit to the Jenkinson's Aquarium for a birthday party is a day at the beach (literally), and a lovely way for your young marine biologists to party with the wildlife. The 90-minute party includes a one-hour guided tour, ice cream cake and drinks in the party room, party favors, invites and a special appearance by Perky the Penguin (Jenkinson's costumed mascot). Birthday boy or girl must be turning four or older.
Insectopolis: The Bugseum of New Jersey — Toms River
Don't you just love bugs? I'm a big fan of lice and mosquitoes. Amazingly, there are astonishing scientists who actually do love bugs and they are more than willing to share their passion for termites, bees, and butterflies (awww…), with your birthday boys and girls. A Bug Bash includes a tour of the museum with one of the insect handlers, followed by refreshments.
Space Farms Zoo and Museum — Sussex
This unique hybrid of zoo and museum (owned by the Spaces for 80 years — you'll find nothing intergalactic here), features everything from the largest private collection of North American mammals to a museum full of random treasures.
Top photo: Get hands on with parties at the Montclair Museum of Art. Image courtesy the museum.
This article was first published in 2012, but has since been updated.