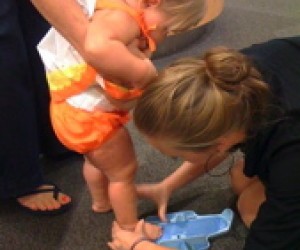 Brooklyn Kids Shoe Stores: Where to Buy Children's Shoes in NYC
[UPDATED: December 1, 2012]
As a busy mom, I do a lot of my shopping online. But when it comes to tricky things like making sure there's that ideal half-inch of space between the tip of my son's wiggling toes and the front of his shoes, I skip the websites and seek out the services of patient pros and their Brannock Devices (now you know what those foot measuring thingies are called).
Happily for Brooklyn families like mine, there are many wonderful stores in our borough that carry a wide selection of shoes for children, with staff that know how to coax squirming tots into trying them on. While you might be able to pick up a cheaper pair of sneakers, boots or sandals at a big chain store, you won't get the benefit of expert assistance and advice about which shoes truly fit. Here are some of our favorite children's shoe stores in Brooklyn, including two that just opened this year.
Shoe Market – Williamsburg
160 North 6th Street between Bedford Avenue and Berry Street
From moccasins to Tom's, this shop carries a good selection of trendy shoes for kids, and nice styles for adults, too.

A Shoe Grows in Brooklyn – Park Slope
419 Seventh Avenue between 13th and 14th Street
A recent addition to the neighborhood, this cheery store was founded by a pair of local parents and focuses on children's footwear. In addition to friendly and helpful staff, the shop features a play space and a television perpetually tuned to cartoons.

Soula – Boerum Hill & Park Slope
185 Smith Street at Warren Street
184 Fifth Avenue between Degraw and Sackett Streets
At both locations you'll find a carefully curated selection of cool, quality shoes for kids. This family-owned and operated mini chain also offers excellent customer service.

Windsor Shoes Too – Windsor Terrace
233 Prospect Park West near Windsor Place
A favorite of the families on the Park Slope Parents listserv, this shop is known for its knowledgeable staff and large selection. From sandals to slippers, dressy shoes to rain boots, my family always finds what we want here.

Lisa Polanski Shoes – Park Slope
121 Seventh Avenue between President and Carroll Streets
Enter this skinny shop and you'll see it's packed to the rafters with kids' shoes and, further in, clothing and accessories. It's our go-to spot for Converse sneakers and Salt Water sandals, and the staff has even special ordered colors and sizes for my son.

Half Pint Citizens – Dumbo
41 Washington Street at Water Street
In addition to its selection of high-end gear, toys and clothes, Half Pint features lots of footwear like Pedipeds, Simple Shoes, Morgan & Milo Mary Janes and Appaman flip-flops. It's hard to walk out of this great shop empty-handed.

DNA Footwear – Brooklyn
Multiple locations. Visit the website for info.
With outposts in Williamsburg, Park Slope, Cobble Hill, Carroll Gardens and Bensonhurst, this local chain carries an ample selection of popular kid shoes, including Vans, See Kai Run and Crocs.

Area Kicks & Cuts – Park Slope & Carroll Gardens
335 Fifth Avenue between 3rd and 4th Streets
274 Smith Street between Sackett and Degraw Streets
Popular local chain Area Kids opened its first children's shoe shop/hair salon in Park Slope. We visited and the footwear selection is excellent and includes my son's favorite, Native water shoes, plus Salt Water sandals and lots of sparkly Mary Janes. Fall-appropriate sneakers and rubber boots are already on the shelves, including Tsukihoshi, Superga and Stride Rite. A Carroll Gardens location followed soon after.

Lolli – Park Slope
169 Seventh Avenue between 1st Street and Garfield Place
This little shop carries lots of big brand-names, like Stride Rite, Pediped, Morgan & Milo and Saucony, which complement its selection of kids' clothing, accessories and toys. Lolli always seems to have the sizes my family needs and the staff is friendly. Plus we've found great end-of-season sales here.