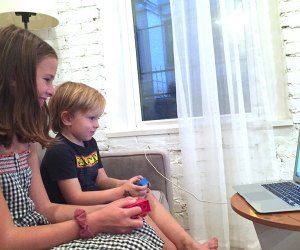 Interactive Online Theater Shows For Kids to Stream Now
With Broadway dark and bans on public gatherings still in effect, it's easy to tire of the same old streaming content. If you're craving a trip to the theater, you're in luck: The show has gone on for kids at these four theater groups who are putting on exciting, interactive online theater performances.
You'll find something for every age group, and the best part is, kids are part of the on-screen action. Some of these creative online shows are also available for private events and birthday parties.
So, next time kids beg for a little screen time, skip the family movie night, show your support for live theater, and stream one of these engaging and spirited interactive online theater shows for kids.
My kids and I recently checked out our first live online show, The Wizards of Oakwood Drive, and were pleasantly surprised by the performance's creativity. The show required a bit of parental set-up beforehand, but the effort was worth the wow factor it produced as captivating actors led my kids on a live scavenger hunt around our house with lots of twists, turns, and treats along the way.
The 45-minute production caters to kids ages 5-12, and the audience is limited to eight participants at a time who witness a pair of sibling wizards battling it out on-screen to earn the audience vote as the top wizard on Oakwood Drive.
Read on for details on how your kids can get in on this magic, plus participate in another interactive online theater performance.
RELATED: Free Things To Do Online For the November Holidays

The Wizards of Oakwood Drive tells the story of two sibling wizards in a magic spell contest. Photo courtesy of the La Jolla Playhouse
Playing Saturdays and Sundays through Saturday, November 28; Birthday parties and private performances can also be booked.
Best for ages 5-12
$25 for the first child; $5 for each additional child in the same household
Who is the best wizard on Oakwood Drive? With a little magic (and a ticket to this live Zoom show), you find the answer in your own home! The Wizards Of Oakwood Drive is a live, interactive, online performance for young audiences, which plays out live via Zoom. Tickets must be booked at least 24 hours in advance, and parents play a part in the magic, setting up the treasure hunt, which uses everyday household items before signing on.
Playing Saturdays through December 12
Best for ages 0-5
$20 per family
This inclusive theater company, a cousin to the well-known Chickenshed Theatre Company in London, presents weekly inclusive shows for the youngest theatergoers. Friendly puppets Lion Down and The Thing That Goes Blurgh! take virtual viewers on a 45-minute adventure with storytelling and plenty of song-and-dance.
RELATED: Stay-at-Home Guide: 100s of Activities For Families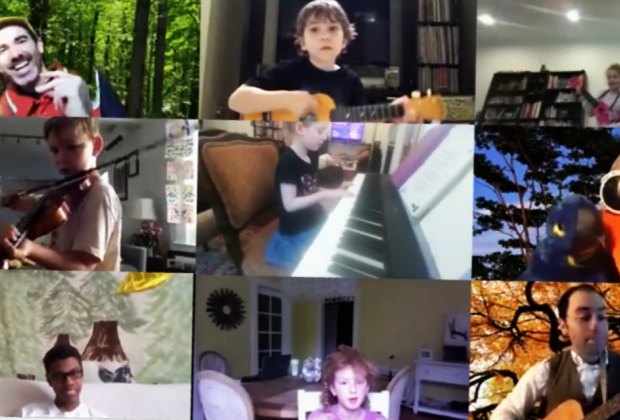 Adventure Players Live keeps children's theater playing virtually. Photo courtesy of the Adventure Players
Playing Fridays through November 20; Custom birthday parties can also be arranged.
Best for ages 5-9
$20 per family, though if you have more than three children, it's recommended you purchase an additional ticket for the best interactive experience
Adventure Players Live invites elementary-age kids into its "great, great forest" for a new adventure every week, with themes like "The Not-So-Spooky Spooky Spooky Woods" and "A Newcomer Arrives in the Great Great Forest." No matter the theme, viewers get to play games, learn new skills, and use their imagination with each performance.
RELATED: Virtual Field Trips to NYC's Coolest Kid Spots and Cultural Institutions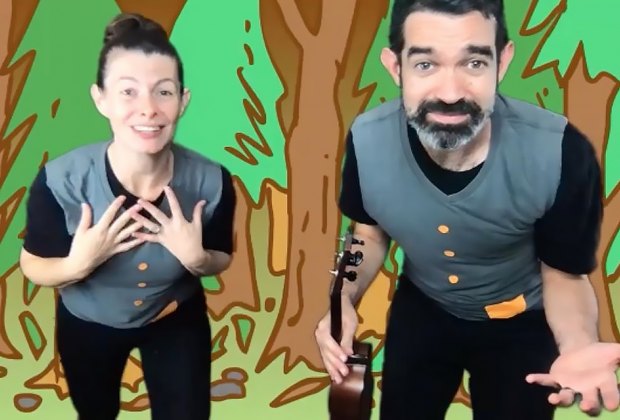 Forest of Feelings is an interactive live Zoom show that teaches young theatergoers about emotions, music, and yoga. Photo courtesy of the NYC Children's Theater
Playing Sundays through February 28, 2021
Best for ages 2-5
$20 per family
Presented by the NYC Children's Theater, Forest of Feelings is an interactive live online theater performance created by Yo Re Mi, which follows the adventures of two friends who must return a lost laugh to its faraway home, venturing through the Forest of Feelings on their way. During this interactive journey, viewers learn about emotions, perform gentle yoga, and listen to music.