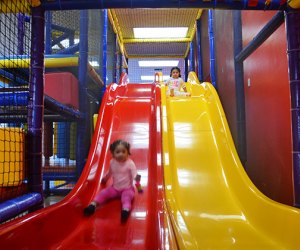 Let's Play Playhouse Reopens in Astoria After Full Makeover
One of Astoria's favorite kids' drop-in play spots just got a serious makeover—and we're smitten. Once known as Kids Playhouse, the new romping spot is now Let's Play Playhouse. While you'll still find that iconic double slide and two-story jungle gym, there are several welcome changes, including the addition of classes for babies and toddlers, new flooring, and rotating educational themes that hew to the motto: Learning through play.
After several visits, my 4-year-old and I quickly declared it our new rainy day hangout.
Queens has always boasted a number of great indoor play spaces for kids, but it seems it's trying to give Brooklyn kiddie gyms some competition lately as there's been a flurry of new openings, including Good Day Play Cafe in Bayside, Sunnyside Plays, Shastye Art and Play Space in Astoria, and a new sensory gym for children with disabilities. Read on for our review of Let's Play.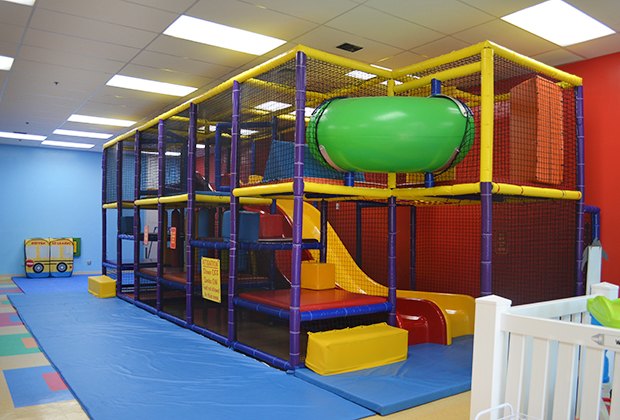 The two-tiered jungle gym maze is still a hit, but now there's new padded flooring.
Let's Play is an updated, fresher take on the same Astoria success. The best parts have remained steadfast. Let's Play is a drop-in indoor play space sporting a two-level padded jungle gym, a gated infant and toddler area, and small café with snack offerings. For $10 per participating child, your kid can run amuck for three hours. Adults are free. Please wear socks.
Open Play is offered Monday-Friday, as well as for some limited weekend hours depending on birthday parties. (Call the play space at 718-806-1288 to check weekend availability.)
RELATED: 11 Favorite Queens Baby and Toddler Classes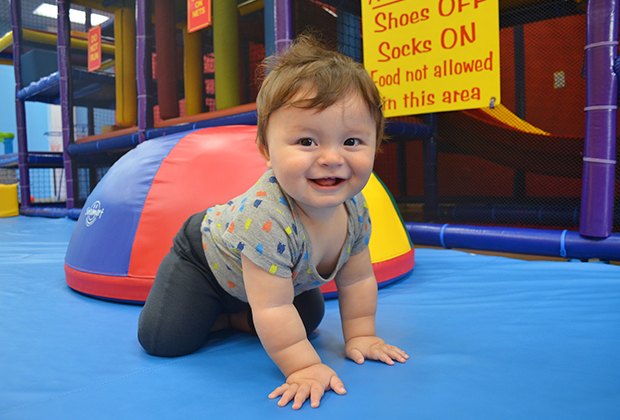 Babies and toddlers are welcome in Let's Play, which designates a separate play area just for them.
The toddler area, once carpeted and seeing wear and tear, is now padded with brand-new foam flooring. This is very exciting news for my growing family as my 9-month old loves to face plant as much as possible. The toddler play items, such as climbing blocks and pads, have all been replaced and updated.
The arcade games are gone. This might prove troublesome to some parents of older kids, but I'm grateful. The quarter sucking machines were more of a nuisance and, now that they're gone, my child can focus on physical fun. Replacing the arcade games are more hands-on activities, such as cardboard building blocks, basketball hoops and a giant connect-four. Warning: Grown-ups this is highly addictive! Remember, don't hog it from the kiddies.
RELATED: NYC Indoor Play and Family Fun Guide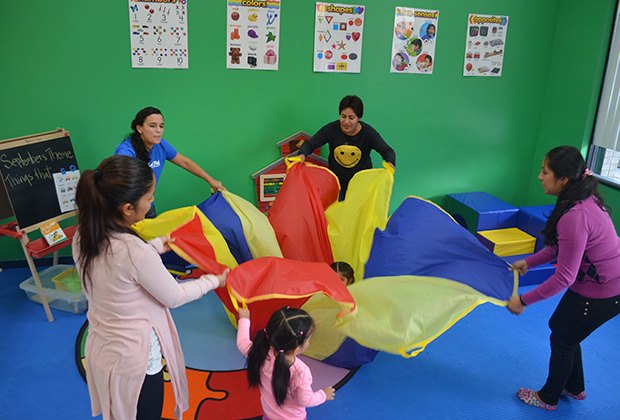 Little ones enjoy parachute during a weekday class.
One of the best new changes isn't the physical renovation but the addition of classes. The play space is offering child-parent classes for children 6 months through 3 years old on weekday mornings. Kids explore music, art, and science through the mixed activity directed play sessions that include games, storytime, and more.
And, of course, we have to talk birthday parties. My son had the pleasure of breaking in the new facility with a Captain America-themed party. The new management was fantastic and honored everything the last manager had promised with my deposit and then some. The 100% private party included play, pizza for 12 kids, coffee/juice/soda, utensils, and tableware. They were flexible enough to let us bring in room-temperature food for the adults and cake without any plate charge. They have a refrigerator/freezer, which we took advantage of with our ice cream cake and a TV/DVD player, which we used to play a special video for my son. The two assistants were amazing. They wrangled the children for pizza time, cake, and games, kept the water and coffee fresh and were vigilant with safety. Party packages start at $450, but the cost was worth it for us instead of trying to squeeze the event into our tiny apartment. The space is 100% yours during your allotted birthday time.
Let's Play Playhouse is located at 34-17 Steinway Street in Astoria. Find the full hours, prices, and class and birthday party info on its website.
We're happy to see this location continuing to thrive. Even as I type up this review, my son is off on this rainy afternoon to find solace at Let's Play.
Top image: Kids always enjoy whooshing down the slide. All photos by the author.