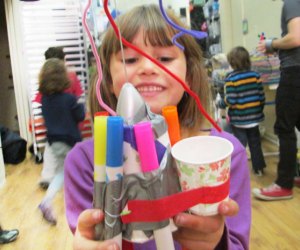 8 Robotics Birthday Party Spots for NYC Kids
Given the STEM movement in education and the always popular DIY-birthday party theme, it's no surprise city kids are requesting robotics-fueled shindigs to celebrate their birthdays. At a robotics party, kids construct their own models—sometimes in 3D—that move and roll while also learning about the mechanics behind it all.
We've rounded up a collection of fun-and-educational spots to celebrate your kids next birthday robotics style where creativity—and sometimes little robotic creatures themselves—run wild.
Check out our NYC Kids' Birthday Party Guide for more inspiration.
Ages are generally suggested by the venue but often are simply a guideline, not a strict rule. Also activities are, of course, subject to change, so be sure to ask when booking your kid's birthday.
Manhattan
Dazzling Discoveries – Upper West Side
971 Columbus Avenue at 108th Street
Ages 7 and up
Parties at this year-round robotics spot can be customized around the particular interest of the child. Robotics parties, held in its 2,000-square-foot space, focus on creativity. Everything is custom-designed, and kit-free, so young guests learn the mechanics of robotics. Instructors demonstrate basic building techniques and go through a circuit lesson with kids so they understand how motors work. Batteries, cardboard, plastic, wood, motor, and more materials are on hand to build with.
RoboFun – Upper West Side
2672 Broadway, Loft A
Ages 4-12
So popular it once was featured on Sesame Street in a segment with "Murray Monster," RoboFun offers kids the chance to explore the magic of engineering, coding, and creative thinking. Party guests work in teams to build and decorate LEGO robots. Upon completion of their project—think switch car, tribot, tankbot, and more—kids engage in age-appropriate activities with their robot, such as a mini-golf-like game, obstacle course, maze course, and more. RoboFun staffers help mom and dad set up and provide balloons, banners, decorations, goody bags, and more.
RELATED: Coding Camps and Classes for NYC Kids
Zaniac – Upper East Side
261 East 78th Street, Third Floor
Ages 4-12
Known more for its science-oriented after-school and camp programs, Zaniac also offers birthday parties. Kids learn how to build and program a robot using LEGO Education and LEGO Mindstorm kits with assistance from instructors. A low kid-to-instructor ration keeps kids engaged. Zaniac's robotics-themed parties are most popular with the 4-9 year old age group. Parties also include food, beverages, a STEM-themed cake, and more.
RELATED: Best New Destinations for NYC Families
Brooklyn
BK Bots – Park Slope
Ages flexible
BK Bots, founded by former NYC robotics teacher and mechanical engineer Sean Spillane, has recently added birthday parties to its lineup of STEM offerings. This portable party comes to you if you live in or near Park Slope, or you can host a party at a local venue. At parties, guests use LEGO Mindstorm Kits to make various robotics, such as TRACK3R, a tank-style robot with a base and treads.
Brooklyn Robot Foundry – Manhattan & Brooklyn
Multiple locations, visit the website for location nearest you.
Ages 4-12
Brooklyn Robot Foundry has multiple locations in Manhattan and Brooklyn where it introduces the art of robotics. In addition to its classes and camps, robotics parties are offered at each location at four different levels: tiny, silver, gold, and platinum. Tiny parties are best for the pint-sized set, offering tinkerers ages 2-4 the chance to build simple robots. Silver parties allow kids a chance to build simple robots that light up, while gold and platinum parties teach big kids to build more complicated creations. Kids take home a special goody bag and get to keep their robotics creations. Platinum parties cover everything from food to invitations and decorations.
Bricks 4 Kidz – Manhattan & Brooklyn
Multiple locations, visit the website for location nearest you.
Ages 8-13
Bricks 4 Kidz is an after-school program and franchise built on the universal popularity of LEGO bricks. Bricks 4 Kidz kicks off the birthday action with colorful free-play bricks and keeps the momentum going with LEGO-based games and activities. A deluxe party package—up to 12 kids—includes LEGO bricks open play, a model of the child's choice, T-shirt, a make-your-own mosaic to keep, and more. Kids construct a small helicopter or airplane with building instructions with a Premiere Party package, and receive a special LEGO model, mini-figure, and coloring book with the Workz party package.
ConstructionKids – Navy Yard
No. 92 at 63 Flushing Avenue
Ages 4-6
ConstructionKids provides hands-on workshops for children in pre-k to sixth grades. Students learn to use real tools and get to build real things. Host a party at its creative space or hire it to bring the party to you. ConstructionKids doesn't do traditional robotics parties, complete with wires and motors, but one option is the "Make Your Own" wooden robot, a popular party theme for kids 4 and older. Kids learn to hammer together their own wooden robots, which they can take home after adorning them with art accessories and Sharpies. Parents are responsible for food and decorations, but the ConstructionKids crew is happy to help out. All party guests receive a balloon.
Queens
iPlayTek – Glendale
80-16 Cooper Ave.
Ages 5-14
iPlayTek opened in 2015 at The Shops at Atlas Park. It's robotics-themed parties attract kids 5 to 14, and are either 1 1/2 or 2 hours long. Typically, kids spend about 15 minutes building a robot and about 15-30 minutes playing with what they made. iPlayTek has a staff fully trained by LEGO Education. It has four to five staff members who make each party fun—it can even supply LEGO-themed decorations.
Top image: A young kid shows off her cool robot creation. Photo courtesy of Brooklyn Robot Foundry.
This post, originally published in February 2016, has since been updated.