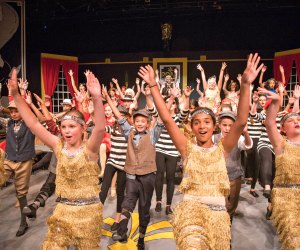 Summer Theater Camps for New Jersey Kids
Do you have an emerging star at home? Try one of the many performing arts summer camps New Jersey has to offer. Whether your child is a shy newbie who wants to build social skills or a little Lin-Manuel Miranda who's aiming for Broadway, there are a myriad of choices in the Garden State.
We've rounded up 20 camps that offer instruction in acting, musical theater, playwriting, improv, dance, and more.
Look to our Camp Guide and Full Directory of Listings for even more New Jersey summer camps.
Note that summer camp information for the 2020 season is changing daily. Please click the links to the individual camps below to see which ones are offering programs this year.
Whether your child wants to put on a show or focus on learning the fundamentals, the Acting Space has you covered. The camp is geared primarily toward ages 5–13, plus one three-week musical theater camp for ages 10–18. An extended-day option is also available.
ACT offers two two-week sessions: the Creative Dramatics/Comedy Camp, August 10–21 in Parsippany; and the Broadway Kids Camp, August 17–28 in Watchung. Campers explore acting, singing, dancing, and comedy, as well as staging and scenery design. The camps culminate in one or more public performances and a cast party.
In this camp for kids ages 10–15, daily classes are taught by professionals in acting, singing, and dancing are augmented by audition workshops and visits from Broadway performers. Daily rehearsals culminate with the performance of an original show. Auditions are required to attend Broadway Bootcamp, but there is a mini camp for ages 7–9 that doesn't have try-outs.
This studio offers three summer options for budding performers: Broadway Babies (ages 3-6); Summer Stage (7-14), which has two three-week sessions with a performance; and a one-week boot camp (7-14. Sessions run June 29 – August 14.
The Conservatory of Performing Arts offers dance and musical theater–focused summer intensive programs throughout July and August. Programs are divided into Mini Movers (ages 3-5), Junior Artists (entering 1st – 3rd grade in Sept), and Focused Intensives (ages 9 and up). Each week offers a different dance or musical theater focus, allowing young artists to delve deeper into an area of passion or explore new styles.
If you really want to know what you're getting yourself (and your kid) into, check out Elefante's YouTube channel. With a daily structured schedule of skills classes in the morning and electives in the afternoon, followed by a rehearsal for The Big Show, Elefante seems to be a well-run, fun choice for your summer theater camper. Choose one, two, or three two-week sessions for up to six full weeks of camp.
Essex Youth Theater uses custom-written scripts that guarantee an equal role for every student. A fun and exciting theater experience that encourages confidence and nurtures self-esteem. One-week and two-week shows, 12 Musicals and Comedies to choose from. Start on Monday; star in a play on Friday!
Garden Street's summer camp offers preschoolers through teens instruction in ballet, tap, jazz, hip-hop, music, art, and musical theater. Each week focuses on a different show theme, from The Little Mermaid and Frozen 2 to The Descendents and Cinderella. Register by the week or for all nine weeks.
Haddonfield offers several opportunities for a summer full of theatrical fun: a four-week intensive for ages 9-18 that culminates in a full-scale musical production (this year it's School of Rock); Showstopper for kids entering second and third grades (July 6-24); Broadway Babies Bootcamp with half-days for 4-7-year-olds (choose one or two weeks); P.A.D. for playwrights, a one- or two-week program for actors and directors; and a two-week half-day improv camp for ages 9-18.
Kids in grades 1-8 can choose a two-week program like Page to Stage or Improv and Beyond, while older actors (up to grade 12) can apply to take part in a three-week summer intensive. A couple of workshops are already sold out, so check it out soon.
MTC's Broadway Boot Camp is a three-week program that culminates with a performance in NYC. Kids ages 7-19 can study acting, voice, theater dance, makeup, comedy improv, audition technique, and more, and they'll have a chance to meet with agents and Broadway actors.
This camp offers lots of options, including a one-week musical theater program for kids 12-16; college prep audition bootcamp; acting for film and TV (grades 9-12); YouTube review (grades 3-5; 6-8); and more.
Kids ages 4-12 will be singing, acting, and dancing their way to their own musical production at the end of each two-week session. Five sessions are scheduled.
This one's all about the show, folks. Each age group puts on a full-fledged mini-musical or play at the end of camp, which runs June 29 – July 24. Bring it, kids.
Perfect for families looking for a lighter summer schedule or those who want to leave time for other camps, Players Camp takes place June 29 – July 23 for half-day sessions on Mondays through Thursdays. No auditions are required, and all classes are held at Paper Mill Playhouse. Students will present a "sharing" for families and friends on the last day of camp. Other options include a musical theater workshop for ages 13-15, and a Junior Company production of Peter Pan for ages 9-15.
PTW offers a Junior Camp for kids ages 4-8 and a Senior Camp for ages 9-17. The final week of camp includes recording a cast album, and the Broadway Workshop & Show is by audition or invitation.
Tangled, Frozen 2, The Greatest Showman, Matilda, The Wizard of Oz—kids can be the star of these and other shows in Porchlight's camps for kids in K-12. Campers, separated into three age groups, will study acting, voice, and dance, and there's also a technical theater program focused on behind-the-scenes magic.
Camp Premiere at Kean University puts a focus on acting. The camp offers two programs: Theatremakers for kids entering grades 6-8, and Actors Studio for those entering grades 9-12. Both sessions culminate in a performance and reception.
For two (or three, depending on your child's age) wonderful weeks, your Junior Corp (10-14) or Senior Corp (14-18) thespian will spend five hours a day working on the classics—either a classic piece of literature adapted for the stage, or a work by the man himself, Will Shakespeare. It's intense, lively, and fun. New for 2020 is The Young Shakespeareans, a limited group of teens that work on a Shakespeare production.
Taubenslag Productions' theater camp offers a variety of options for kids entering first grade through 16 years old. The final two weeks are dedicated to putting on the camp's annual Broadway Spectacular. Each day also includes traditional camp fun like swimming, outdoor games, arts & crafts, and more. All experience levels are welcome!
Originally published February 2012 and updated since.