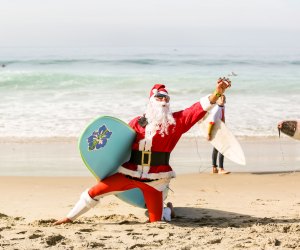 Things To Do in LA this Weekend with Kids: Surfing Santas, Doo Dah Parade, Frozen 2
It's not Thanksgiving; that's the first thing you need to know. No turkey, no punkin pie—instead we're serving up hot cars, icy princesses, and great white whales. Not a holiday, no celebration, just the usual doo dah in the City of Angels.
Speaking of, time to get started on your yuletide cheer, with Santas (both surfing and landbound), Nutcrackers, and tree lightings galore. We've a roundup chock full o' holiday jubilation, but I have to tell you the title is an outright lie. While, yes, it is the ultimate list, don't buy into the claim that there are only 50 celebrations listed. In fact, it's more like 58, or maybe 60, or possibly 6 zillion. But we're definitely not stopping at 50.
Thankfully, we have several more weeks to work on our truthfulness skills, which is pretty important if you want to stay off the naughty list. So we'll start with the following verified statement:
Keep reading for our most festive picks for weekend fun. For reals.