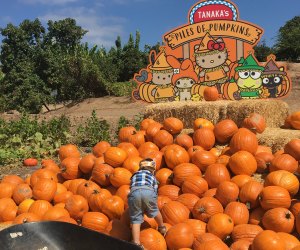 Things To Do in LA this Weekend with Kids: Museum Day, Sing-a-long Sound of Music, and Dino Fest
I'm sorry, but do you EVER clean up? Look around you—this place is a mess! Well, this weekend we are putting our foot down. You are getting yourself to the coastline (or possibly an inland waterway) to do your part, pitch in, and clean up. The Coastal Cleanup is a simple way for the whole family to participate in making the world a better place. (This week the beach; next week their rooms.)
I'm not saying there's any reason you have to clean up now in particular, though it might have something to do with the parade of pumpkins making their way toward every doorstep near you, in preparation for October (fest). Hey, did we mention the spiders? Yeah, you're probably gonna wanna clean.
If you do a good job, then rewards await you. You can delve into dinosaurs and race with rubber duckies; you can solve a problem like Maria and the puzzle of getting into museums for free. We appreciate you (we're not the only ones), and we want the best for you. Such as... the cleanest picks for this weekend's events.
Keep reading to find them.