Snow N Glow: Snow Tubing, Fireworks, and Christmas Lights by the Beach
12/1/22
- By
Matt Matasci
One of the perks of living in Los Angeles is that you can go from the beach to the snow in one day. One very looooong day. And between holiday events and Christmas activities—it's hard to find the time. That's why I was excited to take my girls to Snow N Glow; this family holiday outing lets kids experience snow without spending the day strapped in the car. We got to go snow tubing, play in the snow, and have some s'mores without digging out our tire chains. There are two locations, one at the Ventura County Fairground and another at the Del Mar Fairgrounds, so you can pick the one closest to you.
Read on for the details, and check out our Guide to Holiday and Christmas Events for Los Angeles Families for a complete rundown on where you can go snow tubing, skiing, or ice skating near Los Angeles.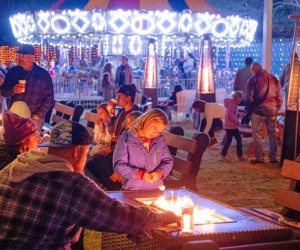 Warm your hands over the fire after some snow tubing while you make a sweet treat. Photo courtesy of Noel Alva
Both the Ventura and Del Mar locations are centered around a giant snow hill and snow play area (the Snow) with the other main attraction being the Holiday Light Trail that features one million light bulbs (the Glow). The Del Mar location includes a separately ticketed, drive-thru light display. We visited the one in Ventura.
New in 2022
While we visited for the first time last year, there are some updates worth noting for 2022. First, and most exciting for my kids, is the addition of fireworks. On Saturday nights and Christmas Eve, you can sip your cocoa while checking out the fireworks. Speaking of something sweet, if cocoa isn't enough, this year there's a Build-Your-Own S'mores Bar for young sugar fiends. Use cookies or traditional Grahams plus any of your own favorite toppings, and roast those marshmallows. And finally, while last year's general Snow Play area is gone, that's because it's been replaced by something new: Holiday MAGIC Igloos. I won't actually miss the Snow Play area, where the snow quickly became packed and hard—too hard in fact to make it very easy to play with. This year, instead, you can have Santa's little helpers deliver fresh snow directly to your private igloo. The fresh snow is much easier for kids to play with and turn into snowballs, a snowman, or just make snow angels. Renting a private igloo isn't cheap, but it makes for a great holiday party or even a winter wonderland birthday celebration for kids.
Verdict: loads of fun, and much easier than a drive to the mountains​! Photo courtesy of Noel Alva
Tubing on the Giant Snow Hill
With a four and seven-year-old in tow, the first request was unsurprisingly to try out the snow tubing. Before our visit, I read a few reviews complaining of long wait times for the snow tubing hill, but that wasn't an issue for us; I don't think we ever waited more than 10 minutes in line. As far as I could see there weren't any height restrictions in place, though most of the smaller children rode down the hill with a parent.
The giant snow hill is 20 feet tall, which is ideal because it provides a minor thrill for the bigger kids without terrifying the younger crowd. Well, except for my four-year-old, who ended her one and only ride in tears–we know now that she's not a thrill-seeker! However, my seven-year-old was slightly more daring, agreeing to go down the hill if a parent accompanied her. She loved it. The staff at the top of the hill was very helpful, getting us situated in our tube and gently giving us a push down the hill. I did see bigger kids ask the attendant to give a harder push or even a spin down the hill, a request which was enthusiastically granted. My daughter never got the courage to go down alone but did drag mom and dad along for at least four more trips down the slope. Verdict: loads of fun, and much easier than a drive to the mountains, especially since one of our kids didn't end up loving it.
Holiday Light Trail
One of the biggest draws of Snow N Glow is the Holiday Light Trail. The path weaves its way through the buildings of the fairgrounds and took us about 30-45 minutes to finish. It opens on a pathway lined with well-manicured, blanket light-wrapped palms. In person, the effect was very beautiful, but the green retaining fence that bisected the pathway got in the way of that perfect photo-op. Luckily, that's the extent of our light path complaints. The girls got a kick out of the light sculptures which featured snowmen, nutcrackers, and even Santa. The tunnel of lights was probably the best photo-op on the entire light trail, with its impressive gradient of colored lights stretching across the undulating arches.

For littles who are spooked by meeting Santa in person, Reindeer Mail is perfect. Photo courtesy of the author
Near the middle of the trail was a nice pit stop–Santa's Mail. At this station along the light route, kids can fill out a letter to Santa that includes spaces for "Things I Want" and "Things I Need" and encourages kids to write about what books they want to get for Christmas. The mailbox was particularly welcome for my kids, who are terribly afraid of sitting on Santa's lap, but desperately want a way to communicate their Christmas wishes. For kids who are interested in meeting Santa, Snow N Glow delivers with a very authentic-looking Santa and Mrs. Claus. Note that because we're still dealing with COVID-19, kids don't sit on Santa's lap for pictures, instead posing in front of the Clauses for photos.

VIP private Igloos include access to fire pits and a place to warm up! Photo courtesy of Noel Alva
Know Before You Go
There are several ticketing options at Snow N Glow, from the most basic general admission ticket to the VIP private Igloos that include access to fire pits and optional delivery of fresh snow.
Snow N Glow Ventura is laid out on the parking lot in front of the Ventura County Fairgrounds, so it's very stroller-friendly. There are picnic tables throughout the event grounds, so if your smaller children need to take a break from the fun, there's plenty of seating. There are food vendors at the event–typical carnival fare like fries, tacos, and corn dogs. The only bathrooms are Porta Potties, so be forewarned there aren't any changing tables for kiddos in diapers. My girls are not big fans of using portable toilets, so we made sure to stop at a restaurant nearby to use a more traditional bathroom before arriving.

Welcome to Snow N Glow in Ventura; the entrance sets the scene. Photo courtesy of Noel Alva
It's certainly a lot balmier than a trip to the San Gabriel or San Bernardino Mountains, but both Snow N Glow locations are situated next to the ocean and can get chilly. Be sure to bring layers so you can warm up as the temperature drops at nighttime.
Snow N Glow Ventura is open on weekends only, and daily during the week of Christmas, through December 26. The hours are 4pm-9pm.
Snow N Glow Del Mar is open on weekends only, and daily during the week of Christmas, through January 1, 2023.
There's ample parking at both locations, but it does cost $20 per car at the Ventura location.
Places featured in this article:
---
Snow N Glow Ventura
---
Snow N Glow Del Mar
Sign up for the Mommy Poppins Newsletter today!