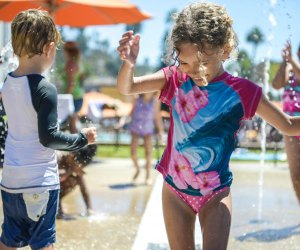 Beyond Splash Pads: 10 Places for Year-round Water Play in Los Angeles
It can be hot anytime in Los Angeles, so it's a good thing we have year-round options for splash pads, swimming pools, and beaches. There is always somewhere to beat the heat in LA. The following 10 places offer much needed water activities at any time of year.
As you're deciding on where to play in the water, keep in mind that when conditions get very dry in California, fountains may be turned off on various days or at certain times. It can be best to call ahead, so you don't plan for a day of water fun and end up with disappointed kids.
Fountains for Water Play
1. The Music Center - Downtown
213.972.0777
After a 41 million dollar renovation, the Music Center Plaza (next to the Dorothy Chandler Pavillion) has been completely revitalized. The iconic fountain is back and better than ever with 140 lights. The area has been flattened out so it's a great place for your kiddos to have open space to run, play, and splish splash in the fountain. Check the website, as there are often weekend and holiday "splish splash" family events. Parking can be expensive, or if you park on the street expect to walk a few blocks. Good news: a new metro stop nearby is planned to open in 2022.
2. Grand Park- Downtown
213.972.8080
Wait, two splash zones within walking distance? Yes! After your kids' attention span starts to wane at The Music Center, head over to the Arthur J. Will Memorial Fountain down the street. This fountain has interactive jets; and if you are driving away as it gets dark, you'll be able to see the fountain light show from several surrounding streets. Grand Park hosts loads of events, including a recurring food truck festival and yoga on the lawn.
RELATED: Orange County's Best Kept Secret Is a Water Park Right on the Beach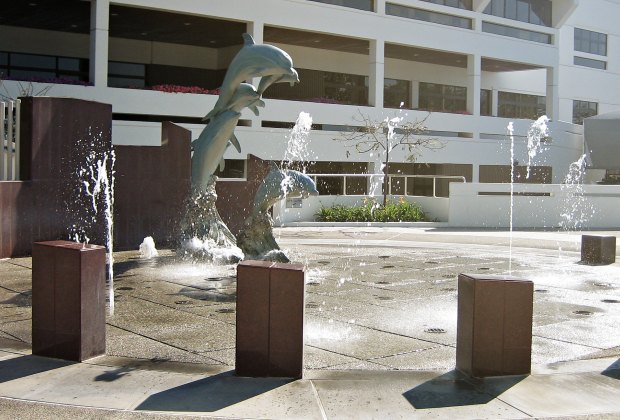 Dolphin fountain at the Cerritos Library. Photo by Sarah Mae/CC BY 2.0
3. Cerritos Library - Cerritos
562.916.1350
Wee ones can have water fun, and parents can enjoy a peaceful setting, at the Cerritos Library outside of the City of Los Angeles. The Cerritos Library, for those who aren't familiar with the place, is a library with a great kids' book section and an outdoor spot for free fountain water play. The fountain outside of the library features cute dolphin statues that make for perfect photo ops, and water from the fountain doesn't pool, so you don't have to worry about kids falling into anything.
4. The Lion's Fountain - Culver City
Located at 9500 Culver Blvd., between the Culver Hotel and Pacific Theaters, is the Lion's Fountain. This small splash pad has a playful statue of a lion dancing as its focus (thus the name) inspired by the Cowardly Lion in The Wizard of Oz. This spot provides a welcome opportunity for kids to cool off before exploring the rest of the city, and if that's not enough of a draw, there's a Cold Stone Creamery right across from the fountain.
5. Universal CityWalk - Universal City
818.622.4455
If you want to make a day of water play and shopping, consider heading to Universal CityWalk. CityWalk's fountain is a hit with kids year round, and little ones love dodging spurts of water that pop up instead of fall down. Water shoots out from the ground through a grid of holes, and kids make their way between them to avoid being sprayed (or they stand right over them and get soaked). It's even better after dark, when varying colored lights are added. If you're going to let your kids play in this fountain, make sure to dress them with shoes that have good grips on the bottom. Even though children are not allowed to run around the fountain, sometimes their excitement propels their bodies too fast, and no one wants them to slip. (Please note that you need to pay for parking at CityWalk, unless you take the Metro or arrive another way without a car).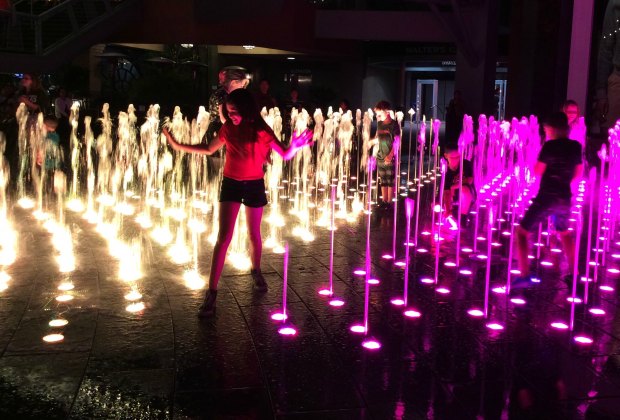 Colored lights make water even more fun on Universal City Walk. Photo by Mommy Poppins
Water Playgounds and Splash Pads
9. Coldwater Canyon Park - Beverly Hills
310.285.6850
This Zen-like park allows visitors to stroll along a winding, tree-covered path, but the stream is the attraction kids adore. As water splashes against artfully-placed rocks and boulders, kids can pretend they're Huck Finn as they splash around or simply hug the stone panther that sits overlooking the brook. The water feature is open to the public during park hours, which are dawn to dusk daily, and parking is free. Bring a picnic lunch, put on your sneakers, and let the little ones get wet.
10. Tongva Park - Santa Monica
310-458-8310
It may be hard to believe this 6-acre park with its rolling hills, water-wise landscaping, and playground equipment that looks like modern art, was once a parking lot. Now it's an award-winning space where kids are able to enjoy the splash pad year-round. The water feature is open from 10am to 6pm, and if the kids are game after splashing around, consider taking them for a stroll to see the rest of this delightful, ocean view park.
8. Santa Clarita Aquatics Center - Santa Clarita
661.250.3766
In addition to a year-round lap pool, the City of Santa Clarita's Aquatic Center (located in Northern Los Angeles County) has a zero-entry pool that's geared toward children from toddler to teen and open half the year (generally April-September). The slight-slope entry is ideal for parents who want to sit with their kids in shallow water and let them slap tiny waves that are only made by other playing children. This pool is more of a water park than a typical recreational center pool. It offers a covered climbing structure equipped with tools necessary for soaking anyone who comes close, and it has a giant waterslide that dumps kids (and parents) into a deep end of not more than 4 feet. (The fee to enter the Santa Clarita Aquatics Center for pool and water play is $4 for kids 3-17, $6 for adults 18-54, $4 for 55+, and free for kids less than 2. Prices are current at time of publication. Call the Aquatics Center for open pool times and dates.)
Beach Spraygrounds
7. Annenberg Beach House – Santa Monica
310-458-4904
It might sound too obvious to point out a water feature at the beach, but Santa Monica's public beach house has a free and inviting splash patio open year-round. Although there's no shade here, the patio does have several tables and chairs that make it a good spot for a picnic lunch. Hours are shorter in the off-season but still daily. Plus, it's always worth taking a look at the Annenberg Beach House on a warm weekend or holiday in the off-season, as the pool often opens for a "Pop-up Pool Day" to celebrate the sunshine. The playground and Back on the Beach Cafe are available all year, too.
6. Tide Pools at Malibu Lagoon State Beach - Malibu
310.457.8143
Ready to think outside the splashpad? Cooling off becomes an enriching experience if you take a drive up the coast to the tide pools at Malibu Lagoon State Beach. Let your kiddos dip their toes into the water as they look for wild ocean critters, such as tiny crabs and sea stars. Pack some water shoes for walking on rocks in the tide pools. Malibu Lagoon State Beach is a relaxing, sandy beach that doesn't feel touristy or too crowded even during the summertime. After kids go back to school, it can actually be pretty empty. It's completely free to splash in the tide pools at Malibu Lagoon if you park on PCH; parking in the lot costs up to $12.
Originally published November 10, 2016