Mario Kart Is Coming to Universal Studios' Nintendo World in Early 2023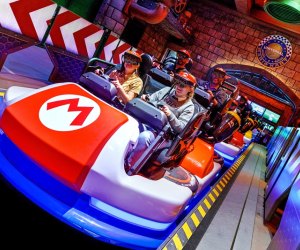 You probably heard that Super Nintendo World is opening in 2023 at Universal Studios Hollywood. But you might not know exactly what that means. Well, here's a sneak peek: If your kids love Mario Kart, get ready to blow their minds. When Universal Studios opens its Super Nintendo World in early 2023, Mario Kart: Bowser's Challenge will be one of the first and hottest rides to open, featuring cutting-edge augmented reality that sets a new standard for interactive theme park rides.
Read on to get the scoop on how and when you can join Mario, Luigi, and Princess Peach on an interactive ride in the park's new immersive land.

Super Nintendo World opens at Universal Studios Hollywood and Mario can't wait to welcome you!
"Welcome to Mario Kart!"
The Mario Kart ride will have just about everything an interactive experience needs to be a total thrill: augmented reality, projection technology, and set pieces on a moving track. That's a lot of big words for "fun." Your kids won't know exactly how it's done, but they'll love stepping into the world of their favorite video game series characters.
"Yeah, Peach has got it!"
Southern California's Universal Studios will be the location of the first Super Nintendo World – including the Mushroom Kingdom – in the United States. (The first Super Nintendo World opened at Universal Studios Japan in early 2021 to rave reviews.) The world of Mario, Luigi, and Princess Peach will come to life with bright colors and intricate architecture. Hot tip: You can catch a peek at construction from the escalator between Universal Studios Hollywood lots. As of June 2022, it looks like Bowser's Castle is almost completely built!
Universal's Warp Pipe will be the entrance to Super Nintendo World and the Mario Kart ride will be in Bowser's Castle. From the dungeon within Bowser's Castle, riders will board stadium-style, four-seat Mario Kart vehicles, put on their AR goggles … and then with a 3-2-1 GO! signal from Lakitu, they will be off to the races.
Players will be part of Team Mario steering through courses underwater and in the clouds to compete for the Golden Cup while collecting coins to defeat Team Bowser and win.
Take a peek:
"Bingo!"
The immersive land will be in a newly expanded area of Universal Studios Hollywood that will feature Mario Kart: Bowser's Challenge and other interactive areas, with rides for all ages and themed shopping and dining. When is it opening? All we know for sure is that it's sometime in early 2023. Stay tuned, because we'll bring you the latest updates as soon as they're available. Can you tell we've got some kids who are very excited to visit?
For more information, go to Super Nintendo World at Universal Studios'universal studios' website.
Photos courtesy of Universal Studios Hollywood.