California Parents Can Now Get A Free Baby Box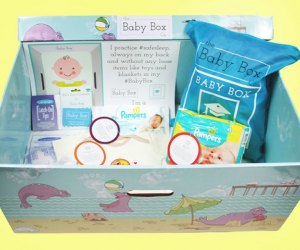 Have a baby on the way? You may already be planning big adventures but haven't yet sorted out the sleep situation. Never fear—help is here. The Baby Box Company is now offering California parents a free parenting package that includes curated products and Baby Boxes, which offer little ones a safe place to sleep.
The Baby Box Co. has already distributed 300,000 free baby boxes in the US, UK, and Canada, and California parents will likely be eager to jump on board; a recent report showed that 58 percent of Millennial parents have found the amount of parenting info out there to be overwhelming and unhelpful.
"The tradition of baby box comes from Finland and is based on the idea that every child deserves an equal start in life," says Jennifer Clary, founder of The Baby Box Co. "We were inspired to adapt this wonderful program for the United States and other countries to support parents with access to high-quality, free education and products that will help them best protect their children and make them feel more empowered."
The boxes are modeled after the same ones provided by the Finnish government to new moms for decades and aimed at tackling SIDS, Sudden Unexpected Infant Death, aka, every parent's worst nightmare. The sturdy cardboard box is considered a safe sleeping environment and has earned the seal of approval from Health Canada and EN for safe infant sleeping spaces. It can also be kept close by, which makes things easier on parents but also further encourages healthy habits, from breastfeeding to bonding. Finland has one of the lowest infant mortality rates in the world, and the boxes, along with the prenatal counseling that comes with them, are credited with its successful rating.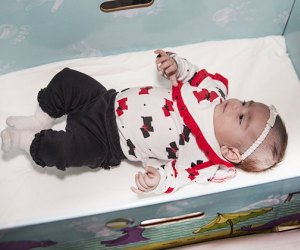 Babies can sleep right in the box for up to five or six months.
All California parents are eligible to receive a Baby Box, which includes a mattress, as well as baby wipes, brain-boosting activity cards, personal care products, nursing pads, feminine care products, onesies, a waterproof tote bag, and more—and, oh yeah, the safe-sleeping box. Interested? Just three steps and the box is yours.
Register (again, totally free) online at babyboxco.com as California resident. Include your correct contact info, including your mailing address. Then, watch the California course at babyboxuniversity.com. After taking a short quiz, parents receive a certificate of completion and can then select local pick-up or direct delivery of a Baby Box.
Of course, you may want to stick around on Baby Box University. Courses include videos such as: how to have a healthy pregnancy, breastfeeding guidance, postpartum depression awareness and resources, tips on boosting your baby's brain development, and much more.
"We consistently see that new parents are overjoyed and excited but also anxious as they enter parenthood," says Nicole Samii, MD, Los Angeles County USC Medical Center. "We are proud to share the Baby Box Co. program with our maternity and pediatric patients so they know they can leave the hospital aware that they have on-demand guidance and resources to help reduce the anxiety all parents face as they learn to care for their children."
So, what are you waiting for? Sign up to get that free box (and all the goodies that come with it), and if you have a friend who's expecting—tell her, too!
All photos courtesy of Baby Box