A Mother's Day Gift for You: Free Play at Giggles 'n' Hugs!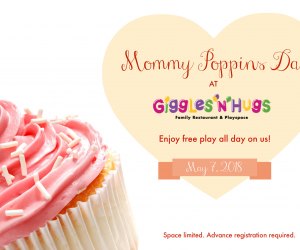 This event is at capacity. Sign up for our newsletters to make sure you're always the first to hear about special deals and giveaways.
Mommy Poppins and Giggles 'n' Hugs are teaming up to offer a little gift for you in honor of Mother's Day. On Monday, May 7th, it's Mommy Poppins Day at Giggles 'n' Hugs. We invite you to enjoy free admission at either Giggles 'n' Hugs location (Topanga Canyon or Glendale), plus a special Mother's Day treat for you: choose a cupcake, cookie, coffee or, go on, a mimosa. You deserve it!
If you have never been to Giggles 'n' Hugs, it's a great spot, whether you're looking to plan the perfect no-stress birthday party, enjoy a healthy family meal, or just chill out for an afternoon in the action-packed, 2000-square-foot playspace. The best part is it's as enjoyable for adults as it is for kids, because while little ones play, grown-ups can enjoy a coffee, glass of wine, or locally-sourced, organic meal.
Space is limited, so you must register in advance using the form below.