10 Kid-Friendly Hollywood Restaurants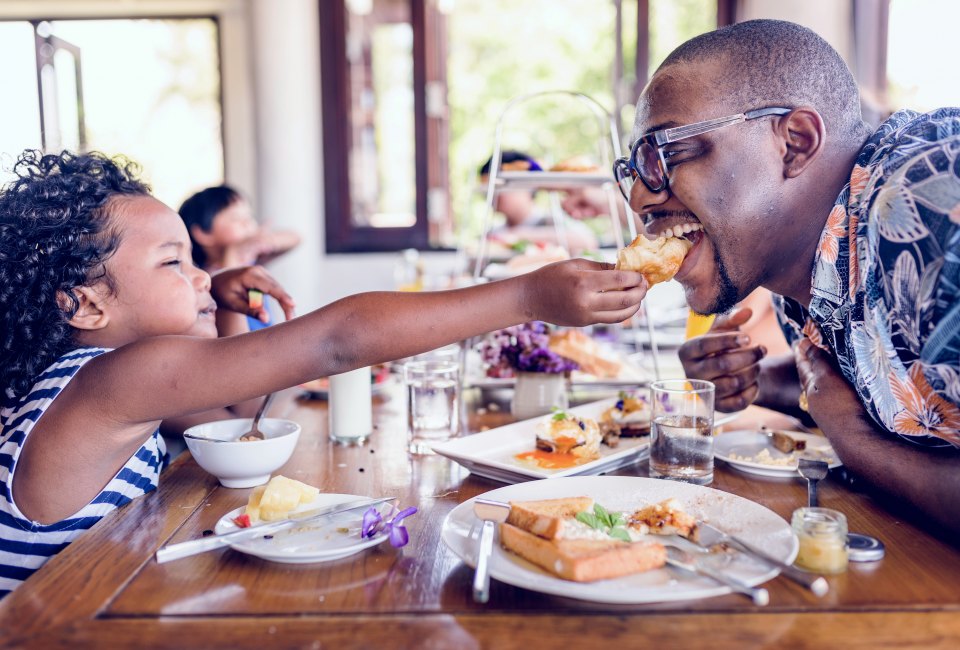 3/26/19
- By
Audrey M
Hollywood is full of things to do with kids—we have collected 25 of them—and you can easily spend the entire day. Which means you will need food! Hollywood is also full of restaurants. But once you weed out the fast food chains and big tourist chains, there are still plenty of kid-friendly local chains and independent restaurants, and we have selected 10 options. There is something for you if you want something quick, something historic or old-timey, or something new and fun. And even if your kids are picky eaters or have food allergies, they will enjoy something from this list!
1. Kabuki Japanese Restaurant
1545 N Vine St 90028
323.464.6003
Kabuki is popular with families—sushi, noodles, and teriyaki are all on the extensive menu. Kids 10 and under can order from the kid's menu (with activities). Gluten-free and vegetarian items are all noted.
2. Fresh Brothers
1923 N Bronson 90068
323.962.6262
Local pizza chain Fresh Brothers is well known for its regular and gluten-free pizzas and Fresh Kids Special Sauce (extra veggies are blended in, shhhhh…). There is also a large salad menu, or guests can create their own salads. If you don't have a Fresh Brothers in your own neighborhood, try it!

3. Grub
911 Seward St 90038
323.461.3663
There is a small kids' menu for the under 10 set, and Grub's focus is on comfort food. There are burgers (which can be made veggie-friendly), sandwiches, French toast, mac 'n' cheese, chili—even a carnival pancake. Grub serves lunch and dinner, as well as weekend brunch.
4. Kitchen 24
1608 N Cahuenga Blvd 90028
323.465.2424
The 24 is for 24 hours—this place is always open. A huge menu features kid favorites like chocolate chip pancakes, spaghetti and meatballs, chili, smoothies, and a wide selection of desserts.
5. Lotería! Grill
6627 Hollywood Blvd 90028
323.465.2500
A local chain with six locations, Lotería Grill has an extensive menu featuring specialties from all over Mexico. Serving breakfast, lunch, and dinner. Pan dulce is available on weekends.

6. Lucy's El Adobe Cafe
5536 Melrose Avenue 90038
323.462.9421
On the outskirts of Hollywood (north Larchmont), just south of the Hollywood Forever Cemetery, Lucy's has been serving Mexican food for 50 years. Looking for that old Hollywood vibe? Sit in the garden, enjoy the waterfall, and soak in the history. A true throwback, but on the pricey side—cash tips only.

7. Mel's Drive-In
1660 N Highland 90028
323.465.3111
Located in the heart of Hollywood in the historic Max Factor building, Mel's has a large children's menu, and the entrees come served in a Mel's car to take home. Come for breakfast, lunch, dinner, or just for a dessert treat from the fountain.

8. Palm's Thai
5900 Hollywood Blvd, Ste B 90028
323.462.5073
Palm's offers a huge menu of noodles, curries, fried rice, seafood, and great pictures of the dishes. If your kids enjoy Thai food, the a la carte items will be just their size. On weekends, a Thai Elvis impersonator is in the house.

9. Pink's
709 North La Brea Blvd 90038
323.979.3878
A Los Angeles institution since 1939, Pink's is an easy stop for a quick snack (if the line isn't winding down the block, which is often the case). Hot dogs, burgers, fries, and even tamales are available. Kids will get a kick out of the dogs with celebrity names (there's a Martha Stewart dog as well as a Brando dog, and even a Lord of the Rings Dog), and parents will appreciate that a chili dog is just $4.50.
10. Lemon Tree Kids and Family Restaurant
621 S. Western Avenue Suite 111 90005
213.380.0038
Little kids will go nuts to discover this legit, 2,000 sq. ft. indoor playground that just happens to serve food, too. While the usual kid-friendly dishes are available, such as sweet potato fries and chicken tenders, parents might be surprised by the extensive pasta menu and traditional Korean dishes like bulgogi and spicy dukboki.

Top photo via Bigstock
Sign up for the Mommy Poppins Newsletter today!