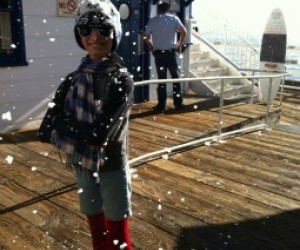 Snow in LA? Where To Find Holiday Snow without Leaving Town
Let it snow, let it snow, let it snow! Of course actual snow in Los Angeles County is rare enough to be saleable on ebay (anyone still have that 2007 Malibu snow in the freezer?), but several Southland locales offer a reasonable facsimile of snow at this time of year. From Anaheim to Pasadena, we get several opportunities in the coming weeks to introduce our kids to snow, without introducing them to picking up their wet snow gear from the floor. And most of the events below are free!
The Grove at Farmers Market
189 The Grove Drive
Los Angeles, CA 90036
Nov 18 - Dec 31, 2013
Lest anyone think that Hollywood lags behind chillier locales, The Grove has a nightly snow display that takes place twice every evening.
The Americana at Brand
889 Americana Way
Glendale, CA 91210
Nov 21 - Dec 31, 2013
Lest anyone think that Glendale lags behind Hollywood, The Americana also has a nightly snow display of snow falling on evening shoppers.
Winter Wonderland Holiday Concert
El Segundo High School
640 Main St.
El Segundo, CA 90245
Dec 7, 2013
Holiday music, Santa Claus, and falling snow are the highlights of the free family concert event in El Segundo.
Snow Day on the Paseo
695 E. Colorado Blvd.
Pasadena, CA 91101
Dec 7, 2013
Vroman's free Winter Wonderland on the Paseo promises snow cones, an appearance by Frosty the Snowman, and five tons of snow to provide the medium for a snowman making contest.
Anaheim Christmas Tree Lighting
201 W Center St Promenade
Anaheim, CA 92805
Dec 7, 2013
Anaheim's free celebration to launch the holiday season promises appearances by Santa Claus, free snowplay, free train rides, holiday music, and a tree lighting at dusk.
Spyder Snow Fest
Pier Avenue
Hermosa Beach, CA 90254
Dec 7, 2013
Mount Hermosa is open for free family sledding for one day only - right in the middle of downtown Hermosa Beach.
Studio City Winter Family Festival
Studio City Recreation Center
12621 Rye Street
Studio City CA 91604
Dec 8, 2013
Studio City celebrates the season with a free festival that promises all things Christmas - including several tons of snow to romp in. Donations of canned food and toys are collected in lieu of admission.
Snow Leopard Festival
Santa Barbara Zoo
500 Niños Drive
Santa Barbara, CA 93103
Dec 8, 2013
The Zoo offers sledding and skating beneath swaying palm trees at its annual Snow Leopard Festival. More than 80 tons of snow fashions sledding runs, creates a children's play area, and is placed in exhibits for the snow leopards, elephants, otters, and other animals to enjoy. Other highlights include snow-related arts and crafts and photos with Santa. The event is free with Zoo admission (Adults $12, Kids $10), but additional fees apply for activities (Sledding $3, Skating $5).
Winter Holiday Festival
532 South Olive Street
Los Angeles, CA 90013
Dec 14, 2013
Pershing Square's annual Winter Holiday Festival includes a free snow zone amidst plenty of seasonal entertainment and ice skating on the outdoor rink (for $6).

Snow Days at Kidspace
480 North Arroyo Boulevard
Pasadena, CA 91103
Dec 26-30, 2013
Kidspace Children's Museum trucks in tons of snow for its annual winter event and invites SoCal kids to make snowmen, snowballs, and snow angels while learning how snow is formed. Normal admission prices apply.
If these events don't capture the chilly memories you're looking for, how about introducing your kids to sub-freezing temperatures at CHILL at the Queen Mary?
Originally published November 27, 2011