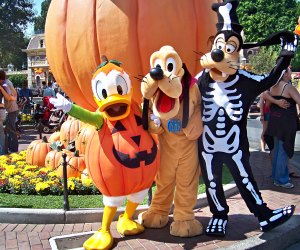 Halloween Festivals and Theme Park Haunts LA Kids Can't Do Without
I have a mama friend who refers to this time of year with all the Halloween Festivals and Theme Park Haunts as the High Holidays, and she ain't talking Yom Kippur. She's also not wrong; there really is no higher holiday on the kid calendar than Halloween. And Southland families can enjoy a long slow build to All Hallows' Eve with more spooky celebrations, haunted happenings, and evil events per capita than any other urban area. Little ghouls and goblins have their pick of pumpkin patches, haunted houses, corn mazes, and ghost trains—but wait; there's more! SoCal theme parks get all creepy at this time of year, too, and the annual festivals below scream Halloween like nobody's business.
Subscribe to our free weekly newsletter to keep up with all of the Halloween fun coming up this season!
​Festivals
Fall Harvest Festival
September 28 - October 30, 2019
3370 Sunset Valley Road
Moorpark, CA 93021
805-529-3690
Daily 9am-6pm
Underwood Farms does a whole lot more than just line up hordes of gourds and fresh pumpkins to mark the season; the family farm brings in antique tractors shows, cowboy entertainers, community service demos, folk music festivals, and costume parties to make each weekend a cornucopia of family-friendly seasonal entertainment. Admission tickets range from $8-$22.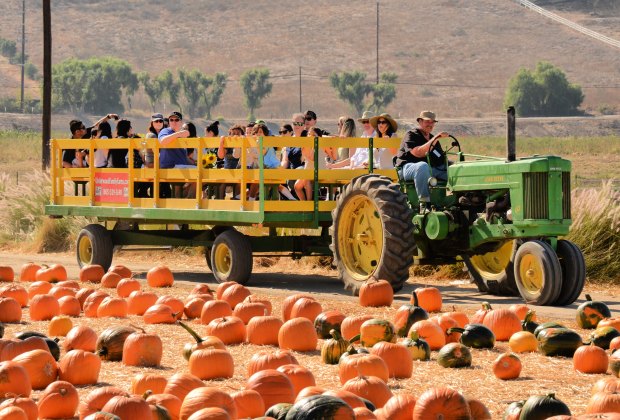 Celebrate the Fall Harvest at Underwood Family Farms. Photo by Ben Beatie
College of Agriculture Pumpkin Festival
October 5-6, 2019
Cal Poly Pomona:
4102 S. University Drive
Pomona, CA 91768
909.869.2215
8am-5pm
Cal Poly Pomona's pumpkin patch has been around for more than two decades. The drive east is rewarded with a large patch, a corn maze, and plenty of other fun for kids. Parking is free, and family packs are cheaper purchased in advance on the website. If you are CPP student/staff/faculty, the price is only $3 but must be paid in person.
Nights of the Jack
October 3 - November 3, 2019
King Gillette Ranch
26800 Mulholland Hwy
Calabasas, CA 93102
6pm-10:30pm
Thousands of hand-carved, illuminated pumpkins, take over a half-mile stretch of the mountain terrain of King Gillette Ranch for several evenings leading up to Halloween. Part walk in the woods, part art display, part family festival (with food trucks, fresh night air, and glowing jack o'lanterns), the event promises to be a welcome all-ages addition to Valley families' happy hauntings.
Calabasas Pumpkin Festival
October 19-20, 2019
Juan Bautista de Anza Park
3701 Lost Hills Road
Calabasas, CA 91302
818.880.6461
10am-5pm
At the annual Calabasas Pumpkin Festival, families can enjoy music, games, crafts, rides, a pumpkin patch, a car show, nature shows, and much more. Pumpkin facts and history are shared (after all, calabazas means pumpkins), and rides and activities are included in one admission price.
Scarium of the Pacific
October 26-27, 2019
100 Aquarium Way
Long Beach, CA 90802
562.590.3100
9am-5pm
The Aquarium of the Pacific transforms into a creepy undersea experience for the holiday. Fangtastic activities include magic shows, costume and coloring contests, face painting, underwater pumpkin carving, crafts, spooky storytelling, and creepy creature touch opportunities.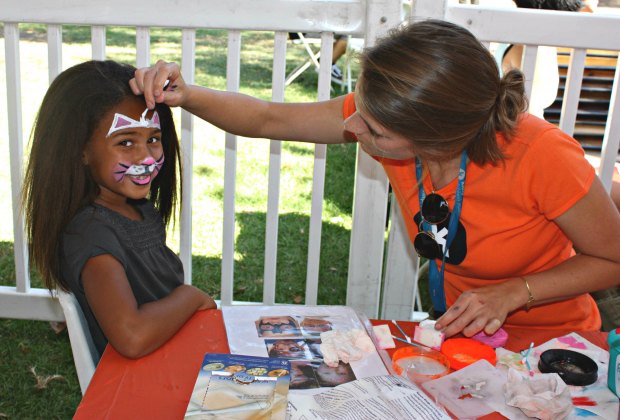 Photo courtesy of Kidspace Children's Museum
Kidspace Pumpkin Festival
October 19-20, 2019
480 N Arroyo Blvd.
Pasadena, CA 91103
626.449.9144
9:30am-5pm
The annual Kidspace Pumpkin Festival features crafts, rides, games, bouncers, live performances, promotions at the Radio Disney tent, and free photos at the pumpkin patch. Oh - and lots of pumpkins.
Boo at the Zoo
October 1 - 27, 2019
5333 Zoo Drive
Los Angeles, CA 90027
323.644.4200
10am-4pm
Kids are invited to the zoo for some safe trick-or-treating fun, pumpkin carving, musical entertainment, and spooky crafts. The wackiest part is called Stomp 'n' Chomp, when zebras, hippos, tigers, and other animals tear into pumpkins with gusto.

Theme Parks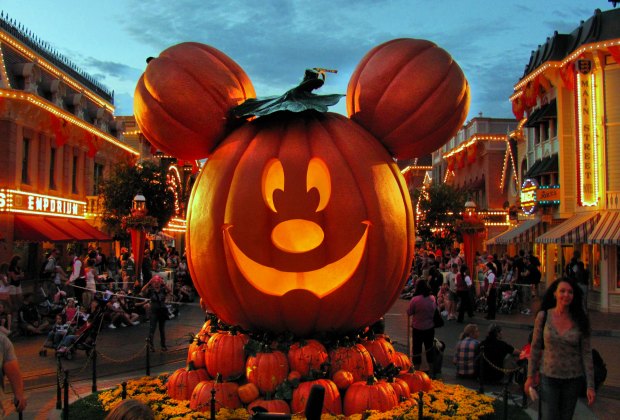 What better place to trick-or-treat than Disneyland? Photo by Loren Javier/CC BY 2.0
Everyone and his ghost knows about the Southland's various creepy theme park options, but it never hurts to be reminded:
Disneyland entices the younger crowd with Mickey's Halloween Haunt (Sold Out early for 2019 but there's plenty of other Halloween magic at the Disneyland Resort). The annual trick-or-treat extravaganza brings a limited number of families per night to enjoy a combination of rides, treat collecting, and dancing in the streets. This is a wholesome as Halloween gets.
Legoland brings back its Brick or Treat Saturdays from September 26 - October 26, 2019, offering the younger set a Halloween Haven just a little farther south. Costume contests, entertainers, trick-or-treating, and fireworks displays make this a great way to get in the holiday spirits with kids who are still heading for bed at a reasonable hour. And remember, if you're heading that far south, make use of the Kids Free October deals!

Knott's Berry Farm rolls out its annual Spooky Farm weekends September 28 - October 27, 2019 and October 31st, for the younger set, offering another celebration that highlights cheer over fear. This one is daytime only, but the park's Peanuts franchise promises a chance to hang out in Linus' pumpkin patch. Bigger kids (12 and up) and grown-ups who enjoy a good scare probably know all about Knott's Scary Farm (select nights September 19 through November 2, 2019); this one is all about putting the horror in Halloween and leaves no hair unraised.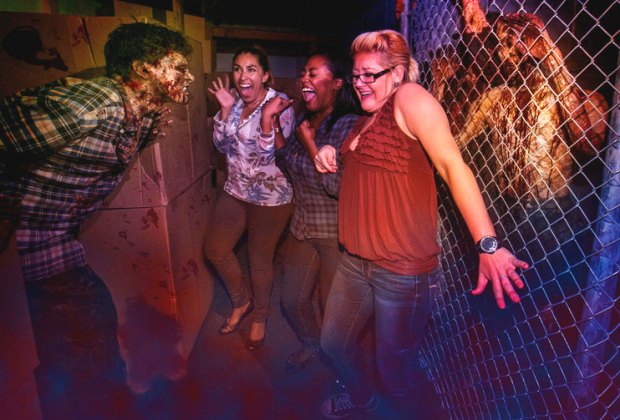 Halloween Horror Nights at Universal Studios. Photo courtesy of Universal Studios
Universal Studio's legendary Halloween Horror Nights opens for the 2019 season on select nights September 13-November 3, scaring teens and adults (again, no younger kids). Scare junkies can count on mazes, murderers, and mayhem, with more gruesome goings-on that anyone could take in on a single night.

Magic Mountain's Fright Fest (weekends September 14 - November 3, 2019) achieves its annual goal of terrorizing everyone over the age of 13 with more scare zones, shows, and haunted mazes than ever before. Nightmares are virtually guaranteed.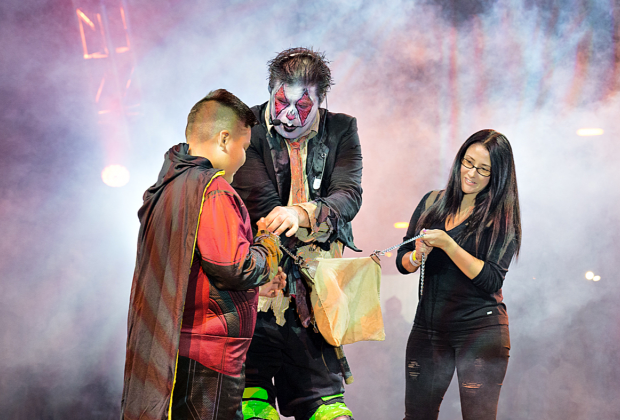 A Dark Harbor evil clown showcases slight of hand magical illusions on the main stage. Photo courtesy of Queen Mary's Dark Harbor
The Queen Mary's annual attraction, Dark Harbor, scares visitors to the belly of the ship in Long Beach from September 26 - November 2, 2019. The event includes mazes on board and on dry land, scaring those ready for it from age 12 and up.
Great Wolf Lodge is SoCal's newest theme park, and the water park resort is a joyous spot to get in the spirit of the season. In the month of October, overnight guests can take part in daily trick-or-treating for Howl-o-Ween in between rounds on the water slides; locals can enjoy the decorated lodge and nightly monster dance parties on a visit to play glow-in-the-dark mini-golf, cruise the arcade, or have a festive dinner.

Be sure to check out a few of our recommendations for ghost trains and haunted rides, too!
Top photo by Loren Javier/CC BY 2.0
Originally published September 29, 2011