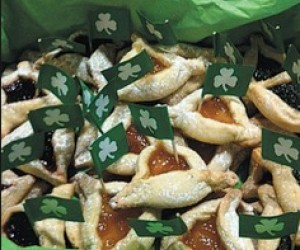 Fun & Free Events St. Patrick's Day Weekend for LA Kids: Purim, Airport Art, and Parades, Mar 15 - 16
Holy Hamantaschen: it's St. Patrick's Day! That doesn't sound quite right... Let me try again. Erin go Purim. Okay, that's even more mixed up. I'm dressing up as Esther for the St. Patrick's Day Parade, and chowing down on corned beef and cabbage for the many Purim Carnivals around town. Now shake your noise maker at that pesky leprechaun, and let's get to partying, because this holiday weekend is two- two - two holidays in one!
Not to mention the imminent approach of spring. Only days away, and well-deserved after the thrashing we received this winter (need I remind you it rained that one time?). The onset of spring means summer can't be far behind. Check out our new 'n' improved Summer Camp Guide, now with minty fresh search features.
As usual, there is plenty of non-holiday-affiliated fun to be had as well. You can check out art at the airport, monsters at the zoo, say farewell to a local favorite, and look at a really big plant. You might even find that pot o' gold at the end of the rainbow.
Read on for our favorite picks for this weekend…
ALL WEEKEND

Ernest & Celestine (PG) - West LA
Oscar-nominated animated film continues to delight audiences young and old.

Cirque du Soleil - TOTEM - Santa Monica
Alas! After this weekend we bid adieu to Cirque du Soleil's TOTEM at Santa Monica Pier.

The Pirate Fairy (G) - Hollywood
This is your last weekend to catch The Pirate Fairy at El Capitan - this calls for some pixie dust!

White - Beverly Hills.
White. White. White. White. White. White. Green. White. Wh - wait a minute, what was that last one?

Sesame Street Live Weekend - Griffith Park
What's your favorite monster in the L.A. Zoo? Mine are Cookie Monster and Elmo.

The Reluctant Dragon - West LA
The Reluctant Dragon is a tale about a shy, peaceful dragon who must overcome stereotypes to be accepted.

SATURDAY MARCH 15

Hermosa Beach St. Patrick's Day Parade - Hermosa Beach
Hermosa Beach's annual parade draws about 30,000 spectators. The fun includes a Kiddy Carnival, a petting zoo, international foods, vendors, and Irish music and dancing.

Santa Monica Airport Artwalk - Santa Monica
Dozens of resident artists at Santa Monica Airport welcome families to explore their studios, watch demonstrations, listen to music, and participate in workshops. Kids' activities include ceramics, painting a mural, making a recycled terrarium, and theater improv games.

Nothin' But Sand Beach Cleanup - Venice
If your version of green is the environmental kind, why not pitch in at Heal the Bay's monthly beach clean-up?

St. Patrick's Day - Pasadena
One Colorado celebrates St. Patrick's with kids' crafts and Irish dance.

Aqua Tots: Colors of the Ocean - Long Beach
Why limit yourself to green? There's a rainbow of colors under the sea for kids to learn about at the Aquarium of the Pacific.

County Ventura St. Patrick's Day Parade - Ventura
The theme for this year's parade is "The Irish Through the Ages!"

What's Up For Kids Expo - Torrance
Parents can peruse exhibits from summer camps, classes, and activities while kids enjoy continuous entertainment, hands-on activities and craft area, face painting, and a bouncer.

Big Moving Bash at Books and Cookies - Santa Monica
Books and Cookies will be closing its doors at its Santa Monica location next week! But first they're holding a big bash, with Music with Jennifer, Story Time & Sing Along with Books and Cookies staff members, and crafts and free play with UrbanSitters.

St. Patrick's Day Stories & Songs with Uncle Ruthie - West LA
Uncle Ruthie shares the luck o' the Irish with her stories and songs that honor St. Patrick's Day.

St. Patrick's Day Celebration - Calabasas
The festivities at the Agoura Hilla/Calabasas Community Center include bounce houses, climbing walls, face painting, musical and dance entertainment, and a mini camp fair.

Magical Mozart & Macaroons - Santa Monica
They'll come for the macaroons, but the Mozart is why they'll stay.

TWEENS: Powerhouse: Energy-Themed Makerspace Workshops - Santa Monica
A free workshop at the Santa Monica Library teaches tweens to make solar ovens, light-up cuff bracelets, and even a simple robot.

Electric Dusk Drive-In - Downtown
The Hills are alive with The Sound of Music. So is Downtown, as the classic film gets the sing-a-long treatment, drive-in style.

SUNDAY MARCH 16

Rocky & Bullwinkle & Peabody & Sherman - Santa Monica
If you enjoyed the new Mr. Peabody & Sherman, why not check out where it all began?

St. Patrick's Day Festival - Costa Mesa
The Orange County Market Place mixes the Irish (Irish dancers, Celtic cello, strolling Leprechaun) with the green (composting, recycled art activities, eco-scavenger hunt) for this day-long fest.

Lishy Lou and Lucky Too! TV Show Viewing and Live Performance - Hollywood
Latin Grammy winners Lucky Diaz & The Family Jam Band show off their new TV show and perform live in their new Hollywood residency.

Sierra Madre Wistaria Festival - Sierra Madre
This plant is so big (how big is it?); it's so big it's in the Guiness Book of Records! And they built a whole festival around it!

Target Free Sunday at MOLAA: Fridamania: Women's Day Festival - Long Beach
Frida Kahlo is celebrated at the Museum of Latin American Art's annual Woman's Day Festival.

Purim Carnival - Valley Village
The Valley Village "Cirque du Purim" celebration includes fair ground rides, games, live music, a petting zoo, and a dunk tank for Haman.

Hammer Kids: Museum Makers - Westwood
Kids can learn what goes into putting an art exhibit together in this free workshop at the Hammer Museum.

Go for the Green - Calabasas
Families can explore their green side with hands-on workshops at the Santa Monica Mountains Interagency Visitor Center.

Sunday Afternoon Fun Time - Santa Ana
Kids can find Peace Within and All Around as they build their own Sand Mandalas at Kidseum at the Bowers Museum.
Purim Carnival - Tarzana
Temple Judea hosts the biggest Purim Carnival in the Valley.
Purim Carnival - LA
Beth Am's Purim Carnival has puppies! And pony rides! And giant slides, a dunk tank, cotton candy, and a Ferris wheel!

MONDAY, MARCH 17: ST. PATRICK'S DAY

Legacy Leprechaun Gold Hunt - Malibu
Legacy Park has a resident leprechaun named Lucky, and kids can look for him and his pot o' gold.

Family-friendly St. Patrick's Day Celebration - Irvine
Pretend City celebrates St. Patrick's Day with a treasure hunt, Irish-themed art projects, and a leprechaun visit.

St. Patrick's Day Rock Out with the Beat Buds - Agoura Hills
MommyTrain invites families to rock out with the Beat Buds and celebrate at indoor playspace The Play Destination.

St. Patrick's Day at Farmers' Market - Fairfax
The Farmers Market gets decked out in green, green, and more green to celebrate St. Paddy's.

Leprechaun's Lucky Gold Hunt - Thousand Oaks
Thar's gold in that there park. Find some and trade it in for prizes.

As always, there are many more activities listed on our daily events calendar (and if you don't yet receive this weekly post as an email, you really should subscribe). Whatever you choose to do this weekend, we hope you have a spectacular time. Go easy on those green milkshakes, and Erin Go Bragh!