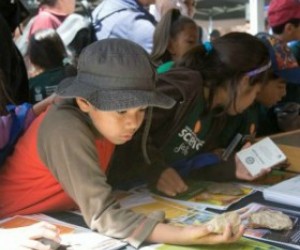 Weekend Fun with LA Kids: Science, Imagination, and Earth Day (Again) April 25-26
ALL WEEKEND
Pasadena Model Railroad Club Spring Open House - Downtown
Model railroaders wait months for the chance to view this club's fantastically lively and detailed display of trains.

OC Fair Imaginology - Costa Mesa
Imaginology is three days of competitions, exhibits, and activities all designed to explore the fun of STEAM (Science, Technology, Engineering, Arts, and Math).

Disney on Ice: World of Fantasy - Ontario
Disney favorites from Tinker Bell to Lightning McQueen take to the ice at Citizens Business Bank Arena.

Circus Vargas presents ArleQuin! - Irvine
The animal-free circus spreads awe and wonder at Orange County Great Park.

Disneynature's Monkey Kingdom with Live El Capitan Show - Hollywood
Life is tough when you're a monkey at the bottom of the tree. Monkey Maya fights to provide for her baby Kip.

Earth Day Celebration - Long Beach
About 70% of the Earth's surface is covered by water, so what better place to celebrate Earth Day than the Aquarium of the Pacific?

Hometown Country Fair - La Crescenta
The fun at the Hometown Country Fair includes carnival rides for kids, a classic/hot rod car show, arts & crafts exhibits, a dog parade, live music, and entertainment.

Last Weekends of the Month at the Skirball - West LA
The Skirball closes out April with performances of An Ark for All, a theatrical retelling of the Noah's Ark story through puppetry, audience participation, music, and special effects.

Kiddee Matinees - Hollywood
What happens when Peter Pan grows up? The New Beverly Cinema screens the Robin Williams classic Hook.

Descanso Earth Day Celebration - La Canada Flintridge
Descanso Gardens' Earth Day festivities include wildflower walks, lectures, and activities for the whole family.

Bunka Sai Japanese Cultural Festival - Torrance
It's a weekend filled with Japanese culture and arts, with storytelling, a tea ceremony, dance, taiko, folk singing, ikebana, bonsai, an anime contest, and games for kids.

SATURDAY APRIL 25

Truck Adventures - Arcadia
Fire trucks, police cars, construction vehicles, you name it, they've got it, and your kid can climb all over it.

Wake Up with the Waves - Santa Monica
Venice kindie rocker Tom Freund rocks Santa Monica Pier at the free weekly kids' concert.

Burbank on Parade - Burbank
Yee haw! This year's theme is Burbank: City of the Wild West. Git along little Burbank!

Santa Monica Mountains Science Fest - Agoura Hills
Science is pretty cool. Learning about it in the Santa Monica Mountains is even cooler.

Art & Literacy Festival: Where Books Come to Life - Santa Monica
Spend the day reading and making art in Virginia Avenue Park (Dressing up as favorite book characters is encouraged!).

Designer Sample Sale - Downtown
Score some discount designer duds at Cooper Design Space - the proceeds support the Dept. of Pediatrics at Cedars-Sinai.

Saturday Morning Stories and More - West LA
Rock out with The Beat Buds for Saturday morning fun at Children's Book World.

AMC Theatres Sensory Friendly Films - Multiple Locations
Because there were so many unanswered questions after Paul Blart Mall Cop: watch Paul Blart, Mall Cop 2 in a sensory-friendly screening at participating AMC Theatres.

Dia De Los Niños Festival - East LA
PBS Kids' Maya and Miguel pay a visit to Belvedere Park for the Mexican-American Opportunity Foundation's El Día de Los Niños event.

A Faery Hunt & Fairy Birthday Party - Griffith Park
After a successful faery hunt, you know what I like? A big, fairy birthday party!

Earth Day at the Bay - Newport Beach
Newport Bay Conservancy celebrates the 25th annual Earth Day at the Bay with arts and craft, science discovery, face painting, a Scavenger hunt, and live music from Danny Maika.

TSFY: Peter and the Wolf - Downtown
Prokofiev's Peter and the Wolf introduces young audiences to classical music, with the compelling tale of a boy, his forest friends, and a scary wolf.

Figaro Opera Tales - Downtown
Figaro Opera Tales is an entertaining introduction to the wonderful stories and melodies of one of opera's most beloved characters, Figaro.

Kids World Opening - Oak Park
A new playspace opens in the in Agoura Hills/Oak Park area.

Earth Day Celebration and Concert - Manhattan Beach
Earth Day ain't over yet! Manhattan Beach celebrates with music, games, and kids activities at Polliwog Park.

Serrania Fun Fair 2015 - Woodland Hills
Serrania Charter's annual Fun Fair features games, music, and food.

Saturday Science: Earth in Danger - Downey
Columbia Memorial Space Center looks at the negative impact that humans have had on our planet, and what we can do to make it better.

Gene Autry Double Feature - Griffith Park
The Autry screens Gene Autry classics Indian Territory and Silver Canyon.

Olvera Street's 85th Anniversary - Downtown
It's been 85 years since the reopening of Olvera Street as a Mexican Marketplace. This calls for a celebration!

Public Star Party - Griffith Park
Enough about the Earth! What about the stars? Isn't it time we turned our attention to the stars?

Outdoor Screening: Walt Disney`s Mary Poppins - The Grove
The Grove celebrates that other Poppins with a free outdoor screening of the Disney classic.

SUNDAY APRIL 26

Billy Jonas - Santa Monica
Billy helps audiences discover the music within common items … and within themselves.

Marzo's Variety Show for Kids - Hollywood
This month's show features the Sunshine Storyteller (Ina Buckner-Barnette), the Ukulady (Thessaly Lerner), and Scott Marshall (magician). One kid in the audience wins a free week of camp!

26th Annual Fiesta Broadway - Downtown
Fiesta Broadway is the nation's largest Cinco de Mayo celebration, drawing nearly 500,000 people to join in the festivities.

Pier Party - Santa Monica
Enjoy a day of rides, games, raffles, food, and entertainment at Pacific Park on the Santa Monica Pier. (Proceeds benefit Santa Monica/ Malibu schools.)

Brentwood Art Festival - Brentwood
That's a lot of art. Downtown Brentwood is filled with the work of over 120 artists.

Hammer Kids: Close Encounters: Textures of You: the Art of Frottage - Westwood
The Hammer Museum shows kids how to make a life-size portrait using found objects such as coins, wood, or leaves.

Dutch Kings Day - Santa Monica
Let's go Dutch to Santa Monica Pier. (We can even watch them make wooden shoes!)

Kids in the Courtyard: Great Impressions - Westwood
Fowler visitors create silver-like jewelry inspired by the closing exhibition Fowler in Focus: 50 Gifts.

Autry Explorers: Super Seedlings - Griffith Park
The Autry celebrates Earth Day by delving into the dirt; wear play clothes for hands-on outdoor fun.

Zimmer Sunday Family Programs - Mid-Wilshire
Feel the rhythm! Kids can join the Free to Be Me Drum Circle at the Zimmer Children's Museum.

As always, there are many more activities listed on our daily events calendar, and if you didn't receive this info as a newsletter, you should sign up for our weekly events updates. Whatever you choose to do this weekend, we hope you have a terrific time!