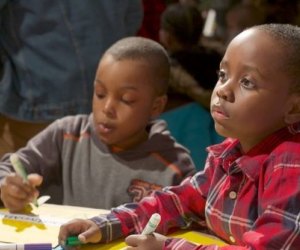 MLK Jr. Weekend Fun for Philly Kids: Tributes, Invention Convention, and OrKID Days
Philly kids may have an extra day off from school. But, this day off means more than just 'no homework.' Recognize Dr. Martin Luther King, Jr. with one of the many opportunities that celebrate his legacy found in our events calendar. Museums throughout the area host family activities such as service opportunities, arts and crafts, and other unique experiences that commemorate Dr. King's life. If you don't have the day off but are looking for care for your child, be sure to check out our roundup of School Day Off Camps.
After observing the holiday, check our January GoList for something to do. Visit Historic Philadelphia to meet Phillis the Washerwoman, see the orchids at Longwood Gardens in Kennett Square, or explore science at Hagley Museum's Invention Convention or Delaware Children's Museum's Try Science sessions. Whatever you do, make the most of the long weekend ahead.
Be sure to follow us on Facebook, Instagram, Pinterest, and Twitter!
All Weekend
MLK Weekend Celebration- Philadelphia, PA
In conjunction with Citizens Bank Foundation, the African American Museum of Philadelphia provides visitors a multitude of activities that honor past and present civil rights movements.
Invention Convention- Wilmington, DE
Head to the Hagley Museum for a weekend filled with science and creativity. Guests use their imaginations to explore the world of robotics at this year's event.
Phillis the Washerwoman- Philadelphia, PA
Step back in time to meet Phillis, an African-American woman who was born a slave but was freed at the age of 21.
Saturday, January 14
Genevieve Goings: 'Do You Know?' Concert Live- Drexel Hill, PA
Preschoolers know Genevieve from the show Choo Choo Soul. Now, hear her live and in concert at the Upper Darby Performing Arts Center.
Recycle Your Holiday Cards- New Hope, PA
Bring those holiday cards, scrapbooking paper, and your imagination to Bowman's Hill Wildflower Preserve.
40 Winks with the Sphinx- Philadelphia, PA
What goes on at Penn Museum after the sun sets? Head over to find out at this one-of-a-kind opportunity to sleep at the museum.
Introduction to Javascript- Newtown Square, PA
The Newtown Square Public Library hosts this workshop for girls 12-14 to learn how to create your own Javascript programs.
Try Science- Wilmington, DE
Explore the Delaware Children's Museum as it offers a chance for children to discover the world of physiology.
Sunday, January 15
Comics & Cards Convention- Mount Bethel, PA
Visit the Mount Bethel Fire Hall for its special comic book show. In addition, guests can see costumed characters from Avengers and Star Wars.
Zoo Kids- Wilmington, DE
Bundle up to see the animals at the Brandywine Zoo. Children can also make a simple craft and watch an animal demonstration.
Small World, Big Heart: Martin Luther King, Jr. Day of Art and Service- Doylestown, PA
Learn about the Massai people who live in Kenya and the similarities and differences that we share. Guests can also participate in letter writing activities and crafts.
Monday- Martin Luther King, Jr. Day
Family Day at the National Museum of American Jewish History- Philadelphia, PA
Family-friendly activities await visitors as the National Museum of American Jewish History honors Dr. Martin Luther King.
MLK Day: Scientists Make a Difference- Wilmington, DE
Recognize the great accomplishments of minority scientists to the field of natural science at this event hosted by the Delaware Museum of Natural History.
OrKID Days- Kennett Square, PA
Learn at discovery stations, listen to stories and explore the rainforest at Longwood Garden's OrKID Days. Don't forget to see the banana trees!
Martin Luther King, Jr. Family Celebration- Philadelphia, PA
The Philadelphia Museum of Art honors Martin Luther King, Jr. during this day-long celebration. Families can expect special performances, art projects, and museum tours.
Photo courtesy of The African American Museum in Philadelphia.