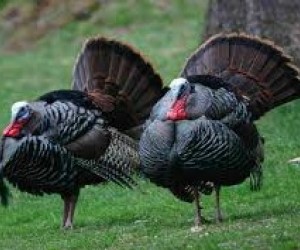 This Week's Picks: Turkeys, Trees, LEGO, and Lights, November 24-28
With Thanksgiving less than a week away, it is inevitable that our attention be drawn to the multitude of Christmas Holiday events. Trees continue to be lit; Santa is starting to make appearances, and this is the week that some people start putting up their extravagant light displays.
For those of you who would prefer to be thankful for what you have before focusing on what you can get, the Salvation Army kicks off holiday giving on Monday, and the Turkey Trot downtown is a great way to celebrate health and fitness while donating to causes that support some of our less fortunate Angelenos. Read on for all of our picks this week; and if you need extra ideas for fun this holiday week, remember that most of LA's outdoor ice rinks are open on Thanksgiving, as is CHILL at the Queen Mary.
1. Salvation Army Kettle Kick-Off – Monday
Before Farmers Markets became ubiquitous in SoCal (Santa Monica has four, count 'em, four!) there was the Farmers Market at 3rd and Fairfax. It is still going strong as a community gathering place. Every year, during the holiday season, the Salvation Army, has a donation kettle. The commencement of this charitable event is marked with the lighting of the Farmers Market's Christmas tree, sing-a-longs, and tributes to community leaders. Bring some bills or at least a few quarters.
2. Little Nature Explorers – Tuesday
Kids ages 1-5 are invited to Vista Hermosa Park, a nature preserve right in the heart of downtown Los Angeles, where a naturalist reads stories and then leads a nature walk. The event wraps at lunchtime, just in time for a picnic.
3. LEGOs in the Library – Wednesday
As part of the LA Public Library's science program, the Brentwood Branch (Donald Bruce Kaufman) has a free LEGO Playdate. RSVP is recommended.
4. Turkey Trot LA – Thursday
If I was a turkey, you bet I'd be trotting on Thanksgiving. Work off the turkey before you eat it at this 5k or 10k run/walk in downtown Los Angeles. Registration ranges from $20-$50, but the proceeds support two worthy causes: Homeboy Industries and the Los Angeles Food Bank. Entrants receive a cool "May the Fork be with you" t-shirt. This is a kid friendly introduction to running/walking and also a great pedestrian tour of downtown.
5. Home for the Holidays – Friday
Old Pasadena gears up for the holidays on Friday with the Holly Street Winter Wonderland. Kids can frolic in 20 tons of snow, enjoy crafts, and meet their favorite holiday couple - Mr. and Mrs. Claus. The lights turn on at 6pm at One Colorado, where they are celebrated with cookies and cocoa, a photo booth with Santa, and a chance to mail letters to the North Pole. (A response, assuming name and address get included, is guaranteed.)
As always, many more ideas are there for the clicking on our daily events calendar. Have a wonderful week!