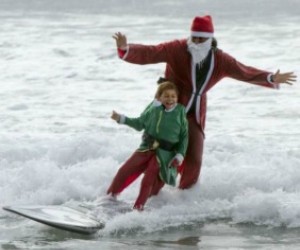 Fun & Free Things to Do This Weekend with LA Kids: Chill, Yo Gabba, and Mariachi Nov 22 - 23
It's beginning to feel a lot like winter, what with the Arctic chill, the record snow fall; I think there's another Polar Vortex on the way and.... oh, not here of course. Here we have our standard 72 and sunny. Kind of hard to get in the holiday spirit when you look outside and all you see is... snow? Snow in Los Angeles - that can't be right... I mean, check out the thermometer, it's a balmy...
...9 degrees Fahrenheit?!?! What kind of insane Bizarro World, SoCal ice wonderland are we talking about? (I bet that Elsa chick had something to do with it!) What am I going to do? I'll have to put on a sweater, or one of those coat things I've heard people talk about...

No. No, it's just not right. I'm going to go to my happy place, chill hang out at the beach and watch the waves come in, and sunshine and butterflies... And Santa Claus surfing to shore. If anyone needs me I'll be hibernating 'til spring.
Keep reading for our most chilling picks for the weekend.
ALL WEEKEND

Bob Baker's Nutcracker - Downtown
It must be the holidays: The Nutcracker debuts for the season at the Bob Baker Marionette Theater.

Opening Weekend of Chill - Long Beach
Because our kids think 65 degrees is "freezing."

Holiday Treats from the Paley Center Archive - Beverly Hills
Your kids can get a true education in the classics, as Holiday TV specials from the 70s and 80s screen at the Paley Center.

Pasadena Model Railroad Club Fall Open House - Pasadena
This is the last weekend of the Fall Open House, giving access to view the club's fantastically lively and detailed display of trains.

Moby Dick Reading on the Beach - Venice
Know what would make an awesome storytime book? Moby Dick! All 209,117 words of it. Sit back and listen as the whole book is read aloud on Venice Beach.

Yo Gabba Gabba! Music is Awesome! - Los Angeles
Music is awesome, and Brobee, Muno, Toodee, Foofa, and Plex are going to show you all about it at the Shrine Auditorium.

Repticon - Costa Mesa
The cold blooded need love, too. Learn all about our reptilian friends, and maybe buy a few to take home.

SATURDAY NOVEMBER 22

Surfing Santa Competition - Dana Point
Santas, some elves, and maybe a reindeer or two carve some waves in this holiday inspired surf competition at Salt Creek Beach.

St. Jude Give Thanks Walk. - Hollywood
Paramount Pictures Studios plays host to a 5K walk to raise funds for St. Jude Children's Research Hospital.

Saturday Morning Concerts - Santa Monica
Two of a Kind brings musical fun to Books and Cookies.

"Fall into Winter" Festival - Glendale
Five tons of snow grace the Glendale Community College campus, along with an Elsa parade, photos with Olaf, a jumbo slide, a police car, a fire truck, pony rides, and a petting zoo.

Saturday Morning Stories and More - West LA
Teacher Davis plays songs that are cool for learning and great for moving, at Children's Book World.

Saturday Science - Downey
The US Rosetta Project Manager visits Columbia Memorial Space Center to shed a little light on the mission to study a comet.

Meet Me at the Playground - Downtown
Somebody come and play: the new playground at Grand Park is open for business!

FIGat7th Kids Club - Downtown
Kids use a ceramic bisque tile, beads, jewels, and stones to create a bountiful design for your Thanksgiving table.

Free Crafts for Kids - Multiple Locations
Final piece in your Thanksgiving prep: the Giving Thanks centerpiece your kid make at Lakeshore Learning.

Watson Adventures' Wizard School Scavenger Hunt - West LA
Wizards and muggles alike can compete in a unique Harry Potter-themed scavenger hunt at the Getty Center.

Electric Dusk Drive-In - Downtown
Planes Trains and Automobiles reminds us all how much fun travel is over the holidays.

SUNDAY NOVEMBER 23

Mariachi Festival - Boyle Heights
It's a day filled with Mariachi at - where else? - Mariachi Plaza!

Family Art Workshop - Hollywood
This week's free workshop at the LA Municipal Art Gallery at Barnsdall Park is inspired by Samburu bead work from Kenya.

A Faery Hunt - Tarzana
If you're heading to the Tarzana Community and Cultural Center, be on the lookout for faeries.

Hammer Kids: Look Together - How to Play Games about Art - Westwood
Families can make new discoveries about art by playing games together at the Hammer Museum.

The Nutcracker Tea - Downtown
A true indulgence: at this fancy (ok, pricey) tea party, guests are treated to a special, intimate performance of selections from Los Angeles Ballet's production of The Nutcracker, as well as photos with the dancers, holiday crafts, and prizes.

Stories in the Afternoon - Pasadena
Art may not come out precisely as you imagined, but it is still art, as kids can learn in this family session at the Norton Simon Museum.

Rodeo Drive Holiday Lighting - Beverly Hills
Rodeo Drive does the holidays in style, with more than 150,000 lights, fireworks, and a confetti "snow" shower.

Zimmer Sunday Family Programs - Mid-Wilshire
As part of the crew of the Story Boat, kids sing, play, and dance through a fantastical journey around the world.
As always, there are many more activities listed on our daily events calendar (and if you didn't receive this post as an email, you really should subscribe to our weekly newsletter). Whatever you choose to do, have a wonderful weekend!