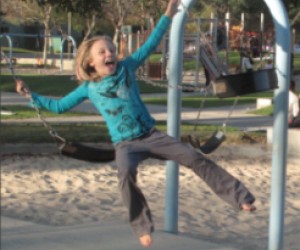 Fun & Free Activities with LA Kids this Weekend: Kidspace Birthday, Griffith Park Shakespeare & Festival of Masks - June 28 - 29
What's that you're doing? Are you… working?!? Stop that! Stop that right now! It's summer, missy. S-U-have some fun-MER. We at Mommy Poppins take summer frivolity very seriously, and we want to make sure you do the same. Starting now, we declare this to be the Summer of Play. So what are you waiting for? Get out there, make playhouses out of cardboard, count birds and flowers on your street, paint masterpieces with sidewalk chalk, and turn your lawn into a gameboard. Looking for some inspiration? We can get you started with a list of 100 Ways to Play.
Now, play is its own reward, but there's no reason we can't sweeten the pot. Share your summer fun ideas, photos, and tips on social media and we just might return the favor with some fun-makin' gear. Let the hashtags begin!

Whatever the season, your source for weekly activities remains the same: our ever-expanding calendar of events. This weekend alone, we can entice you with birthdays (Kidspace's, faeries' and our country's), ceremonies honoring ancestors and a new library, celebrations of Shakespeare, and sanitation, and open air concerts and movies.
Keep reading for some of our favorite picks for this weekend...
ALL WEEKEND

35th Anniversary Celebration - Pasadena
Kidspace Children's Museum is turning 35; this calls for a party!

The Amazing Bubble Man Santa Monica
Bubbles, bubbles, everywhere! The Amazing Bubble Man is back at the Edgemar Center for some seriously impressive bubble work.

Family Amphitheater Performances - West LA
The performances at the Skirball this weekend include the rich Afro-Cuban beats of Masanga Marimba on Saturday and up-close and personal time with the exotic animals of Zoo to You on Sunday. Also, for June's Last Weekends of the Month at the Skirball, local authors share their work.

Griffith Park Free Shakespeare Festival 2014 - Griffith Park
The Griffith Park Free Shakespeare Festival opens for the season with Twelfth Night.

The Musical Adventures of Flat Stanley - Rolling Hills Estate
He may be flat as a pancake, but Stanley Lambchop springs to life in this live stage production at the Norris Theatre.

SATURDAY JUNE 28

Opening Celebration of the Pico Branch Library - Santa Monica
Read all about it! Or better yet - show up and find out for yourself: the Pico Branch Library celebrates its grand opening.

Grunion Run - San Pedro
On your mark, get set, grunion! The silvery critters come ashore at the Cabrillo Marine Aquarium.

Movie on the Lawn - Irvine
Fire up the DeLorean for a trip Back to the Future at Orange County Great Park.

Super Hero Celebration Multiple Locations
Pow! Bang! Bam! Pottery Barn Kids holds a super-hero celebration, with crafts and appearances by Captain America at select locations.

LA Sanitation West LA Yard Open House - West LA
Last chance to get your trash on: it's the last of the hugely popular Sanitation Yard open houses, this week at the West LA District Yard.

A Faery Hunt & Fairy Birthday Party - Griffith Park
The faery hunt through Griffith Park is followed by a faery birthday party (with faery unicorn card readings).

Lowes Build and Grow - Multiple Locations
First you build it, then you can play the Sheep Drop Game inspired by How To Train Your Dragon 2.

Storytime & Stuffed Animal Portraits with Salina Yoon - West LA
Author/illustrator Salina Yoon presents her new book, Found. (Bring your stuffed toy and go home with a sketch of it!)

Story Pirates: The Flagship Show - Westwood
The Story Pirates turn kids' stories into sketch comedy musicals – never the same story twice.

FIGat7th Kids Club - Downtown
Kids can create a Sand Mandala, an intricate, healing, peaceful pattern using colorful sand.

Celebrate America - Music and Fireworks - Santa Monica
We go through this every year. Santa Monica College holds its fireworks on the Saturday before July 4. So if you want to go see them, it's this weekend. Not on the 4th. Got it?

Family Evening in the Chinese Garden - San Marino
Families can explore the Chinese Garden at the Huntington during a special evening of cultural discovery including music, art activities, and a lion dance.

Just how perfect is the Anna Kendrick-starrer Pitch Perfect? It plays at two star-lit screenings:
Eat See Hear at Brentwood's Paul Revere Middle School and
Street Food Cinema in West Hollywood's Poinsettia Park.

SUNDAY JUNE 29

Hammer Kids: Look Together: How to Talk about Art - Westwood
A museum educator helps Hammer visitors discover and explore artworks in the galleries as a family.

Summer Family Fun Series - Fairfax
The summer fun at the Farmers Market includes a decorate-your-own doorhanger craft, face painting, and a performance by Masanga Marimba Ensemble.

Day of the Ancestors: Festival of Masks - Leimert Park
The Festival of Masks is based on an important annual rite that takes place in villages in Nigeria and beyond. Make a mask and join in the procession.
Woofstock 90210 (Rescheduled) - Beverly Hills
Puppies on parade! It's a dog-centric day at La Cienega Park.
Kids Run the Bases - Dodgers Home Game - Echo Park
The Dodgers play the Cardinals; kids get a free Adrian Gonzalez replica jersey and run the bases at Dodger Stadium.

Zimmer Sunday Family Programs - Mid-Wilshire
The Zimmer celebrates Superman's birthday with crafts and an appearance by the man of steel himself. Kids who come dressed as a superhero get $1 off admission.

Manhattan Beach Summer Concerts in the Park - Manhattan Beach
Hot August Night, a Neil Diamond tribute band, plays Polliwog Park Amphitheater.

Indiana Jones Trilogy - Hollywood
Find the lost ark, a sacred stone and the Holy Grail, (as well as some snakes and a bunch of Nazis) as the Indiana Jones trilogy plays at the Egyptian Theatre.

Playa Vista Concert in the Park - Playa Vista
Soulville California Band, The American Idol Live Tour band, performs dance hits from Bruno Mars, Katy Perry, and more,

Concerts on the Green - Woodland Hills
I think it's today, yeah: Ticket to Ride, a Beatles tribute band, plays Warner Center Park.

Sierra Madre Concerts in the Park - Sierra Madre
Johnny Cash tribute Cash Up Front plays a free concert in the Memorial Park Bandshell.

LevittLA Summer Concert Series - Children's Concerts in MacArthur Park - Downtown
Levitt Pavilion at MacArthur Park features a free interactive bilingual performance from Moona Luna.
As always, there are more activities listed on our daily events calendar, and if you don't already receive this post as a weekly email, you should totally subscribe. Whatever you choose to do this weekend, we hope you have an amazing time!