Disneynature's Monkey Kingdom: Parent Review of the Film at El Capitan
There are not many kids' films that I actively look forward to, but Disneynature's Earth Day releases have become an annual tradition that I savor. Previous years' delights have included Chimpanzee, Bears, and African Cats, all of which have raised money to preserve the habitats of their stars. This year, Monkey Kingdom joins the all-star team of animal documentaries produced by this crew. Read on to find out what we love about the film (and seeing it at Hollywood's El Capitan Theatre), and to see whether your little ones are ready to love it, too.
Like the other films in the series, Monkey Kingdom follows the tale of a mother and child, with lots of opportunities to cry, "Awww!" along the way. Once more, the intrepid film crew makes itself a part of an exotic setting, providing a window into a world we would not be likely to share any other way. The cinematography is luscious, and the editing creates a story that is funny, poignant, and suspenseful. And, yes, the monkeys are adorable—bouncing, swinging, playing, splashing, and cuddling.
Cuteness and G rating notwithstanding, this film may not be right for very young kids; a 4-year-old near us in the theater didn't make it through. The perils faced by the animals are a little more violent than the ones braved by last year's Mama Bear and cubs, though fairly comparable to the more suspenseful Chimpanzee. Mild spoiler alert: none of the main primate protagonists die, but two monkeys do meet their ends pretty dramatically—one at the hands of a predator, and the other in battle with other monkeys. Dramatic music builds tension, and in one melancholy scene the monkey family pays last respects to a fallen companion.
Perhaps the most disturbing aspect of the film, though, is also the most interesting: that the monkeys have a society very similar to our own, and it includes some of the ugliest behaviors that we associate with humans. We adults found this message a little sobering, though to be fair, our kids seemed to gloss right over it with eyes for nothing but the cute.
And cute there is aplenty in this film. Even when these monkeys are angry, battling, stealing, or bullying they look adorable. Tina Fey's narration is playful, as is the music, and during the end credits we get a peek at how the crew managed to film all of this remarkable footage.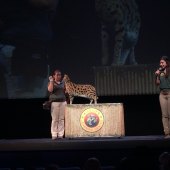 Seeing Monkey Kingdom during opening week (April 17-23, 2015) is particularly worthwhile, as a portion of opening week ticket sales goes to preserve monkey habitats. And seeing it at Disney's El Capitan Theatre is, as ever, a treat worth having. Movies at El Capitan always feel like more of an occasion, with the vintage organ concert before each show in the beautifully restored Art Deco cinema; but what really makes the event this time around is the pre-show stage presentation by the Wildlife Learning Center. The center's naturalists bring out everything from alligators to tiny foxes to big cats, taking questions from the crowd in between critters. The extra dollar or two it may cost to see the movie at El Capitan is well worth it for this experience. (Remember to park at Hollywood and Highland and validate to get $2 parking for four hours.)
Monkey Kingdom plays At Hollywood's El Capitan Theatre through April 30, 2015, with Tiny Tot screenings on Tuesday mornings.
Interested in more of our parent film reviews?