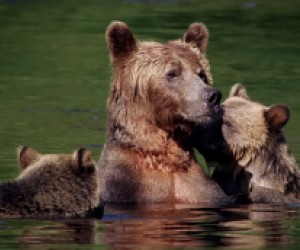 Bears: Parent Movie Review of the Disney Film at El Capitan
Every Earth Day for the last few years, Disneynature has given families a movie event to look forward to, and this year's treat is an all-ages celebration of the most kid-centric of mammals: Bears. In the tradition of other Disney Earth Day releases, which have included Chimpanzee, African Cats, and Oceans, the film Bears offers a breathtaking cinematic journey - and a peek into the world of Alaskan brown bears that seems almost impossible in its close-up detail. Not to mention, it is almost unbearably adorable. Read on to see just how adorable - and to find out if it's your little bear-lover's cup of tea.
The story follows a mother bear and her two cubs, from just after their birth during her long winter's sleep until the following winter when the family seeks shelter for another season's hibernation. The dangers facing the threesome are many and varied, and the odds are against both cubs' surviving the year. Because Disneynature's adventurous camera crew honors something akin to the Star Trek prime directive, they won't interfere, even if cute animals could die. The most important spoiler, therefore, is to let conscientious mamas know - this story has a happy ending. All the cuddly bears survive to cuddle for another season.
In fact not much that is terribly worrisome happens to the furry little family. The editors seemingly had to drum up some peril through the narration, just to make sure that we worry at least a little. There are one or two instances of a cub losing track of Mama Bear for a while before being found again, but nothing worse than you'd find in a classic board book. A few times angry, snarling bears face off (though even in anger the darn things look cute), and once or twice a skulking wolf slinks by menacingly. The moment that our kids found the most worrying was an impressively shot avalanche, close to the beginning of the film. Overall, The Lion King is a whole lot scarier - though viewers with strong personal attachments to salmon might find the film a bit disturbing; the bears' happy ending requires quite a few salmon to die.
Disclaimers aside, Bears is a visual delight and a real family treat. Our party included a 10-year-old boy and a 6-year-old girl, and they were both enthralled throughout, from the first adorable paw and whisker to the last. The cinematography ranges from unbelievable close-ups of snuggling bears asleep in their cave to vast, sweeping aerial shots of bears making their way across an untouched tundra. More than once I wondered how it was possible to have filmed what we were watching, so we were all delighted when the credits sequence at the end of the movie offered a peek behind the scenes of this remarkable process.
As usual, seeing the film at El Capitan offers a few extra perks that merit a drive to Hollywood. There's the regular preshow on the wonderful El Capitan vintage organ, of course, plus an educational and adorable stage presentation by the Wildlife Learning Center, whose volunteers bring out rescued animals ranging from porcupine and fox to wild cat and bald eagle. Kids get to ask questions, and everyone leaves with the clear message that wild animals do NOT make good house pets (phew!). The accompanying exhibit in the foyer and the downstairs gallery includes plenty of information about bears in the wild, and a couple of real bears preserved through taxidermy.
Disneynature's Bears has a relatively short run at El Capitan, so round up your cubs quickly if you want to catch it. My bet is you'll be glad you did.
Bears plays at El Capitan daily through May 1, 2014. General admission is $10-$13, with VIP tickets (including reserved seating, popcorn, and a drink) at $22. Tiny Tot Tuesdays offer screenings with lights on dim and lowered sound levels.
Interested in more of our parent film reviews?