Coding Classes for Kids in NJ: CodeAdvantage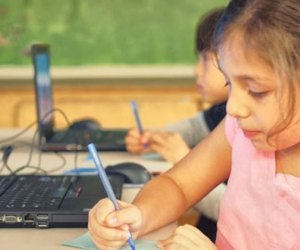 When it comes to technology, I am quick to play the "I made it through college with a typewriter and Wite-Out" card when talking with my kids. This inevitably garners an eyeroll and probably rightly so: our children were practically born with devices in their hands. And since statistics predict that by 2020 over 1 million computing jobs will be unfilled in the US due to lack of candidates with the right skills and experience, perhaps it's time for me to embrace the need for my kids to have some mad computer skillz. So I was thrilled when my 10-year old son was offered a coding class at CodeAdvantage, and a Minecraft one to boot, which is just about his favorite thing on earth. Read on to hear about our CodeAdvantage experience.
CodeAdvantage has a mission: to give kids a fun and interactive environment to learn, create, and master technology skills that will be critical to success in the future. One of the best ways to do this is to take something that kids are already interested in--say, Minecraft, maybe?--to teach the basics of computer science. My son Miguel, who drags his feet to school every day, literally could not wait to get to his modding "class". He quickly digested the difficult concept of "Java programming" in service to the exciting prospect of modding (modifying) swords and bows and arrows. His happiest achievement was inventing bright red Creepers, which any parent with a Minecraft-obsessed child will appreciate.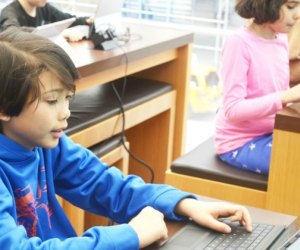 My son's instructors were cool/nerd guys, who looked like they were just barely out of their teens themselves, which is a great "advantage" to inspiring (and having some measure of control over) their distracted and goofy 10 to 14-year old students. A main instructor and a junior instructor combined to keep order. They used great real-world examples to make the jump into the alternate world of coding and were infinitely patient and kind. Although Miguel's class was all male, CodeAdvantage is dedicated to inspiring girls to learn coding with their special "Girl Code Power" classes, female mentors (quite a few of CA's instructors are women), engaging content and an empowering environment. CodeAdvantage also offers classes in Game Design, 3D Animation, Scratch, App Creation and Python, as well as school break camps and a full or half-day summer camp. Locations are Montclair, Jersey City and Hoboken in New Jersey and a number of venues in Manhattan.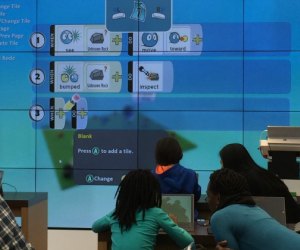 Of course, not every kid who takes a coding class will go on to a career in a computer-related field, but there are certainly other advantages to being computer-literate; in this all-tech, all-the-time world in which we live, being on top of the enormous influx of information can only be a plus. In addition, coding helps develop critical reasoning, logical thinking, and creative expression and will be used in almost every field across STEAM (Science, Technology, Engineering, Arts, and Math).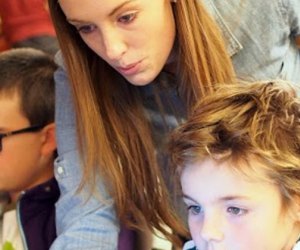 My son was quite thrilled with his coding experience (as you can see below) and is excited to move to the next level. CodeAdvantage comes highly recommended by Mommy Poppins NJ, so try one of their coding fairs or trial classes to check it out for yourself. Check out their website or call 917-819-CODE for more information.