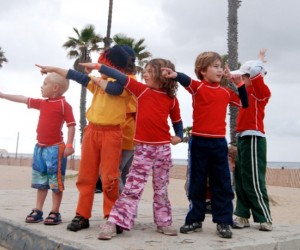 Bilingual and Language Immersion Preschools in OC
Immersion preschools vary as much as any other group of preschools. They may be larger, smaller, part of a preschool–12th grade school, or be home-based with a small group of students. Some are more academic; others are play-based. Be sure to visit the schools that sound interesting and offer the language you are looking for.
Spanish
El Sol Science and Arts Academy
1010 N Broadway St
Santa Ana 92701
714.543.0023
El Sol is a public charter school offering preschool through 8th grade education. The entire school is a dual immersion school, with preschool and K teaching 90% Spanish and 10% English, and the Spanish percentage decreasing to a 50/50 model from 4th grade on. Students complete 8th grade able to read, write, speak, and do academic work in both Spanish and English. The preschool prepares students for a successful K year at any school. Since this is a public charter, there is no fee to attend—and there is a lottery, with 66 spots available each year. Preschool students attend two or three days per week in morning or afternoon sessions.
Kiddie Spanish Academy
26801 Via Llano
Mission Viejo 92691
949.954.4518
This home-based, full Spanish immersion program offers one or two mornings per week for ages two to three, and two or three mornings a week for ages three to five. Full immersion means that all art, cooking, dance, songs, games, and other activities are presented entirely in Spanish. Teachers are fully prepared for new students to have no prior knowledge of Spanish.
LePort Montessori
Huntington Harbor Campus
16081 Waikiki Lane
Huntington Beach 92649
714.907.4672
This new Spanish immersion program began in Fall 2012, though LePort Montessori's traditional English program is well established. The immersion program is designed with the traditional three-year Montessori program (preschool through K) in mind, and the academic day is full Spanish immersion for younger children. Children who attend before or aftercare do experience English. Older children begin mastering English literacy skills in the afternoon or the academic day.
Spanish, Mandarin
Renascence School International
2987 Mesa Verde East
Costa Mesa 92626
714.783.7070
Renascence School offers a trilingual immersion program for preschool through 12th grade. In addition to the time spent in Mandarin and Spanish, preschoolers also learn English pre-reading skills and begin writing. There are no admission requirements for ages 3–6. Tours are offered on Wednesdays at 9:30am; call to arrange.
Spanish, German
Anneliese Schools
Preschool offered at South Laguna and Laguna Canyon campuses
949.497.8310
Anneliese Schools offer preschool at two Laguna area locations. In the preschool classroom, teachers speak their native German and Spanish to the children (and other languages as well). Languages are also an important part of morning and afternoon circles. Hot lunches are provided, and the school days feature garden time, visits to the on-campus farm animals, nap time, recess, story time, and the use of manipulatives, puzzles, and math concepts. Nursery (2–3) and preschool (3–4) classes are both offered. Beginning in Kindergarten (2 years of K are offered, depending on birth date), Anneliese students receive formal teaching in Spanish and German, with the school offering K-6. A variety of days per week and hours per day options are available.
Armenian
Ari Guiragos Minassian Armenian School
5311 W McFadden Way
Santa Ana 92704
714.4839.7831
AGM Armenian School offers two preschool years (pre-K1 and pre-K2, based on age). The school continues through sixth grade. The preschool learning environment focuses on five areas: cognitive, social, emotional, physical, and creative. Preschoolers learn pre-reading skills in both Armenian and English, and begin learning about Armenian culture and traditions as well. Preschool is full-day, with extended care available.
French
Lycée International de Los Angeles
preschool offered at Santa Ana campus and 3 LA campuses
714.771.4710
Lycée International offers preschool thru 12th grade, with one campus in Santa Ana and four in Los Angeles County (four offer preschool; the Burbank location is the only campus offering middle and high school). Preschool is a full French immersion program, and the school prefers that students begin the program in preschool for the best transition. High schoolers sit for both the International Baccalaureate and French Baccalauréat exams—it seems so far away when looking at preschools, but if these exams are important to you, now is the time to look at your options!
German
Ute's KinderSchule
28 Silkgrass
Irvine 92614
949.786.3877
Ute's KinderSchule offers a bilingual German/English program that focuses on Rudolf Steiner's philosophy of teaching the whole child. This home-based school is a full-day program that includes breakfast, supervised creative play, free play, free art, rest time, age-appropriate academics, and lunch preparation and mealtime manners.