Best Ice Cream (and Gelato) on the Westside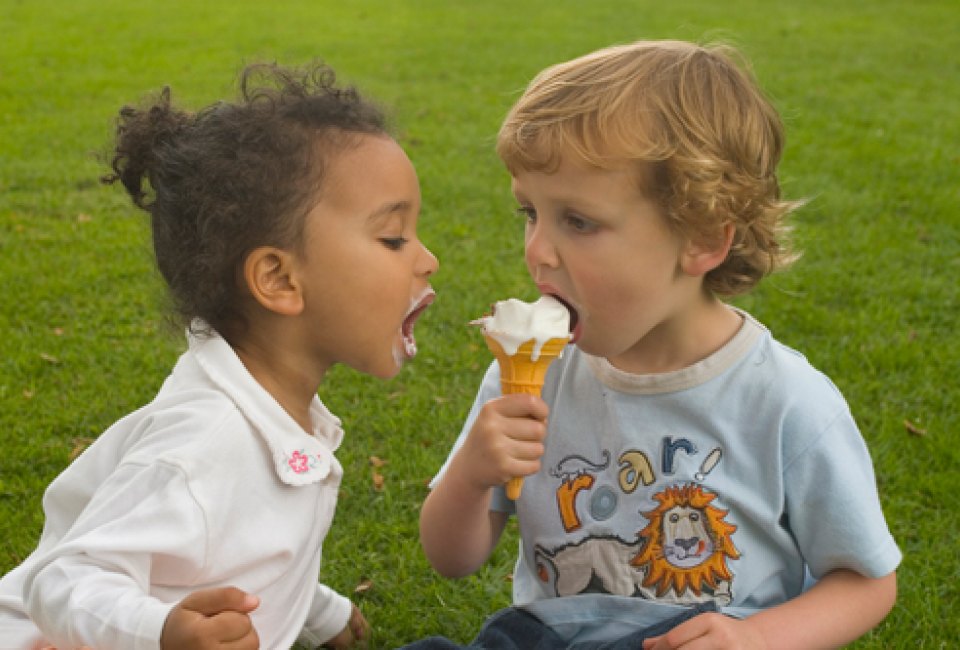 7/2/13
- By
Martha Hall
When I was young, the dazzle of summer included my Auntie Grace's homemade coffee ice cream and the thrill of helping to make it. Oh, the delicious anticipation of taking a turn hand-cranking the ancient ice cream maker, lifting the top, and hoping the cream inside had thickened enough to be scooped and swallowed. There's nothing quite like hand-crafted ice cream. But, of course, there's also nothing like summer laziness and letting someone else make the ice cream for you. Read on, hammock dwellers, for we've got the inside scoop on the most delectable ice cream (and gelato) on the Westside, most of which is made in-house. Come on in and have a lick.
Just beware: with the mostly organic and often locally sourced milks and creams used in many of the shops listed below comes the cost of those high-end ingredients. Baskin Robbins and Foster's Freeze will of course be cheaper (but, as you can guess, won't burst with flavor and richness in quite the same way).

Beachy Cream
1209 Wilshire Blvd.
Santa Monica, CA 90403
310.656.4999
Honestly, I mean honestly, Beachy Cream's fresh mint ice cream is the freshest and most deliciously minty of any mint ice cream I've ever tasted. What's even better, choose any of the organic ice cream flavors and have it sandwiched between freshly baked cookies (you get to choose your cookie flavor, too). What kid won't love that?

Bulgarini Gelato
8686 Washington Blvd.
Culver City, CA
310.815.1723
Goats milk gelato? Yep, they serve it here. Melt-in-your-mouth pistachio gelato, with nuts shipped directly from Italy? Yes, that too. Friendly wait staff, and an atmosphere that makes you want to hang around? All here. What's more, they have mobile carts and will happily come to your next birthday party or baby shower. Buon appetito!

Coolhaus
8588 W. Washington Blvd.
Culver City, CA 90232
310.424.5559
Perhaps you've seen a Coolhaus truck and tasted its rich and creamy offerings at First Fridays or another area festival. Well, lucky us, Coolhaus now has a storefront in Culver City, as in a set location you can visit whenever the spirit moves. And believe me, once you taste Coolhaus' creamy concoctions, rich with locally sourced and seasonal ingredients, the spirit will move quite often. Feel free (read: do it) to have your ice cream pressed between two soft and chewy, fresh baked cookies. So tall the kids may need help getting their mouths around the treat. Yes, help eating their ice cream. Enough said.

Grom
3886 Cross Creek Rd.
Malibu, CA 90265
310.456.9797
Some will travel for miles for a good cup of coffee, while others will go the distance for a fine gelato. I fall into the latter category, and Grom Gelateria is well worth the drive. Grom, my friends, is real deal Italian gelato. Grab a scoop and make an afternoon of it with a romp at the Malibu Country Mart playground, just across the parking lot.

Mateo's Ice Cream and Fruit Bars
4929 Sepulveda Blvd.
Culver City, CA 90230
310.313.7625
We had driven by this little shop, tucked away in a Culver City strip mall, hundreds of times but never noticed it. So glad we finally did! All of Mateo's ice cream and paletas are made on the premises and look so colorful, fresh, and tasty in the long freezer case that lines the store. Feel free to browse a while before deciding on what you want. The display is that enticing, and the flavors are divine. And the prices here (our order: two single serves and a peleta for under $6) are also a sight to see.

MILK
7290 Beverly Blvd.
Los Angeles, CA 90036
323.939.MILK (6455)
You hear "milk" and you may think "cow". I hear "MILK" and I think, "Yes!" And then I drool. This LA ice cream parlor and bake shop is just what the doctor ordered on a hot day, or any day for that matter. If not for the macaroon and ice cream sandwiches, head there for the Triple Chocolate Shake or Espresso a la Mode. I know. Hurry up, kids. Mommy's hungry.
N'ice Cream
1410 Abbot Kinney, #102
Venice, CA 90291
310.396.7161
They may skimp on the fat, but never on the flavor. N'ice Cream, with locations from Costa Mesa to Santa Monica, uses locally sourced, organic ingredients to make their daily batches of sorbet and gelato. No products served are ever more than 12 hours old. Fresh is an understatement; delicious sums it up.

Safron and Rose Ice Cream
1387 Westwood Blvd.
Los Angeles, CA 90025
310.477.5533
Want to try something new, and a little different? Grab the kids and head to Saffron and Rose. With flavors like, well, saffron, and rose, not to mention jasmine, orange blossom and lavender all infused in a creamy organic milk based ice cream, your taste buds (not to mention your kids), will thank you.

Scoops Westside
3400 Overland Ave.
Los Angeles, CA 90034
323.405.7055
Scoops Westside's flavors change daily. But with rotating options like Salty Oreo, Malt Butterfinger, or Basil Goat Cheese Honey (yes indeed), you can never go wrong. Not to worry: Scoops tweets its flavors of the day.

Sweet Rose Creamery
225 26th St., #51
Santa Monica, CA 90402
310.260.2663
Two words: Salted Caramel. You've no doubt seen this popular flavor elsewhere, but you are sadly missing out until you try Sweet Rose's. Other equally sublime flavors are also available. The kids will love the milkshakes: thick, creamy...oh, and did we also mention thick?

Editor's Note: My gelato-loving conscience does not allow me to publish this post without adding my own, personal favorite, featuring a secret family recipe that inspires fans to sometimes stand in lines running down the Beverly Hills block:
Al Gelato
806 S. Robertson Blvd.
Los Angeles, CA 90035
310.659.8069
If you don't try the Capuccino flavor, you've only yourselves to blame...
Sign up for the Mommy Poppins Newsletter today!