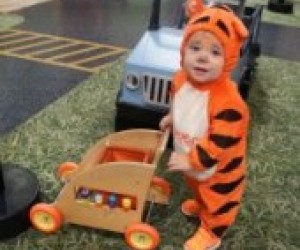 An Epic Week: This Week's Picks October 13 - 17
Doh! This is the month to celebrate all things Homer at a myriad of Odyssey themed events sponsored by the Los Angeles Public Library. And while our picks primarily focus on things to do with kids, this week also offers a few worthwhile opportunities for parents.
If you live in Pasadena and have a little one headed for school soon, Kindergarten Elementary Nights is not to be missed. On the Westside, Digital Domain in Santa Monica is hosting a Minecraft Workshop for parents who want to connect with their children's latest obsession. Meanwhile, we've got our five picks for fun things to do with the offspring this Monday through Friday:
1. Baby Steps Through Pretend City– Monday
This is a fun opportunity for the younger crowd to prepare for Halloween in Irvine. Pretend City's celebration features a pumpkin patch, a pumpkin hunt, and plenty of kids in costume.
2. Free Day at the Autry - Tuesday
The Gene Autry Museum in Griffith Park is free the second Tuesday of the month. As cars start to give way to trains in LA, take a moment to revisit Route 66, while the classic American road trip exhibit is still there.
3. The Odyssey for Kids – Wednesday
In Silver Lake, author and storyteller, Antonio Sacre presents a family accessible version of Homer's epic poem, as part of a month-long celebration of the ultimate road trip story.
4. Bob Baker's Halloween Hoop-De-Doo – Thursday
Always costumed, these classic marionettes celebrate Halloween with skeletons, a purple people eater and an invisible man. Refreshments are available in the party room afterward. For natives, this is a trip back in time. If your kids haven't seen Bob Baker yet, don't let another year go by.
5. Malibu Haunted House and Movie- Friday
Teens and 'tweens can get into the Halloween spirit with spirits at this bluffside screening of Paranorman. There is also a haunted maze; 'tis the season.
Find more fun things to do every day of every week on our family events calendar, and get weekly highlights in your inbox by subscribing to our newsletter!