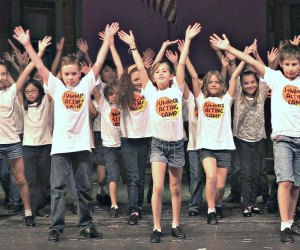 10 Acting Summer Camps in LA and OC
This is LA, so of course there are summer acting camps! And since there are different types of acting - stage acting (classical and modern), film acting, comedic acting, improv - there are also different types of acting camp. Acting camps are not just for children who want to study theater, though; they also increase public speaking skills and build self-confidence. If your child is new to the world of drama, a camp that covers many different topics can offer a solid foundation and allow your child to discovers strengths and interests. Other camps offer focused concentration on Shakespeare or acting for film, for example.
Though many of these camps offer some instruction in singing and dancing, be sure to see our Musical Theatre Camp Round-Up for those kids who enjoy Broadway-style performance. And for your other kid - the non-dramatic one - we have a bunch of other summer camps to suggest, too!
Note that summer camp information for the 2020 season is changing daily. Please click the links to the individual camps below to see which ones are offering programs this year.
Find more options in our Summer Camp Directory.
1. The Actors' Gang
1- and 2-week sessions
Location: Ivy Substation, 9070 Venice Blvd, Culver City CA 90232
Ages: 8–12, 13–17
9am–3pm
Scholarships available
The Actors' Gang camps are intended for both new and experienced actors who are interested in exploring creative theater. Camps include classes in the physical and improvisational acting style that The Actors' Gang is known for. Guest workshops focus on voice, makeup, costume, movement, and more. The new second week of teen camp focuses on creating an original 20-minute play. All camps culminate in a performance for family and friends. Apply early; this is a popular program!
2. Actors Space West
2-week sessions
Location: 22749 Ventura Blvd, Woodland Hills CA 91364
Ages: 8–14, 13–18
9am–4pm (teen filming days could run long)
Some financial aid available
This is a great camp for kids who want to act on camera. Morning workshops include cold reading, improv, audition techniques, and scene study. Afternoons are spent rehearsing and then shooting a short film. Approximately six weeks after camp ends, actors and parents are invited to the premiere—complete with red carpet interviews! Kids' camp is limited to 15, teen camp to 12. These are fast-moving and fun camps, and the age guidelines are strict.
3. A Noise Within
3-week sessions
Location: 3352 E Foothill Blvd, Pasadena CA 91107
Ages: 10–18
10am–4pm
Summer with Shakespeare culminates in a Saturday noon performance of monologues and scenes from Shakespeare's plays. This camp allows campers to get their craft on with mask-making, and they study mask work as well. Scene study, voice, stage combat, movement, costuming, text analysis, and more round out the camp. Campers are divided into groups by age.
4. Discovery Onstage
4-week session
Location: Providence High School 511 S Buena Vista St, Burbank, CA 91505
Ages: 6–15
Full day 8am–3:30pm; complimentary aftercare; 2 Saturday performances
Scholarships, discounts, and incentives available
Discovery Onstage offers four weeks of acting camp culminating in performances at Providence High's renovated theater. Camp includes classes in acting, filmmaking, visual art, dance/movement, singing/songwriting, swordplay, and stage combat. The students work to create a production that they perform in two Saturday shows.
5. Los Angeles Academy of Performing Arts
1-week sessions
Location: 6476 Santa Monica Blvd, Los Angeles 90038 (Hollywood)
Ages: 5–12, 13–18
Juniors 10am–4pm; teens 10am–5pm
LAAPA is offering two acting camps this summer: Shakespeare for Kids and Classical Acting for Teens. Shakespeare Camp includes the Renaissance and Elizabethan England; students are exposed to Shakespeare's poetry and perform scenes from his plays. The Classical Acting camp covers Ancient Greece through the Renaissance; students perform scenes from Greek tragedies to Shakespeare. Both camps end in a final performance for friends and family. LAAPA also offers musical theater camps.
6. Summer Acting Camp
3-week sessions
Location: La Cañada High School's Playhouse 4463 Oak Grove Dr, La Canada, CA 91011
Ages: 5–15
8am–5pm, complimentary before- and aftercare
Campers are divided by age into groups of 12. Using the conservatory style of teaching, groups move through their daily classes. These classes offer a full exploration of different types of performance: acting, singing, tap dance, magic, stage combat, improv, circus movement, on-camera, theater games, and technical theater. A final evening variety show allows each camper to appear in a scene, a song, a tap number, and a stage combat demonstration.
7. Theatre 31
2-week sessions
Location: 681 S. Venice Blvd. Venice CA 90291
Ages: 5-14
9am-3pm
This popular theater camp is well known on the Westside for the school programs it runs on site at several elementary and middle schools. Each session culminates in a full musical production that keeps most campers on stage for most of the show. Most sessions are at Beyond Baroque in Venice; sometimes Lincoln Middle School in Santa Monica is utilized as well.
8. Theatre 360
1-, 2-, and 3-week session
Location: 75 N Marengo, Pasadena CA 91101
Ages: 3–5; 6–19
Half day 9am–12pm for ages 3–5; full day 9am–3pm for 6–19; aftercare available for ages 6-17
Theatre 360 runs an all-around program for actors. Campers ages 6–19 take classes in acting, voice, and dance and then have a choice of afternoon elective: musical theater, film/TV, technical theater, or theater. Electives are first come, first served, so sign up early! Showbiz Kids (ages 3–5) have creative dramatics and music daily, and then creative dance or prop building. Theatre 360 also holds a special application-only Academy Program for advanced students ages 13–19.
9. Theatricum Botanicum
Sessions vary in length
Location: 1419 North Topanga Canyon Boulevard, Topanga CA 90290
Ages: 4–7, 8–14, high schoolers
Younger kids 9am-12pm; older kids 9am-3pm
These camps run two (ages 4–7) or three (older kids/teens) days a week, and they offer a different experience for each group of campers. Ages 4–7 attend half days and are introduced to the imaginative world of theater. Kids ages 8–14 participate in workshops (stage combat, theater games, voice and speech, and more) designed to build a closely knit ensemble cast. The camp culminates in the performance of an edited Shakespeare play. High schoolers' Shakespeare Seminar is based on the theater's adult seminar and culminates in a final performance of scenes and monologues from Shakespeare. Camps take place in the Botanicum's outdoor amphitheater and grounds in woodsy Topanga.
10. Young Actor's Studio
3-week session
Location: 5215 Lankershim Blvd, Los Angeles CA 91601
Ages: kids, teens
Full day 9am–3:30pm; half day 9am–12pm
Young Actor's Studio offers three weeks of full-day and half-day programs in July, for kids and teens. The full-day camp explores either a play or sets of monologues from plays and movies. Both camps include improvisation, on-camera work, character development, imagination work, and, of course, acting fundamentals. Weekend options are available in August.
Originally published March 15, 2013 and updated annually