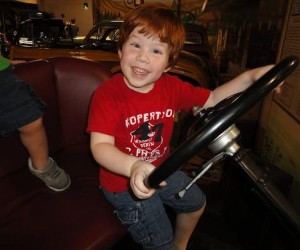 5 Little Known Museums in and around Los Angeles
"Been there, done that," you're thinking, but not in a ho-hum kind of way. You dig LA's flagship museums (LACMA, The Natural History Museum, The Getty, to name a few), but sometimes you crave some off-the-beaten-path cultural destinations to add to your repertoire. We hear ya! So allow us to provide some inspiration. Ta da! Five lesser-known local gems we hope you'll get to know.
Automobile Driving Museum
610 Lairport St.
El Segundo, CA 90245
310.909.0950
Free ($5 suggested donation for adults)
What museum lets you touch its collection, never mind sit in it and take it for a spin? The Automobile Driving Museum does. That's right. On Sundays, the museum selects three cars from its impressive collection and lets visitors take a ride. Inside the museum, visitors can delight at an additional 130+ classic, vintage, and antique models.
California Heritage Museum
2612 Main St.
Santa Monica, CA 90405
310.392.8537
$8 adults/Free kids under 12
For the love of American decorative and fine arts! That's what the California Heritage Museum is all about. And what a variety of pieces and objects and images that make an appearance here. Past exhibits include Shortboard Revolution with a fine selection of over 70 rare and antique boards, Gotta Dance!, featuring 90+ dance movie posters, and Groves of Gold, a colorful display of original fruit box labels. Plenty of eye candy for adults and kids alike.

Flight Path Learning Center - Museum
6661 West Imperial Highway
Los Angeles, CA 90045
424.646.7284
Free (donation suggested), and free parking
Staffed by volunteer flight enthusiasts ready and waiting to show visitors around and answer questions, the Flight Path Learning Center and Museum is a must stop destination for any youngster interested in airplanes and/or aviation history. The learning center/museum is located in a once private LAX terminal (with a great view of commercial planes taking off and landing) and features photographs and artifacts from bygone eras of aviation. Make sure to head outside as well where you can climb into the cockpit of an actual DC-3.

Martial Arts History Museum
2319 W. Magnolia Blvd.
Burbank, CA 91506
818.478.1722
$6 adults/$3 kids ages 6-12
If your kid fancies breaking boards with the side of her hand, or throwing air kicks to a destination higher than your nose, then you must visit the Martial Arts History Museum, a space dedicated to the study of the countries of Asia and the role martial arts play in their histories, traditions, and cultures. On display you'll find (among a host of other artifacts) traditional clothing pieces, film and video clips, ninja weapons, swords, photographs, even the headband worn by the Karate Kid. You name it, they might very well have it.

The Nethercutt Collection
15200 Bledsoe St.
Sylmar, CA 91342
818.364.6464
Free
The main draw of the Nethercutt Museum is a dazzling display of pristinely maintained cars from the early 20th century, as well as a real-deal locomotive and private car, i.e. a train. But the Nethercutt Collection (just across the street), in addition to more finely detailed and serviced cars, also features displays of mechanical instruments (nickelodeons and phonographs anyone?), dolls, coins, figurines, and hood ornaments. Truly in a (museum) class of its own.