10 Great Family Picnic Spots With LA Kids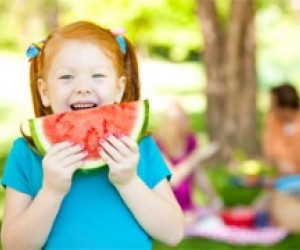 The first day of summer is around the corner, which means schools are shutting their doors and LA parents are turning inside-out: Outdoor concerts, festivals, beaching, camping… and let's not forget outdoor eating! So what makes a picnic spot great? In my book, that means clean facilities, relatively painless parking, and a little something special to occupy the kiddos after they've scarfed down their PB&Js. So read on, then dust off your picnic basket and be prepared for some interesting adventures.
Clover Park
2600 Ocean Park Blvd.
Santa Monica, CA 90405
For a good ol' fashioned picnic barbecue on the Westside, you can't lose at Clover Park, where the scent of nearby ocean air mixes with whatever's sizzling on one of the park's sixteen BBQ grills. This place offers a variety of courts and fields for sport, as well as two playground,s and, best of all, a viewing tower (adjacent to Santa Monica Airport) that draws in children like ants to an apple core.
Polo Field at Will Rogers State Park
1501 Will Rogers State Park Road
Pacific Palisades, CA 90272
Will Rogers' historical estate hosts the only polo field in LA, and if you didn't think it was possible to picnic elegantly with the kids around, you were wrong. Here you'll find acres of beautiful grounds and an area with picnic tables and BBQs; or you can simply spread out a blanket and enjoy the polo match, as that itself will keep everyone entertained. Kids especially love stomping the divots at "halftime" and rushing the field post-match with a frisbee or a kite. Very civilized, indeed.
Boat Ride in the Marina
Blue Moon Tours
14015 Tahiti Way, Dock B-1500
Marina Del Rey, CA 90292
Picnic on the water! The Blue Moon is a 40-foot powerboat owned by the affable Captain Chris, who is certified by the Coast Guard and a school teacher in his off-time. He provides two-hour, kid-friendly marine adventures along the Santa Monica/Malibu coast that are sure to be memorable for all. The ride is moderately priced but worth it. Track down dolphins and learn a thing or two about local ocean life. For the picnic part, take advantage of the galley (kitchen) below deck - perfect for a picnic at sea.
Baldwin Hills Scenic Overlook
6300 Hetzler Road
Culver City, CA 90232
Looking to get a little family exercise? Climb up 282 steps in Kenneth Hahn Park and you're at the Overlook, where the main incentive is the astounding 360 degree view of LA - possibly the best in LA. There are rest stops along the way for the kiddos, and a hands-on visitor center at the top touting conservation. There you can picnic at a table, as your brood discovers the names and purpose of the colorful native vegetation surrounding you.
Beverly Gardens Park
9990 Santa Monica Blvd.
Beverly Hills, CA 90212
All of the parks in Beverly Hills are nice, but this one, sporting the famous Beverly Hills sign, is situated across the street from the city's Sunday Farmers Market. Stock your picnic basket at the market (on Civic Center Drive) and let your kids enjoy the petting zoo, then cross Santa Monica Blvd. for a fresh picnic in the park, next to one of the freestanding works of art or under the amazingly climbable old fig tree.
Franklin Canyon Reservoir
2600 Franklin Canyon Drive
Beverly Hills, CA 90210
In upper Franklin Canyon, you feel as if you've left LA altogether. Densely wooded and surprisingly cool for the canyons, this picturesque park was featured in the opening credits of the Andy Griffith Show. One of its two kid-friendly paths borders the reservoir and is teaming with frogs and crayfish. The other, shorter path circles Heavenly Pond, a toddler's dream filled with hundreds of turtles and half as many ducks. Picnic tables and BBQ grills are well-placed throughout.
La Brea Tar Pits Park
5801 Wilshire Blvd.
Los Angeles, CA 90036
This spot bordering LACMA houses the fossil-filled Page Museum, but its rolling grass hills, winding paths, and Ice Age sculptures offer plenty of fun for kids. Learn about fossil excavation at Pit 91, then picnic among the prehistoric vegetation that's been recreated in the Pleistocene Garden. On Friday and Saturday evenings, LACMA hosts concerts in the park's amphitheater, too. Parking is easy in the large lot behind the museum or at the meters on 6th Street.
Ferndell Nature Center
2333 Fern Dell Drive
Los Angeles, CA 90027
Located at the west canyon entrance to Griffith Park, this magical enclave hosts one of LA's popular Faery Hunts, though Ferndell is always a kid-friendly spot as avid hikers prefer higher ground. It's also a haven for picnicking – lots of tables alongside sycamore-shaded trails, bridges, and a creek with fish. Plus in the middle of it all is Trails Café, a snack stand selling homemade sandwiches and pastries - and even organic dog treats for your on-leash companion.
Vista Hermosa Natural Park
100 N. Toluca Street
Los Angeles, CA 90026
One of LA's newest parks and greatest civic accomplishments is this immaculately designed community garden at the western gateway to Downtown. The city's skyline acts as an unlikely backdrop to winding trails, streams, and native Mediterranean foliage. A true cross-section of Angelenos populates the large park, which offers picturesque barbecuing, a playground, and a soccer field as well.
Silver Lake Meadow
2270-2298 Silver Lake Blvd.
Los Angeles, CA 90039
The Meadow, on the east side of Silver Lake Reservoir, was modeled after Sheep's Meadow in Central Park; and the friendly urban vibe does channel NY, as hipster sunbathers mingle happily with young families. But the best thing about it is the grass - the cleanest, lushest lawn in LA. A sign at the entrance says, "Please no dogs. Bare feet welcome." Running, tumbling, and cartwheeling are also welcome. A dog park and restrooms are a short walk away if needed. And picnicking is mandatory.