Brussels with Kids: 25 Things to do in Brussels, Belgium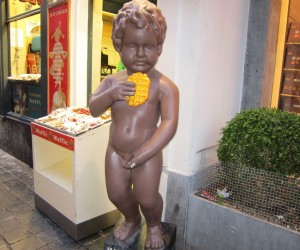 Brussels is a kid-friendly city that manages to be fun loving while maintaining an air of grace. It gets down to business yet is surprisingly hip. It is not as big or bustling as London or Paris, but that is part of its charm. Brussels works just that little bit harder to enchant you. Medieval architecture blends with funky painted murals, and a statue of a little boy urinating is the mascot of this city. The people here get the humor in life, which makes it an excellent place to travel with kids.
Brussels is officially bilingual, and though it is predominately francophone, Flemish is also an official language. It is the seat of the European Union, so you will hear a polyglot of languages. It is easy to get to via high-speed rail from many European cities, making it a convenient stop if you are visiting other continental cities. It is a worthy stand-alone vacation destination, especially if you take some time to explore Belgium's other towns. Fairytale-pretty Bruges and arty, under-the-radar Ghent are both worthwhile day trips.
The following attractions are great family spots, but keep in mind that Brussels is high on ambience, so wandering the cobblestone streets and squares is the city's best attraction.
1) The Grand Place
Noted as one of the most beautiful squares in Europe, this UNESCO World Heritage Site is the heart of the city. Perfectly preserved 17th century architecture blends effortlessly with an energized social scene. When it gets dark, the light show illuminates everything, bathing the buildings in a gorgeous hue. Have a drink at one of the cafes that offer a view of the action and watch the entertaining scene play out. Delectable chocolate shops line the square and feature inviting displays of temptations.
2) Manneken-Pis
How many cities have enough tongue in cheek humor to claim a statue of a little boy peeing as the symbol of their city? In Brussels a 2-foot tall bronze statue of a little boy relieving himself has been revered for hundreds of years. Sometimes he is naked, but often he dons one of his nearly 1,000 costumes given to him by visiting dignitaries from around the world. Don't be surprised to find Manneken-Pis dressed as a bullfighter, surfer or in a kilt. He is located about 3 blocks from the Grand Place.
3) Comic Strip Center
Belgium is a comic-crazed nation and you will see graffiti-style comic murals on building exteriors around town. Belgian artists have created many internationally loved cartoon characters, including Tintin and The Smurfs, so Brussels is the fitting home for a museum dedicated to this popular art form. Homage is paid to both homegrown and international comic strips, so expect to see iconic American characters like Peanuts and Superman represented here. Exhibits take you through the step-by-step stages of creating a comic strip plus you will have the opportunity to watch classic animated films and visit the extensive comic library.
4) Museum of Musical Instruments
Over 1,500 instruments from around the globe and a variety of time periods are found at MIm, which is how the locals refer to it. There are interactive exhibits and a headset tour where you hear the instrument playing on your headphone as you see the instrument.
5) Magritte Museum
There are lots of fine art museums in Brussels, but not many children will willingly spend their vacations viewing art. If your kids do enjoy exploring art, Belgian surrealist Magritte's works are here, and his wacky use of everyday objects may be amusing to some non-art loving kids as well. Kids under 18 are free, so give it a try.
6) Museum of Cocoa and Chocolate
Though touristy, this exhibit is fun for families. There is a short video on the history of chocolate, live chocolate making demos and yummy samples. It is located just off the Grand Place.
7) Autoworld
Autoworld is an extensive collection of historic cars. Kids will gain insight into the development of cars, plus its quirky collection of motorized tricycles from the 19th century and Model T Ford are fun. It is housed inside of Cinquentenaire Park, one of the largest public parks in town and a good place to romp.
8) Museum of Natural Sciences
This museum houses a large collection of all things science and nature and caters to families. It is the home to Europe's largest dinosaur gallery, so dino-crazed kids should be in T-rex heaven.
9) Bois de la Cambre
Brussels prides itself on its vast amount of green outdoor spaces. Bois de la Cambre is located near trendy Avenue Louise. This public park has a small lake with a tiny island in the center that you can reach via electrically operated pontoon boat. There are cars allowed in this park, so keep an eye on the kids.
The next three attractions are located in the Bruparck area, a short metro ride from the center of town
10) Atomium
This 355-foot cluster of silver spheres represents an atomic structure. Gigantic, it is on eight levels spread over 5 spheres. Its mythical form and size make it one of the most popular attractions in town. You get breathtaking views of Brussels from the top sphere and you feel very small indeed when you stand under it. Free for kids under 12 with the purchase of an adult ticket.
11) Oceade
Over a dozen indoor and outdoor water slides, a wave pool and an aqua fun house makes this aquatic park a great place to cool off. There is a slide sized for everyone, from your teenaged thrill-seeker to your timid toddler.
12) Mini-Europe
Take the grand tour of the continent in a few hours with a visit to Mini-Europe. There are some 300 tiny models of famous European sites such as Big Ben, the Leaning Tower of Pisa and The Berlin Wall. Interactive games and hands-on exhibits make for a fun-filled afternoon.
13) Purchase a Brussels Card and you will have one-price access to museums and sites, unlimited transportation and dining discounts. You can do this online or at the tourist offices scattered around Brussels.
What to Eat
Belgians are some of Europe's most enthusiastic eaters, and Brussels is a great place to sample casual culinary delights. Street food rules here, perfect for families whose kids won't tolerate lengthy sit down meals. The town's specialty foods are thankfully kid pleasing, so no one should go hungry.
14) Chocolate
Belgium chocolates are world famous, and visitors are privileged to discover just how delicious and artfully presented they can be. The picturesque Place du Grand Sablon is brimming with chocolate shops, including Wittamer, where you can find some of the cities finest confections and eye-catching displays. Laurent Gerbaud is a Willy Wonka character come to life and you watch him passionately create fantastic chocolates in his shop on Rue Ravenstein.
15) Waffles
Two styles of waffles exist in Belgium: Liege and Brussels style. Street vendors sell them both. The fluffy Brussels waffle is rectangular with a golden exterior. The Liege-style waffle is made with chunks of sugar, which caramelize and form a crispy, crunchy coating. Both are delicious and merit a taste so you can decide which is your personal favorite.
16) Belgian fries
There are more than 5,000 fries stands (called friteries) in Belgium, so there are plenty of choices. Fries are served in a sheets of paper rolled into a cone, traditionally accompanied by homemade mayonnaise. Ask for ketchup if you prefer.
17) Beer
Though you might not consider it a family beverage, Belgians consider beer an integral part of daily life, akin to wine for the French. The good news is that most bars are 100% family-friendly. You should see a fair share of multi-generational families, with grandparent, parents and tots sharing in this social ritual. Kids have their own non-alcoholic beer, kinder beer. Adults may want to try a cherry-flavored kriek, or lambic, which uses naturally occurring yeast for fermentation. Have a brew at Moeder Lambic, popular thanks to its large menu of beer offerings, tasty charcuterie, and open-air seating.
18) Taverne du Passage
This characteristic bistro is located in the elegant glass-roofed Galeries Royales St-Hubert, one of the oldest covered arcades in Europe, close to the Grand Place. You can have a good meal at the Taverne du Passage. The menu is extensive and includes authentic Belgian classics like briny mussels, plus there is a well- priced kid's menu for those under 12.
19) If all of this eating inspires you to get your hands dirty, how about a family cooking lesson? Mmmmh! Is a cooking school that will tailor a hands-on lesson for your family, in English. The convivial Chef will teach you to cook a Belgian specialty such as waterzooi, a creamy chicken and veggie stew, before you dig in and eat the finish product.
Sleep
20) Hotel Amigo
A stellar location steps from the Grand Place, excellent service and gorgeous décor make this one of the best hotels in town. They offer Tintin-themed rooms decorated with Tintin memorabilia. The hotel is pricy, but families should check out the Tintin Family Affair package, which includes an adjoining room for two kids free of charge, plus 50% of all meals for kids under twelve.
21) The Sofitel is another clean, reliable hotel for families. It is located near Avenue Louise, known for its high-end shops. Free WiFi.
22) The Novotel Brussels Off Grand'Place also enjoys a Grand Place location. Free WiFi, spacious rooms, a special children's menu and a small indoor play area make it an excellent choice for families.
23) Bruegel Hostel
Don't be put off by staying in a hostel. If your kids are at least school-aged, it presents an opportunity to meet budget-minded travelers from around the globe. This newly renovated hostel is a 5-minute walk from the Grand Place. It offers 20 clean rooms with four beds that work well for families. You need to know that you will be locked out of the hostel each day for several hours while it is being cleaned maintained, usually at around noon.
Day Trips
24) Bruges is a one- hour train ride from Brussels. This enchanted city is best enjoyed via guided boat ride along its extensive canal system. You will glide along the waterways with swans swimming by. If you are looking for another mode of transportation, flag a horse drawn carriage and ride around town in style.
25) Ghent is only slightly less gorgeous then Bruges, but it way less touristy. This University town is perfect if you are traveling with tweens and teens, as they should enjoy its funky, arty vibe and Torture Museum housed in an authentic castle. Its mix of vintage boutiques and record shops cater to a very young crowd and bikes are the preferred means of transportation here. It is a 35-minute train ride to Ghent from Brussels.
How to Get There
I hesitate to recommend airlines because I usually find them all equally bad, but I changed my mind when I traveled to Brussels last month on Brussels Airlines new non-stop JFK to Brussels. The service was fine and the late afternoon departure time helped to minimize jet lag. There is a fast and efficient train connection that will whisk you into the city in minutes.
Visit Belgium and Visit Brussels are both excellent trip-planning resources. For day trips to Bruges and Ghent, check out Visit Flanders.