Drive-In Movie Theaters near Orlando for Outdoor Movie Nights with Kids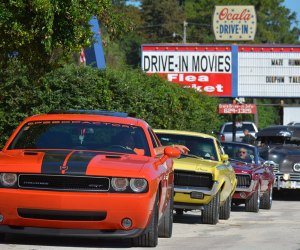 Want the nostalgia of taking your family to a drive-in movie? Drive-in movie theaters allow for an affordable and fun family night out. We've highlighted the three nearest drive-in movie theaters in Central Florida , so you can load up the car with the kiddos, some blankets, and snacks (if permitted at the drive-in movie), and enjoy an outdoor movie night from the comfort of your own vehicle.
Some tips for visiting the drive-in movie theater:
Arrive early to secure a good spot and allow for time to visit the concession stand.
Similar to indoor movie theaters, these drive-in movie theaters largely rely on concession sales. Support the theater by visiting the snack bar...often.
While each of the theaters listed below offer two showtimes for one price, you are not required to stay for both movies.
Bring bug spray.
Be courteous of other moviegoers—don't flash headlights, talk loudly, and encroach on space.
You can also visit the Orlando event calendar to find pop-up movie events and outdoor movie screenings happening around town!