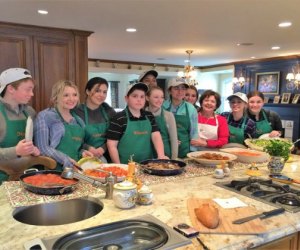 Cooking Classes and Adventures for Kids in Fairfield County
Have a young chef in the house or perhaps a baker in the making? Encourage their passion by signing up for a fun cooking class. Your child will learn new skills and perhaps share them with you during the next meal time. Win win for all around! Check out these classes in Fairfield County and for more after school class ideas check out our guide.
Aux Delices
Learn to cook with chef Debra Ponzek's of Aux Delices. She offers cooking classes for kids (and adults) either at the Aux Delices kitchens or in the privacy of your own home. Instructors are both in house and guests from well-known NYC and Fairfield County restaurants.
3 West Elm Street, Greenwich, CT 06830 (203) 326-4540
The Cookie Workshop
This nut-free facility offers regular drop-in cooking hours as well as the opportunity to host a birthday party or other event in their cookie and cupcake kitchen. Everything is made from scratch and can be customized to suit a vegan or gluten-free diet.
100 Corporate Drive, Trumbull, CT 06611 (203) 452-8872
Cucina Casalinga
Kids learn the delicious art of fine Italian cooking at Cucina Casalinga. Classes run all summer long and throughout the school year.
171 Drum Hill Road, Wilton, CT 06897 (203) 762-0768
Whole Foods
The chain grocery store offers various culinary classes and experiences for young gastronomes. Check your local store's website for details.
Edible Nutmeg
This Connecticut Magazine is dedicated to celebrating the food resources of CT. Check it often for recipes, events and great information on local food.
Another great online source for cooking with kids is Eila Johnson's Full Plate Blog. This Fairfield County cook/mom focuses on creating nutritious, time efficient, appealing meals for young children.
Open Door Shelter Soup Kitchen
Take your child to volunteer at this soup kitchen. With 95 beds filled every night and a kitchen serving three meals a day, Open Door Shelter is always looking for extra hands.
4 Merritt Street, Norwalk, CT 06854 203.866.1057
Bon Appetit!
Originally published on 1/14/2012.
Photo Courtesy of Cucina Casalinga