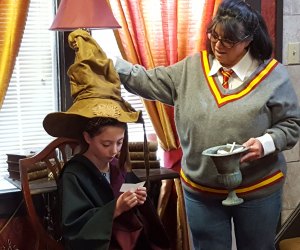 Storyteller's Cottage Classes for Kids who Love Harry Potter, The Magic Castle, Narnia, and More
Storyteller's Cottage is the place for the book loving, imagination-driven, creative and inspired child. A one-of-a-kind destination for kids, the owners have taken a turn-of-the-century home and turned it into a place where children can dig deeply into their love for all things books. Love Harry Potter? Come to a class in the Magical Castle Common-room. Adore knights and swords? There's a special classroom for you behind the hidden door in the wall. Love Narnia? Yes. There is a wardrobe! And while you are in town check out the other cool things to do as well.
A dream come true for the parents of introverted, bibliophiles, Storytellers Cottage classes will bring out the creativity that has been lurking underneath in your shyest child. But, they aren't the only ones that will love this place. It's for any child that has a desire to step into a world where you can be saturated with imagination.
Classes are always evolving and changing, and most are taught by published, local authors who love reading and writing themselves!
The brainchild of Lisa Natcharian and her husband, she said she created this place because she loves reading books. "It's my favorite thing to do," she said. When she created the concept, she was thinking of the kids who aren't into sports and other things that bring them around people all the time. "Being an introverted, booklover makes it hard for you to get around people," she said.
The Cottage is always hopping with a diverse array of classes, many going on at once. Coming up in April is the Mad Hatter's Tea Party. Or maybe you have an American Girl Doll fan. The American Girl Doll Club meets monthly.
The inside of the house is amazingly decorated. The Jules Verne Library is so steam-punk, but right across the hall, the Jane Austen Regency Salon (dining room) is a great place to sip a cup of tea. Upstairs you can step into the Fairy Room or tip-toe past Harry Potter's under-the-stair bedroom.
Natcharian spared no cost in transforming the house into a literary daydream complete with furniture, wall hangings and mood setting decor.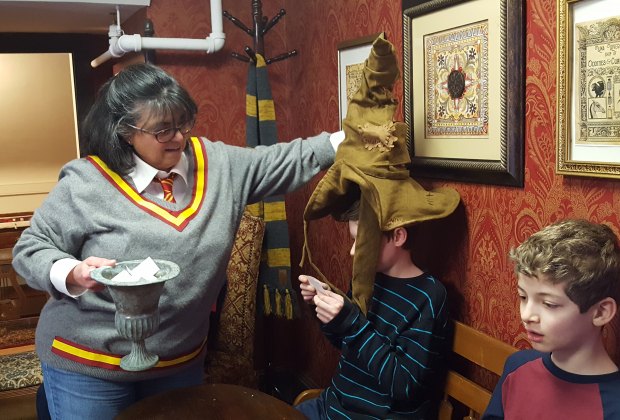 The Cottage offers writing classes for children elementary to high school and include a number of different topics such as writing at Hogwarts (why not write about potions?), creating a fantasy in your story in a class called "Forging Labyrinthine Realms," and "Scriptwriting with Hamilton" (grades 7-9).
Non-writing classes include the preschool-age story times on Saturday mornings which are led by local authors.
Book Clubs meet all the time throughout the week.
And, yes, in case you are wondering, there are plenty of classes and clubs for grown-ups too!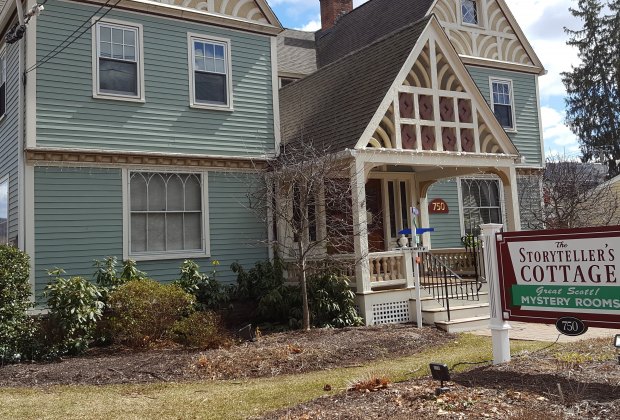 Storyteller's Cottage is conveniently located in downtown Simsbury and parking is plentiful and close by.
Published on 3/26/2018
Pictures by J. Coe