Best Fun Restaurants for Kids' Birthdays in CT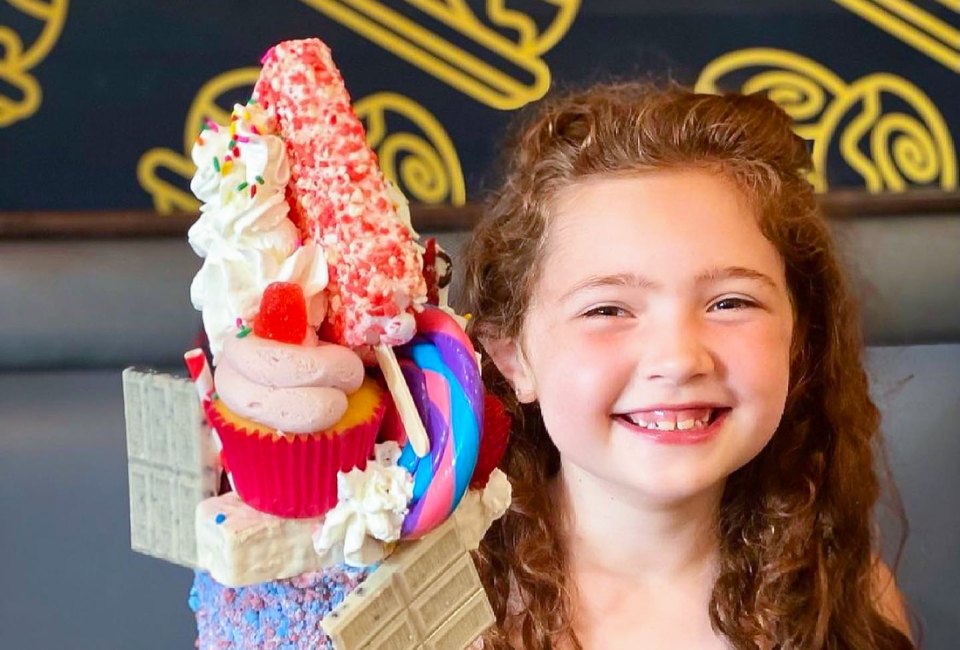 4/28/23
- By
Ally Noel
Birthdays are like national holidays in my house, and we love finding the best fun restaurants to go out and celebrate! Connecticut has plenty of kid-friendly spots that are ready for a party. Here are a few of our favorite go-to spots all around the Nutmeg State. Find more family-friendly eateries in our Guide to Kid-Friendly Restaurants, and make sure to check out this list of Birthday Freebies.
Best Fun Restaurants for Kids' Birthdays in CT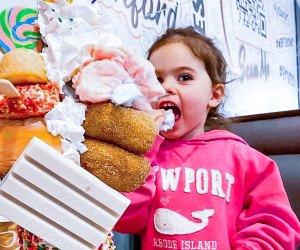 No cake required at sme of CT's best fun restaurants for birthdays. Photo courtesy of the Elm Street Diner
1. Elm Street Diner - Stamford, Norwalk (opening Fall 2024)
All of the food at Elm Street Diner is party worthy, but their OMG Birthday Bowls really take the cake (pun intended). Ice cream, waffles, candy, cupcakes, and a piece of cake, all delivered to your table with an energetic chorus of Happy Birthday and a flaming candle. This treat is one that will certainly be remembered for years to come.
Holy sugar overload! The Sugar Factory in Foxwoods certainly lives up to its name and offers tons of sweet treats for any size of celebration! Make sure you tell your host that you are there to celebrate a birthday! The entire waitstaff gets in on the fun with a song, dance, and flashing lights! It's a ton of fun!
"Ticky Tocky, Ticky Tocky, Hoy Hoy Hoy!" Everyday is Oktoberfest at this German-themed restaurant. Another one of our favorite theme restaurants, this spot is also the perfect place to celebrate another trip around the sun with your friends and families. Sing along with the live accordion music and enjoy a kids' menu that combines both German and American favorites.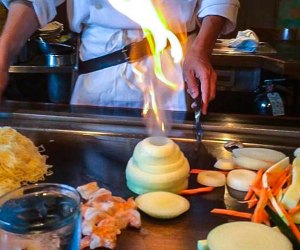 Make a wish and blow out the, uh, flaming onion volcano... Photo courtesy of Sakura Hibachi
With its giant tables, kid-friendly menus, and flaming onion volcanos, hibachi is a popular pick for a birthday dinner. One of my family favorites is Sakura. In addition to their full service hibachi room, you can sit in one of their Tatami rooms for a full Japanese experience. To make it a real party, they will put a candle in any dessert you order from the menu or you can bring your favorite from home for them to plate and serve,
Any restaurant can put a candle in a piece of cake and call it a party, but only Norwalk's O'Neill's has a birthday wheel! After your meal, the birthday kid gets to spin the wheel and win a prize! You could win a scoop of ice cream, a t-shirt, a hat, a beanie, or your picture on Instagram.

Some of the best fun restaurants in CT have whimsical, festive decor. Rooftop patio photo courtesy of Cava
6. Cava- Southington
When you want to leave the party decorations to the professionals there is no better spot in Connecticut up to the task than Cava. As far as interior decor goes, this spot is the best of the best! Although best known for its over-the-top holiday displays, Cava is decorated year round- including its rooftop patio! Best yet, the birthday kid gets to pick a treat from the full dessert tray to be delivered to your table with a candle.
7. The Place 2 Be – New Haven, Hartford, West Hartford
When your big kids need a party too, there is no better place in town than the Place 2 Be. Yes, this place has an adult vibe, but plenty of teen-friendly options are on the menu. We're talking stacks of Fruity Pebble French toast, Cookies n Cream Oreo Pancakes, and tons of mocktails! Our favorite is the Drink My Bathwater - but, any of their adult beverages and milkshakes can be served as a mocktail.
Mexican food is always a crowd-pleaser! Don Carmelo's menu is stacked with tacos, burritos, quesadillas, fajitas, and a kids' menu filled with popular favorites. Best yet, the birthday kid gets a FREE dessert with a meal. And, if that's not enough the waitstaff will sing happy birthday, and give the birthday kid a sombrero to take home!

Sign up for our free
newsletters.
Mommy Poppins is a family activity website that helps people find things to do with kids.
©
2023
MommyPoppins. All Rights Reserved.
mp-prod4-v4.32.99
We use cookies and other data collection technologies to provide the best experience for our customers.
Learn More
Sign up for the Mommy Poppins Newsletter today!