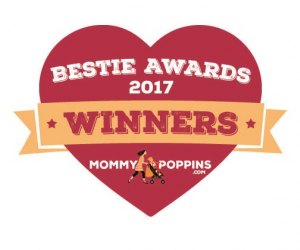 2017 Connecticut Bestie Guide: Best Enrichment Programs
We asked all of you—our awesome Connecticut parents—to vote for the best family businesses and resources in 23 categories. By choosing from 10 nominees in each category (two voters were picked at random to enjoy great prizes from our sponsors!), you have enabled us to assemble the Connecticut Bestie Guide, highlighting the voter-favorites.
We have grouped the results into three winning categories: Best Places for Family Fun, Enrichment Programs, and Parenting Resources.
Here's your chance to learn a bit more about each winner of the 2017 Connecticut Besties!
OUR LATEST VIDEOS
Dance, gymnastics, soccer, hockey, rock climbing, and swimming. And those are just a few of the many programs offered at Chelsea Piers, described by visitors as "fantastic" and "truly impressive." Day camps, elite sports training, and competitive teams guarantee an exciting curriculum for youth ages 3 months to 18 years old.
Best Place to Learn a New Language: German School of Connecticut
Whether a student is new to the German language or already used to speaking it, this school offers German language instruction (speaking, reading, and writing), and insight into culture and traditions. Children as young as 2 can study here, and lessons continue through high school and are also offered for adults. Das ist genial!
Best Preschool or Alternative Program: Landmark Preschool
Children will enjoy learning colors, shapes, and numbers, acquire expanded vocabularies, and discover more about the world around them, all while enjoying special activities and monthly themes. Boundless energy and creativity are nurtured by caring teachers and small classroom sizes.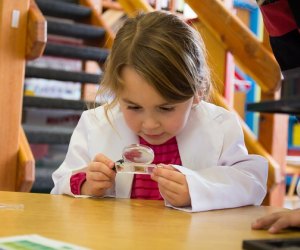 Exploring makes for the best kind of learning. Photo courtesy of Landmark Preschool.
Favorite Baby and Me Class: Music Together at Soulshine Arts
Children ages birth through five years sing, dance, play and jam with the grownups who love them in mixed ages classes. Babies Only classes are offered for the littlest music makers ages birth - six months where parents learn how to bond with their baby through music while supporting their rapid physical and neural development.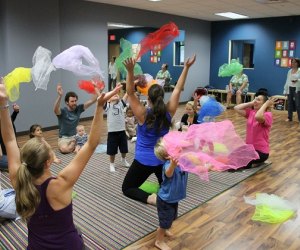 Parents and their tiny tots bond over music. Photo courtesy of Music Together at Soulshine Arts.
Best Place to Learn How to Play an Instrument: New Haven Academy of Performing Arts
Have a child who wants to play guitar, while another favors the piano or violin? No problem. Music lessons in various instruments are catered for various skill levels (ages 5 and up) and are offered here by teachers who hold degrees and accreditations from international organizations.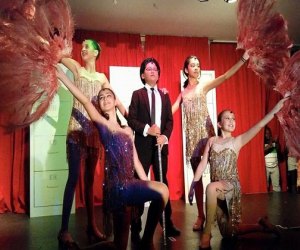 Aspiring actors are at home on this stage: Photo courtesy of New Haven Academy of Performing Arts.
Best Theater Class for Aspiring Actors: New Haven Academy of Performing Arts
Principles of theater, character creation, improvisation, script memorization, and musical theater dance are just some of the important lessons acquired by future performers. Acting classes are offered for children beginning at age 8, and continue into adulthood. Students can polish their skills during the school year, or while enrolled in summer musical theater.
Best Place to Learn How to Swim: YMCA of Greater Hartford
Aquatic lessons can begin at 6 months for babies accompanied by their parents, and swim lessons continue based on age or skill level. Private or semi-private lessons are offered for ages 6 and up. Children will enjoy splashing around while learning life-saving skills.
Best Dance Studio for Kids: Ashurst Academy of Irish Dance
The classes are taught by former leads of Riverdance and Lord of the Dance. Little Shamrockers as young as 3.5 years old can practice their coordination and balance while learning basic dance positions and enjoying the beat of Irish music. Older students can jig their way to upper level dance classes and progress to competitions.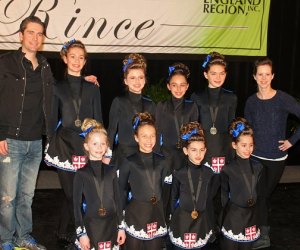 Best Summer Day Camp: Camp Playland
For three generations, since 1957, children come here for a summer of fun. Whether they enjoy swimming, creative arts - such as dance or drama , athletics - such as lacrosse or baseball, or adventure and exploration - including archery, fishing, and karate, this camp is where adventures are found and memories are made. The camp has two locations, in New Cannan and in Redding.
​Best Place for Kids' Art Classes: Silvermine Arts Center
Art comes in many shapes and forms, and children can explore it all: drawing, ceramics, panting, mixed media, photography, and sculpture. Children as young as 2 can enjoy adventures in art with a parent, and as little artists grow older, they can pursue glass beading, pottery exploration, and much more. Summer art studios and workshops are also offered.
Best Place to Learn How to Ride a Horse: Brushy Hill Farm
Aspiring cowboys and cowgirls will enjoy taking lessons at this Southbury barn, or making new friends (of the equine and human variety) during summer camp. And if somehow your child manages to talk you into buying a horse, don't worry: you can board them here as well. For more than 30 years, Bushy Hill Farm has been catering to students of all ages and riding abilities.
Best Place to See a Family Show: The Bushnell Center for Performing Arts
In addition to child-friendly performances on the main stage - including Paw Patrol Live! and Circus 190 - The Golden Age of Circus, families can enjoy Broadway productions, concerts, and comedy shows. For the youngest patrons, Bushnell Children's Theatre features many beloved and educational performances, such The House of Pooh Corner and The Giver.