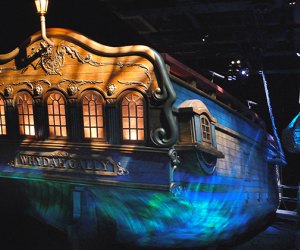 Rainy Day Activities on Cape Cod with Kids
When you booked your family's summer vacation to Cape Cod, you were presumably envisioning sand castles, leisurely strolls for ice cream, and endless afternoons splashing in the waves. But sometimes Mother Nature has other plans. Without a rainy day back up plan, boredom can set in quickly, patience can run short, and your wannabe beach bums will be begging to head back over the bridge. Luckily, there are plenty of indoor activities to keep everyone entertained on the Cape until the sun returns.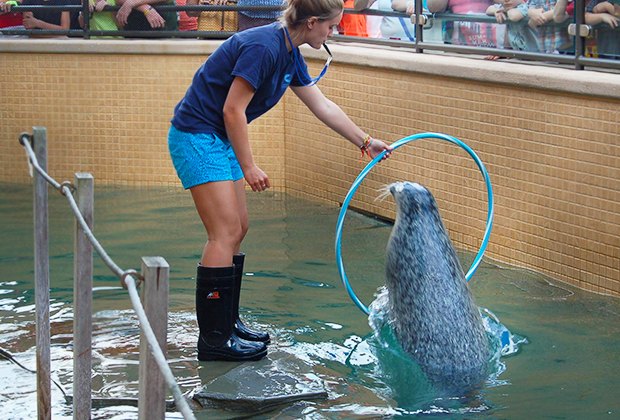 Woods Hole has daily seal feedings and play times.
Woods Hole Science Aquarium — Woods Hole
Hours: Tuesday–Saturday, 11 a.m.-4 p.m., year-round.
Admission: Free (donations accepted)
Some 80,000 people stop at the Woods Hole Science Aquarium each year for a behind-the-scenes look at what it takes to care for marine life. Harbor seals are among the aquarium's most popular residents, and a touch tank filled with lobsters, hermit crabs, and starfish allows visitors to get close with some of the same creatures found at local beaches. Daily seal feedings are a highlight for guests of all ages.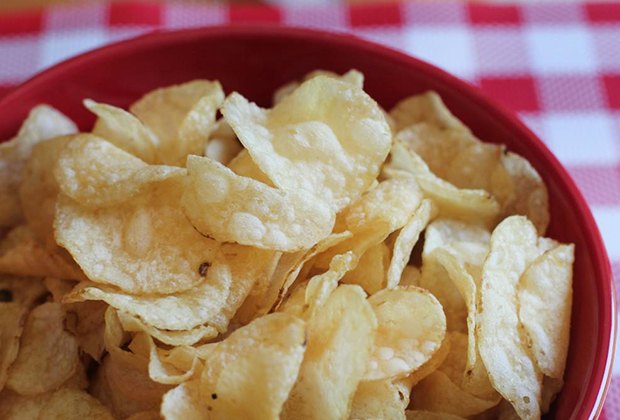 See how Cape Cod chips are made with a factory tour.
Cape Cod Chip Factory — Hyannis
Hours: Monday-Friday, 9 a.m.-5 p.m.
Admission: Free
It's not a day at the beach without snacks. Even though you can't picnic by the shore, you can enjoy a self-guided tour of the Cape Cod Chip Factory to see where all the salty magic happens. The brief tour includes a look into the plant where the chips are made. Guests are treated to a sample of chips at the end of their visit.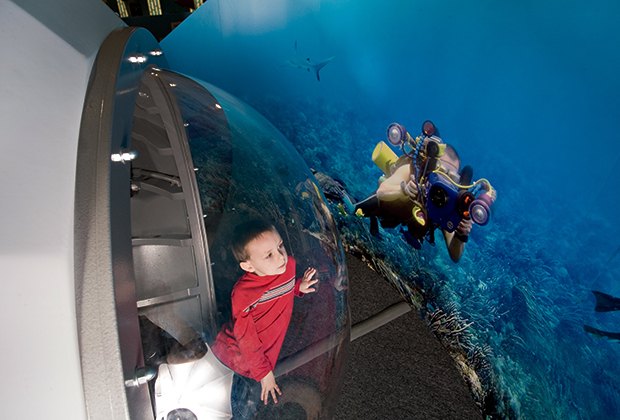 Underwater adventures await for explorers of all ages at the Cape Cod Children's Museum​.

Cape Cod Children's Museum — Mashpee
Hours: Monday-Friday, 10 a.m.-3 p.m., Saturday 10 a.m.-5 p.m., Sunday, 12 p.m.-5 p.m.
Admission: $9 ages 1-59; $8 ages 60+; under 1 is free
Hands on, interactive fun and exploration await at the Cape Cod Children's Museum. Art, music, science, history, and climbing are all available to help ward off the bad weather blues. Be sure to check out the museum's programming calendar to see if there's a scheduled activity your child might enjoy.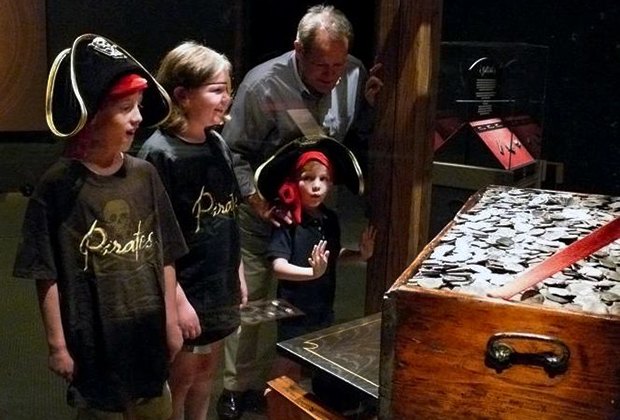 Marvel at the pirate treasure at the Wydhah Pirate Museum.

Wyhdah Pirate Museum — West Yarmouth
Hours: Sunday-Thursday, 9:30 a.m. - 5:30 p.m. (last entry at 4:30 p.m.) / Friday-Saturday 9:30 a.m. - 6 p.m. (last entry at 5 p.m.)
Admission: Adult (Ages 18-64) $18.95; Senior (Ages 65+) $16.95; Youth (Ages 5-17) $14.95; Children (4 & Under) Free
The Whydah Pirate Museum is home to the mystery and treasure unearthed when the Whydah wreckage was discovered off the coast of Cape Cod 250 years after sinking. It's believed that pirates aboard the ship raided more than 50 vessels in the eighteenth century. For generations, the Whydah was just a legend, but today, your family can see the riches and learn about its history first-hand.

Ryan Family Amusements — Various locations across Cape Cod
Hours: Location dependent
Admission: Bowling locations offer $30/hr. lane use for up to six people, plus shoe rental
When Go Fish just is not cutting it, it's time to up the ante in family competition. Ryan Family Amusements offers several bowling locations across Cape Cod and an arcade-style game room at the Cape Cod Mall. Gutter bumpers and bowling ramps are available to help even the littlest bowlers feel like pros.
Top photo: A replica of the sunken pirate ship is one of the many exhibits on display at the Whydah Pirate Museum. Photo by Matthew Prefontaine of Premier Exhibitions, Inc. Photos courtesy of the venues/companies.