Top Indoor Play Spaces for Toddlers and Preschoolers in Westchester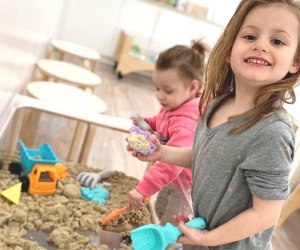 There are some great playgrounds in Westchester specifically for toddlers and preschoolers, but when the weather is less than ideal for outdoor fun, there are a number of indoor play spaces that offer a chance for this age group to jump on trampolines, listen to music, make art, and even take a STEM class!
Here, we've rounded up a few of our favorites across Westchester, with opportunities for drop-in play as well as monthly memberships and more.
Looking for even more indoor activities? Check out our guide, and be sure to sign up for our newsletters to stay in the loop.
Port Chester and Pleasantville
This kids' gym offers Mommy and Me classes for little ones starting at 18 months old, as well as gym classes for kids starting at 3 at both of their locations. In Pleasantville you'll also find cooking, Lego, and soccer classes, while in Port Chester there's martial arts and ninja warrior offerings. There's a large PlayQuad in both gyms for members, with the Pleasantville location also offering drop-in passes for non-members, with packages starting at $50. At a recent trial class we took with our 2.5-year-old in Port Chester, the instructor was super engaged and the kids all had a blast.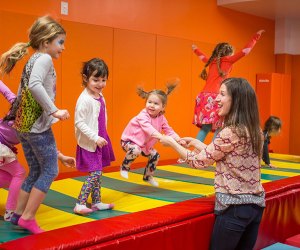 Toddlers can jump to their hearts' content Kidville.
Mount Kisco​​
This is another spot specifically geared toward young kids. The offerings are expansive: There are multiple classes per week (music, art, STEM, and more)—some for as young as newborns—as well as summer camp, a play space on weekday afternoons, and even a preschool. Monthly memberships are available, and depending on the level you choose, they include classes, access to the play space, and more.
Larchmont and Dobbs Ferry
Classes for kids at this gym, which has two Westchester locations, start at just 6 weeks old and go up from there. The bulk of the offerings are for kids under 6, including preschool prep, gym classes, gymnastics, and open gym time. My Gym also offers a Parent Nights Out and camp, and it's a popular spot on the preschool party circuit.
Elmsford​
Wishing you could go to a playground—but inside? This is one of the closest places to it in Westchester. There's a large play structure where kids can climb and slide, plus one gated area with lots of play sets geared towards toddlers (like a mini see-saw) and another for babies. Playtime is in two-hour increments, and for the early risers out there, there's a Tot Club price of $6 for kids younger than 4, if you get there earlier than 9:30am. Along with the play area, there's also tennis, soccer, and more—and this is another super popular place for preschool birthday parties.
Larchmont​
One of the newest additions to the Westchester play space scene, Pop In! is ideal for kids 6 and younger. Toddlers and preschools can have fun doing everything from pretend play to arranging letters on a giant chalkboard to coloring, building, and more, with a special area especially for babies under 18 months. Other great perks for parents: There's a cafe serving up snacks and coffee, and there are drop-in times for as little as 15 or 30 minutes.
Yonkers and Mount Kisco​
When you're ready to bring your little one to a trampoline park, both Westchester Rockin' Jump locations offer a special two-hour block every morning of the week (except Sunday) when the entire facility is open only to kids 6 and under. Called Rockin' Tots in Yonkers, the program runs from 9am to 11am, while in Mount Kisco it's called Junior Jumpers and runs from 10am to noon (though it's earlier on Saturdays in both places). On a recent trip to the Ridge Hill location in Yonkers during winter break, our 5-year-old and 2.5 year-old had a great time, and though it was busier than past visits because school was out, it was still totally manageable—and fun.
Pelham
At this new, well-appointed play space in Pelham—think lots of wooden toys perfect for open-ended play—there is lots to do for babies up through preschoolers. Along with daily open play hours, there are classes in everything from yoga to cooking to music. You can do a drop-in visit or sign up for a monthly membership, which nabs you things like unlimited play time and discounts on classes and parties.
Photos courtesy of the play spaces