18th Century Spring Fun at the Philipsburg Manor Sheep-to-Shawl Festival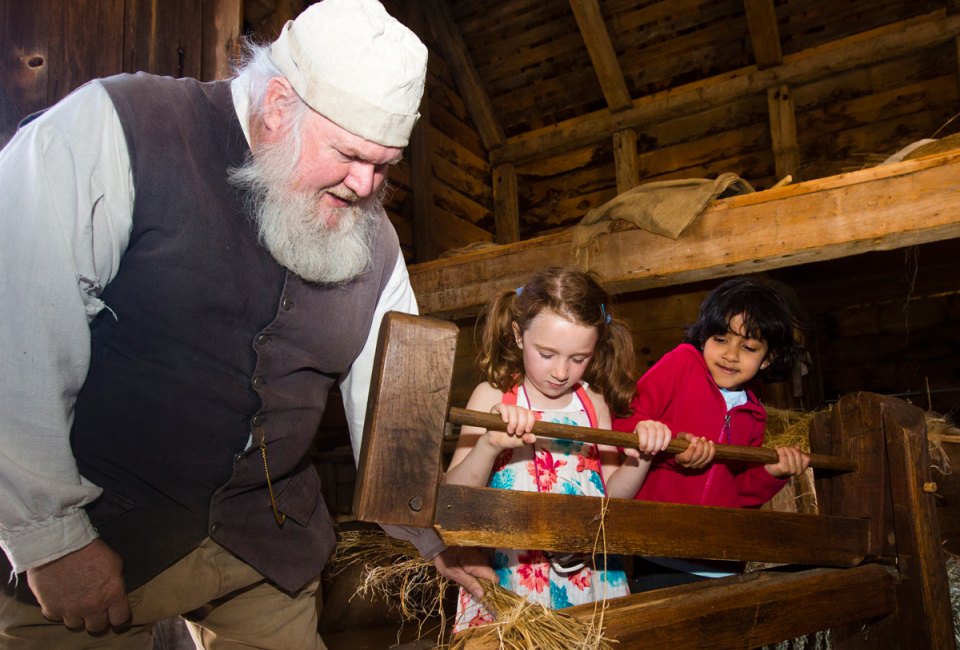 4/21/17
- By
Christi O'Donnell
Few events herald spring for our family quite like Philipsburg Manor's Sheep-to-Shawl festival. We included this event in our AprilGo List—our top picks for events happening all month long—and Sheep-to-Shawl definitely delivers.
Part of the Historic Hudson Valley network, based largely in Westchester County's charming Rivertowns, Philipsburg Manor is a working historic farm that dates back all the way back to the 1690s. Each year, just as us humans are getting ready to shed our winter coats in favor of spring jackets, so too are the sheep getting ready to shed their winter wool, and that is where the festival begins. Read on for all the details on this weekend-long event, including what to expect and what not to miss!
Looking for more ways to ring in spring? Check out our Spring Activity Guide and sign up for our newsletters!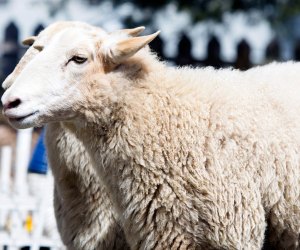 Learn all about the sheering process through live demonstrations.
Though the exact layout and program differs slightly from year to year, Philipsburg Manor's Sheep-to-Shawl festival is a predictably wonderful celebration in early spring and a hands-on educational experience for children and adults alike. Walking down the wooded path from the parking lot and gift shop, visitors step back in time to a day when all of the work that went into making clothing—from birthing the lambs that would grow the wool, to designing the garment and sewing the handmade cloth together—happened on location in a single place. Across the grounds, demonstrations are set up to explain each part of the process.
One of the most popular stations is, by far, the actual sheering location. On this spot, several times a day, a wooly sheep from the Philipsburg herd is selected and shorn the old fashioned way: with a gigantic pair of scissors. The demonstration can take anywhere from 15 minutes to a half hour, depending on the fleece of the sheep, the skill of the shearer and the extent to which the sheep is willing to cooperate. The goal is to remove the entire fleece in one piece and then move the fleece on to be skirted and sorted. Important note: The sheep are often a little stressed out, and VERY vocal, during the sheering and are physically restrained by a person during the process. Presenters explain frequently that the sheep is not being hurt, however, If your child is concerned, liken it to a haircut or nail clipping—it doesn't hurt, but the sheep still doesn't want to sit still for it!
After the wool is removed, children can follow it through more than 10 processes needed to turn that wool into cloth. Along the way there are hands-on opportunities for kids to participate in carding, spinning, dying, knitting, wrapping and weaving. All children get to leave with one or two small projects they have made during the visit.
In addition to all of the textile stations, there are the truly amazing demonstrations put on by Scottish border collies. Several times each day these adorable, fabulously trained dogs show off their herding skills by rounding up and directing ducks and sheep through a small course set up on the outskirts of the grounds. The speed and precision with which these dogs move is unbelievable, and I would recommend planning to see at least one of each demonstration. I would also suggest making your way over to the demonstration site at least 15 minutes early. The crowds are often three- or four-people thick for the herding. Small children can easily wiggle up front and peer through the fence; however, there is NO petting of the dogs, ducks or sheep—they are hard at work!

The herding skills of these border collies put any parent to shame.
Throughout the day there will be barn tours, manor house tours, mill tours, a Slaves' Garden to explore, period dress-up and photo opportunities, interactive clothing exhibits and period fashion shows. Storyteller Jonathan Kruk will perform multiple times a day. New to this year's festival will be the alpacas from Faraway Farm in Yorktown Heights.
Food will be available for purchase from local farm-to-table restaurants, and bathrooms located on-site in the main building, adjacent to the gift shop.
Speaking of the gift shop, make sure you leave some time to look around at the local and seasonal assortment of books, games, craft materials, jewelry and gift items available for sale. Most of them focus on the history of our unique Hudson Valley. Several items can be purchased for under $2 (check around the counter for candies, pencils and other tiny items).
Sheep-to-Shawl takes place at Philipsburg Manor, 381 North Broadway in Sleepy Hollow on Saturday, April 22, and Sunday, April 23, 2017, from 10am-5pm. $16 for adults, $12 for seniors, $8 for children ages 3-17. Members of Historic Hudson Valley and children under 3 attend for free. Prices at the door are $2 more each.
Want to spend more time in the area before or after the Sheep-to-Shawl festival? We've got you covered! Check out our list of 40 things to do in the Rivertowns and make a day—or a weekend—of it!
This was originally published in 2014 and has been updated for 2017.
All images courtesy of Historic Hudson Valley.
Places featured in this article:
Sign up for the Mommy Poppins Newsletter today!