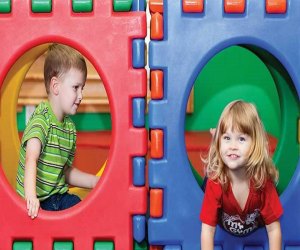 Give Active Kids a Place to Move at these New Westchester Sports Programs
We know all too well how easy it is to feel cooped up during winter. Fortunately, there's a slew of brand-new sports-related gyms and programs that just became available for Westchester families—offering plenty of alternatives to jumping on the couch cushions for the 1,000th time. There are even options for all ages, many with classes, parties, drop-ins and drop-offs.
Read on for the scoop on new places to get pumped, burn off steam and have fun! If you haven't yet signed up for our newsletters, be sure to do so now to continually receive news like this and more!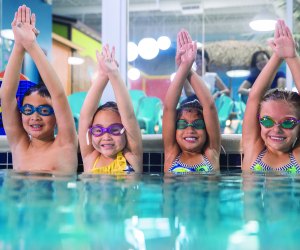 Swim classes will be offered for babies through tweens.
Goldfish Swim School - Yorktown Heights
Goldfish Swim School's first Westchester location opened in winter of 2018, with a grand opening scheduled for Sunday, January 13, 2019. The school provides swim instruction to children as young as 4 months and up to 12 years of age in "shiver-free" 90-degree pools amid a tropical decor. Its proprietary Science of SwimPlay Curriculum focuses on teaching swim and safety skills while building character through guided play.
OUR LATEST VIDEOS
Class size is limited to a 4:1 student:teacher ratio, and siblings can be accommodated simultaneously in the pool. Perpetual lessons are offered, allowing families to enroll at any time, but 30 days' notice needs to be provided to break the commitment.
Additional offerings include weekly family swims (for both members and non-members), party packages, a snack bar and a retail shop. Parents and caregivers can watch their swimmers from an air-conditioned viewing gallery. In summer, mini intensives are offered through the school's Jump Start Clinics, featuring half-hour lessons on four or five consecutive days. Free water-safety presentations are available to schools and community groups.
My Gym - Dobbs Ferry
While My Gym is already established in Larchmont and Yorktown Heights, My Gym Dobbs Ferry just opened in January. Tailored strictly to kids, classes in this brightly hued facility are for children up to 13 years old. Beyond classes, offerings include birthday parties, camps and open play, as well as Parent's Night Out drop-offs on Friday evenings.Not sure? Free trial classes are available.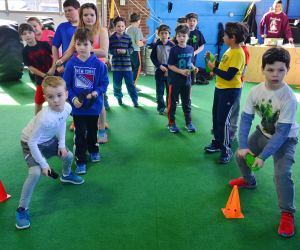 Tuff Kids offers classes and birthday parties.
Transform Fitness - Tuckahoe
Though not a new facility, Transform Fitness announced a new kid-centric program called Tuff Kids, an eight-week program that focuses on basic movement patterns, multiple planes of motion, core strength, speed, endurance, agility and obstacles. Education about nutrition are also incorporated to encourage adoption of a healthy diet at an early age. Classes are tailored to two age groups—6-8 and 9-12—and are taught simultaneously by different trainers, allowing siblings to attend at the same time. Discounts are available for siblings and for twice-weekly classes. Inquire about party options.
24 Hour Fitness - Scarsdale and Pelham Manor
Though no newcomer to Westchester, two new 24 Hour Fitness facilities recently opened in our county—a 30,000-square-foot club in Scarsdale, and a 37,800-square-foot club in Pelham Manor. The Pelham Manor location is equipped with a Kid's Club for children up to age 12, allowing both generations to get their workout in simultaneously. Kids' Club attendants lead activities, games and crafts to facilitate exercise, socializing and fun. Attendants are certified in CPR and First Aid, and must pass a background check before being hired. Both locations cater to teens with sport-specific training, group exercise classes, dedicated zones for TRX resistance training, core work, stretching and more. Starting in spring 2018, a pool will be available at both facilities.
Looking for more ways to get out the wiggles? Make sure to check out our Event Calendar and follow us on Facebook!
All photos courtesy of respective venue.