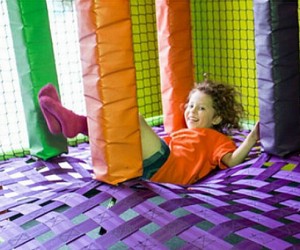 Indoor Play Spaces in Hudson County
There are tons of great parks in Hudson County, but once winter arrives, some days are better spent indoors. There are some great places in the area to play or dance or bowl or bounce inside. We've even included all the wonderful libraries in Hudson County for your little inside reader. Get your coats on, get out of the house and get into someone else's indoors. And check out our Indoor Playspaces posts for Bergen and Essex counties!
Jersey City

Wild at Play
Unfortunately, this venue has closed.
Located in the Newport area, this play facility boasts a 2,300 square foot indoor playground, including a state-of-the-art jungle gym and a focused play area. Members can use the playground during open hours. Check the website for current pricing. The play space also offers classes. 201-333-4244
three little birds
three little birds offers classes for children of all ages including music, yoga art and more. Classes are also offered for moms and, for a small fee, childcare, too! They also provide a nursery school/drop-off program called "creative little creatures" offering morning and afternoon sessions. Plus, they offer pajama parties and different drop-off parties, where your child can go and play, make crafts, dance, etc. for 2 hours. Check the calendar for schedule information. 201-528-3212
Liberty Science Center
Yes, it's a museum, but it can definitely qualify as an indoor play space, and is always a good bet on a chilly or rainy day. For kids seven and up there is the Touch Tunnel, a pitch-black, crawl-through maze. iExplore is geared for kids ages two through five and offers a stimulating and interactive environment designed for discovery, complete with a climbing apparatus and a "sandbox" which is actually filled with rice. There are always new exhibits and events and, of course, the IMAX theatre. Check here to see what's happening. Check the website for current pricing. 201-200-1000
*Note: The JC Mom's Meetup Group is a great resource for parents living in Jersey City. There are plenty of indoor play dates, meetups and events happening all the time. Go to the website to apply and become a member. Also, the NYC Dad's Meetup Group hosts events for dads and kids regularly in Jersey City and surrounding areas.
Hoboken
Kidville Annex
This franchised kid facility offers classes for kids up to age six, birthday parties and an indoor playspace. You must be an active member or accompanied by one to partake in playspace hours. When you register for any class, you get a silver membership, which includes one pass for the playspace. There is an annual registration fee. Platinum membership includes unlimited use of the playspace. 201-377-5495
At Mr. Roberts
This is an after-school program, which provides drop-off services. Care is offered after school dismissal until 7 pm Monday through Friday and even days when school lets out early. They also offer care on days when school is closed from 8 am to 7 pm. There is also a summer camp available. Mr. Roberts is now open on Saturdays from 5 pm to 10 pm and Fridays from 6pm to 10pm, so parents can enjoy a night out! Children must be potty-trained. Check the website for current pricing. 201-370-5585
*Note: The Hoboken Mom's Group offers play dates and events. Click here to john the Yahoo Group.
West New York
Hudson's House of Play
A sweet little space for kids ages 6 months to five years old, Hudson's offers a lovely custom-built open play space created to replicate a traditional downtown city square; each "building" has appropriate costumes, furniture and toys. There is also a separate area for ages two and under and a small cafe for caregivers with tea, coffee and baked goods. Call 201-751-4300 for more information.
Secaucus
Pump It Up
Are you and your child developing cabin fever? Throw a party at "the inflatable party zone!" Pump It Up offers large inflatable filled arenas and private party rooms. The facility also offers Pop-In Playtime. Check the website for current pricing. Pop-In Playtime is 90 minutes per session and children must be 34 inches and up to play on the inflatables. Check the calendar for available dates and times. 201-865-JUMP
Union City
Bowl Rite Lanes
What qualifies for indoor playtime more than a bowling alley? With 24 lanes, open lane times are offered daily during the morning and afternoon. 201-864-2667
Libraries in Hudson County
Jersey City Public Library (Main Branch)
The main branch, located on Jersey Avenue provides a wonderful children's room. Family Story Hour begins again in February and takes place on Monday, Tuesday and Wednesday at 11 am. 201-547-4519
Hoboken Public Library
The Hoboken Public Library children's department provides books for kids of all ages, weekly kids programs and special family programs on the first Saturday of each month. The children's area affords a changing station for infants, elevator access for ease of strollers and a children's-only bathroom facility. Children's programs are offered weekly, but your child must have a library card. Winter classes include Baby and Me, Toddler Time 1 and 2, After School Story Time and more. Click here for a listing of programs and family events. 201-420-2348
Secaucus Public Library
The public library offers many programs for children including Lap-Tots, Rhyme Time, Extended Story Hour and a Children's Book Club. Click here for the current calendar of children's events. 201-330-2085
Bayonne Public Library
The public library offers many children's programs including Parent/Toddler Time, Lapsit Program and Story Time. There is also a Summer Reading Club for children. The children's room is open daily, except for Sunday and offers small tables and chairs and lots of books for kids. 201-858-6975
Union City Public Library
This library offers many activities for children including Toddler Circle Time, Toddlers Together Spanish Program, Story Time, Preschool Arts and Crafts and more. 201-866-7503
West New York Public Library
The West New York Public Library's children's department offers books and programs for kids from tots to middle school. Programs include Tiny Time, Toddler Time, Reading Club, Saturday Kids Club and Arts and Crafts. 201-295-5135
North Bergen Public Library
There are children's programs offered all year. Programs for preschoolers are offered in the morning and evening and Saturday classes are available for school-aged children. 201-869 4715 Ext. 5
Kearny Public Library
The Kearny Public Library offers many programs and events for children. Getting Ready for Winter is an event where kids will get to hear a story and decorate a big gingerbread man cookie to take home. Join them for Winter Art for kids four and up. There is also a special interest collection for children with special needs available. 201-998-2666
Harrison Public Library
The Thomas Alva Edison Children's Room at the Hudson Public Library provides many children's books and activities. A library card is needed to participate. 973-483-2366
Weehawken Public Library
The library offers a children's room and a Story Time Class for kids aged three to four years. 201-863-7823
Image: Wild At Play
Originally published January 2012