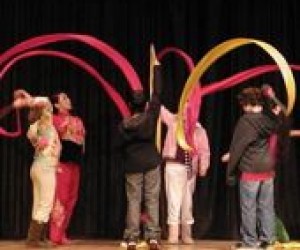 8 Spring Celebrations for Kids on Long Island
The Vernal Equinox is right around the corner and I'm sure most of us are welcoming spring with open arms. With the warmer weather suddenly upon us, we're just itching to get back outside and enjoy nature. And spring is a great time to enjoy the outdoors and show children the magical workings of Mother Nature as flowers bloom and plants grow. Check out these events and activities for kids around the Island to celebrate the coming of warmer weather, sprouting flowers and crisp (snow-free) air!
Nature Crafts
Saturday, March 13th, 2-3:30PM
Nissequogue River State Park
799 Saint Johnland Road
Kings Park, NY

Create a craft while learning about nature, while surrounded by nature! Call (631) 581-1072 for more information and to register. The cost is $3 per child.
YOU and a Beanstalk
Saturday, March 13th and Sunday March 14th
Hicks Nurseries, Inc.
100 Jericho Turnpike
Westbury, New York

Children under twelve are invited to plant their very own beanstalk during the Hicks Nursery flower show. The event is free. Call (516) 334-0066 for further details.
Afterschool Plant Detectives
Monday March 15th – Friday March 19th
Hicks Nurseries, Inc.
100 Jericho Turnpike
Westbury, New York

Children between 7 and 12 are invited to become detectives during the Hicks flower show. Pick up a game sheet at the Children's Activity Desk and begin your exploration by referring to clues about the gardens and environment.
Decorate A Planter
Wednesday March 17th; Friday March 19th , 4:30PM
Hicks Nurseries, Inc.
100 Jericho Turnpike
Westbury, New York

For a fee of $15, children can attend the workshop and decorate their own container and plant a seed. Registration is necessary – please call (516) 334-0066 for additional information.
Spring Nature Walk
Saturday, March 20th, 1:30 PM - 03:00 PM
Jones Beach State Park
1 Ocean Parkway
Wantagh, NY

Come and observe the changes of season on this first day of spring. The cost is $4 per person. Call (516) 785-1600 for further information.
Spring Nature Quest
Saturday, March 20th, 1:30PM – 3:00PM
Caleb Smith State Park Preserve and Nature Museum
581 West Jericho Turnpike
Smithtown, NY

Go on a nature hunt with the family! You'll receive a map, pencil and clipboard and off you go to being your search in a nature scavenger hunt. The cost for adults is $4, for children, $3. Call (631) 265-1054 with questions or to register.
Creative Spring Crafts
Saturday, March 20th, 1:30PM-3PM
Huntington Arts Council
Main Street Petite Gallery
213 Main Street
Huntington, NY

Children between 5 and 10 are invited to create spring themed crafts, such as flowers and butterflies. The cost is $20, which includes materials. Please call (631) 271-8423, ext. 14 to register.
Spring Inspiration: Poetry and Craft
Saturday, March 27th, 1PM
Walt Whitman Birthplace State Historic Site and Interpretive Center
246 Old Walt Whitman Road
West Hills, NY

Children 8 and older are invited to get those spring creative juices flowing! Attendees will be guided by a poet and artist as they create their very own poems and 'sculpture.' The poems will be written on egg shaped paper and the children will create a nest for their eggs. The cost is $9.75 per child. Call (631) 427-5240, ext 113 to register.