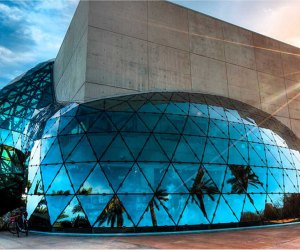 Dali Museum in St Petersburg, Florida: A (Sur)Really Unique Museum Experience
One of my favorite outings from our trip to Clearwater Beach Florida, was a day trip we took to St Petersburg to visit the Salvador Dali Museum. The Dali Museum has a huge collection of Dali paintings from his days as a student through his entire career. Kids should find the surrealistic paintings interesting, observing the odd juxtapositions of images, hidden pictures within pictures, as well as the famous melting clocks.
Audio guides in both children's and adult versions are free with admission and will definitely send you home with a much better understanding of the life and work of Salvador Dali. We took a docent-led tour and I learned a lot from our guide that gave me a better understanding of his work and the man. It was really interesting.
Even the building is fascinating at the Dali Museum. Created to withstand a category 5 hurricane, the main structure is a concrete box with an ameoba-shaped glass dome wrapped around the side. Math nerds will enjoy the fact that the central staircase bannister is a Mobius strip, making an infinite loop.
Before you go home, make sure to stop in at the Avant-Garden, where children can sit on a melting bench, stand beneatha d giant Dali mustaches and add their wish to the tree of wishes.
The Dali Museum hosts free family programs almost every day to help introduce young children to the world of Salvador Dali and is an educational and inspiring destination for everyone in the family.
Find out current specifics to plan your visit at thedali.org/