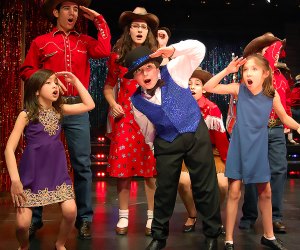 Best Summer Theater and Shows for NYC Kids 2018
Think the dog days of summer are a cultural wasteland and that all the cool new openings won't start again until fall? That's not the case when it comes to the stage—New York City's family theater scene is hotter than a heat wave.
There are shows for all ages, interests, and budgets throughout the summer season, including a number of FREE options such as no-cost high-quality Shakespeare, and alfresco shows for tots inspired by Peter Pan and Little Red Riding Hood. Plus enjoy eye-popping indoor spectacles for the whole family like MOMIX and Mummenschanz. Best of all, many of our picks cost less than $25 per ticket, and six are 100 percent FREE!
Click through to our listings for all the details, including times, venues, and prices.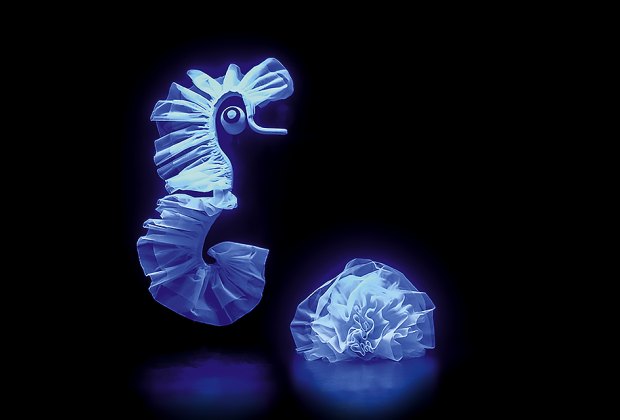 Mummenschanz visuals captivate the audience. Photo by Marco Hartmann for Mummenschanz.com
Mummenschanz — Midtown West
Wednesday, July 4-Sunday, July 22
Ages 6 and up
As a child in the '70s, I remember being so mesmerized by the kooky creatures conjured by Mummenschanz on Sesame Street that my mother took me to see the troupe's show on Broadway. As a parent, I was thrilled to introduce my own daughter to the Swiss mime company's surreal antics. This summer, Mummenschanz returns after an almost five-year absence with its latest show, you & me, a combination of classic routines and fresh material, which runs for 20 performances at the Gerald W. Lynch Theater at John Jay College. This is analog creativity as its most inventive, no technology required. The only special effects here are the performers' imagination and talent. Show your kids a couple of videos on YouTube and I suspect they'll be as hooked as I was 40 years ago! Note: Because Mummeschanz is completely silent and requires attention, it's recommended for school-age children. Save up to 20% on tickets via BroadwayBox.

The fairy tale-themed Wendy Darling & Peter Pan features people and puppets. Photo by Jeremy Amar
Wendy Darling & Peter Pan — Park Slope
Thursday, July 5-Saturday, July 21
Ages 1 and up
FREE
The adventures of Peter Pan have captivated kids for more than a century. But did you know that J.M. Barrie's iconic fairy tale started out as a series of plays? Piper Theatre's reimagining of this fantasy world fuses material from two of his shows, Peter Pan and When Wendy Grew Up – An Afterthought, to create a physical theater piece in which a cast of 11 and original Bunraku puppets play all the characters. Performances take place outdoors at the Old Stone House so bring a blanket or chair.

Antigone by the Classical Theater of Harlem is an empowering story for middle-schoolers and up. Photo by Sean McCoy
Antigone — Harlem
Saturday, July 7–Sunday, July 29
Ages 10 and up
FREE
The award-winning Classical Theatre of Harlem returns to Marcus Garvey Park with an outdoor summer mounting of Sophocles' tragedy about a fierce young woman who decides to bury her dead brother against the wishes of the king. The company infuses this classic with Afropunk style and edits down the drama to 90 minutes. Still, this is a heavy and bloody tale, so it's best for middle-schoolers and up.
RELATED: 50 Things to Do with Kids in Midtown Manhattan

Golly Gee Whiz is an upbeat musical for all ages. Photo courtesy of TADA! Youth Theater
Golly Gee Whiz! — Chelsea
Saturday, July 7–Thursday, August 2
Ages 3 and up
During the Great Depression of the '30s and World War II in the '40s, Hollywood churned out a series of Andy Hardy films starring Mickey Rooney as an energetic and enterprising young lad who just wanted to put on shows with his pals. Golly Gee Whiz! is simultaneously a good-natured send-up of and tribute to that kind of escapist entertainment, as a group of local children from Happyville, USA decide to mount a musical with the help of two fresh-faced kids named Mickey and Judy. Grown-ups will enjoy all the old-timey references while kids should get a kick of out seeing their peers onstage: the show stars member of TADA!'s Resident Youth ensemble, talented local tykes ages 8 to 18. Plus it only runs an hour, which is great for short attention spans. Tip: If your child is little, be sure to ask for a front-row bench seat.
S.W.A.K.: Sealed With A Kiss — East Harlem
Sundays, July 8-29
Ages 4 to 8
The old fairy tale takes a decidedly Disney turn as the frog's smooch turns the princess into an amphibian in Identity Theater Company's show at El Barrio Artspace PS109. Snow White, Sleeping Beauty, and an Evil Witch show up, too in this production aimed at the sippy-cup set.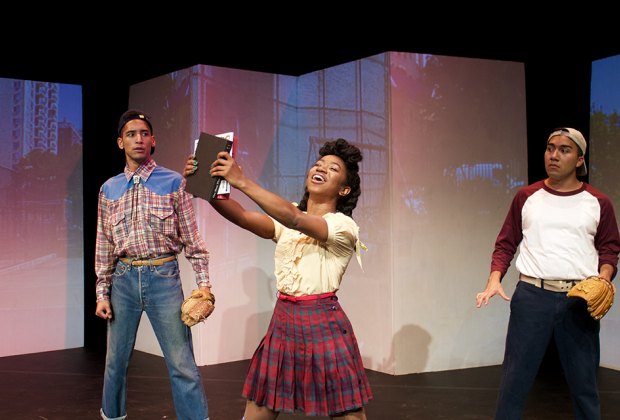 Pedro Pan plays as part of the New York Musical Festival. Photo by Stephen A. Elkins
New York Musical Festival — Midtown West
Since 2004, the annual NYMF has showcased more than 400 musicals, a few of which have even made it to Broadway, including Next to Normal, which snagged a Pulitzer Prize. While the main focus of the festival is on grown-up entertainment, a handful of family-friendly musicals are featured each year. Catch these four at Theatre Row's Acorn Theatre before they move on to bigger and better things (and higher ticket prices). All shows are $29.75 per person.
Pedro Pan — Tuesday, July 10-Saturday, July 14: Ages 8 and up
Formerly seen at FringeJR, this timely musical is inspired by Operación Pedro Pan, when thousands of unaccompanied Cuban children were airlifted to the U.S. to escape the post-revolutionary turmoil in their homeland. This show follows the journey of one such boy, as he tries to acclimate to his new home in the early 1960s.
Thicket & Thistle's What's Your Wish? — Monday, July 16-Saturday, July 21: Ages 8 and up
What do you do when you're magically sucked into a storybook? That's the predicament Nicholas and Brian find themselves in as the two teens try to navigate Death Forest. The five cast members play their own instruments in this fantastical tuner.
The Gunfighter Meets His Match — Monday, July 30-Saturday, August 4: Ages 10 and up
Get ready for a rootin'-tootin' tuner inspired by the short stories of Louis L'Amour, who chronicled the drama of the Wild West. Rollicking, dance-heavy numbers from a Brooklyn singer-songwriter infuse this tale of a gunfighter battling to win his love.
Between the Sea and the Sky — Tuesday, July 31-Sunday, August 5: Ages 9 and up
Two young Australian sisters, Sam and Emily, are enjoying a relaxing day at the beach when they discover a tragic bit of local history that inspires a deep dive into a long-forgotten mystery. A celebration of the awesome power of the ocean.
Twelfth Night — Central Park
Tuesday, July 17-Sunday, August 19
Ages 8 and up
FREE
One of Shakespeare's most beloved romantic comedies comes to the Delacorte Theater with Tony winner Nikki M. James as Viola, a young woman who loses her twin brother in a shipwreck and, in order to find work, disguises herself as a young man named Cesario. Complications arise when she falls for her employer, Duke Orsino, who's besotted with Olivia, who in turn loves Cesario, who doesn't even exist! This musicalization of Twelfth Night boasts tunes by versatile singer-songwriter Shaina Taub, who also appears in the show alongside two rotating ensembles of community members from all five boroughs. This special Shakespeare in the Park production is part of the Public Theater's Public Works initiative to create participatory productions that reflect the diversity of our city. To snag FREE same-day seats, wait in line for hours in Central Park or at the Public, enter the online lottery, or go to one of the outer borough distribution sites. With kids, the digital lottery is probably the best way to try to get in unless you're willing to make a hefty donation to guarantee seats.

The A Palo Seco Flamenco Company performs at Victory Dance on July 19th. Photo by Yo-Lin Hung
Victory Dance — Midtown West
Thursdays, July 12, 19, 26
Ages 8 and up
On three consecutive Thursdays, the New Victory Theater presents an array of dance performances aimed at young audiences. The July 12 program is already sold out, but you can check out Paul Taylor Dance Company, Seán Curran Company, Davalois Fearon Dance, and A Palo Seco Flamenco Company on July 19; and Ephrat Asherie Dance, Parul Shah, Calpulli Mexican Dance Company, and Dance Theatre of Harlem on July 26. Performances run 90 minutes and are a fabulous way to introduce school-age kids to the magic of dance on the cheap: tickets are only $10!
RELATED: 100 Free Things to Do with Kids This Summer in NYC

The Marigolds are a colorful part of MOMIX at the Joyce Theater. Photo by John Kane
MOMIX — Chelsea
Tuesday, July 24-Sunday, August 12
Ages 5 and up
Is it magic or is it MOMIX? Moses Pendleton's theatrical dance company creates nature-inspired visuals that will have you wondering, how did they do that?! For its summer run at the Joyce, the troupe presents a combination of classic repertory alongside three New York premieres. This is dance for people who say they don't like dance, as lighting effects, evocative music, fabulous costumes and props, and atheltic performers conjure unforgettable stage pictures. Note: Saturday, July 28 is designated as a family matinee, with a pre-show movement workshop for ticket holders.
Hip to Hip Theatre Company: All's Well That Ends Well — Citywide
Friday, July 27-Saturday, August 25
Ages 7 and up
FREE
There's lots of FREE outdoor Shakespeare playing around town every summer, and this comedy is another great intro to the Bard. All's Well focuses on a smart young woman named Helena who saves a king. When he asks how to repay her, she requests Count Bertram's hand in marriage but he flees, refusing to marry beneath his station. However, she won't be gotten rid of that easily. I won't lie, this problem play is a weird show (the ending is especially odd!), but this troupe tends to play up the comedy, and most of the darker moments will probably sail over kids' heads. Plus it's been streamlined to 90 minutes and is presented at no cost in various city parks, so if it's too much you can always leave. If you do decide to go, prime your kids by reading a plot synopsis, and enhance the experience by attending on a day when the troupe hosts a pre-show Kids & the Classics interactive workshop, in which children go over some text and play theater games. Note: All's Well That Ends Well is being presented in repertory with the much more adult King Lear, so be sure to check the schedule carefully to see the right show.

The Big Good Wolf is a perfect introduction to theater for little ones. Photo courtesy of City Parks Puppetmobile
The Big Good Wolf — Citywide
Through Friday, August 31
Ages 1 and up
FREE
The same folks behind Central Park's Swedish Cottage Marionette Theatre run CityParks' PuppetMobile, which tours green spaces throughout the five boroughs all summer long. In this modern-day fairy tale, Baby Bear and his BFF Goldilocks are on a mission to turn the Big Bad Wolf into a good guy. These colorful and short puppet shows are a great way to introduce tots to live theater.
The Golden Dove — Governors Island
Through Sunday, September 30
Ages 1 and up
FREE
Rising Sun Performance Company presents a half-hour show about a king, a weaver, a troubadour, and a little girl who all come together to repair a broken rainbow. Another wonderful first-time theater experience with a lovely message about teamwork.
But wait, there's more! On Thursdays at lunchtime from July 12 to August 16, you can catch FREE musical performances in Bryant Park. The lineup includes numbers from some of our favorite Broadway shows for families, including SpongeBob SquarePants (July 12); Anastasia (July 19); Come from Away and Kinky Boots (July 26); Aladdin, Frozen, and The Lion King (August 2); and Once on This Island, Wicked, and School of Rock (August 16). Bonus: On select dates, there will also be FREE Broadway in the Boros performances: Friday, July 13 at Lighthouse Point Plaza in Staten Island; and Friday, July 27 in the Bronx's Soundview Park.