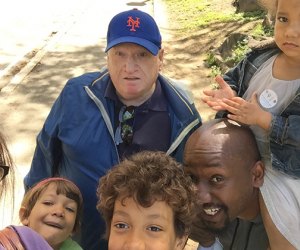 See New York City in a New Way with a Family Scavenger Hunt
My husband, who prides himself on his gift-giving, had quite a surprise for me this Mother's Day. While I had plans to meet close friends in Battery Park City, those plans were derailed when he made our family of five—toddler included—follow him to a bar in Midtown. My mood went from perplexed to pleasantly surprised when I learned the reason: He had booked a scavenger hunt for the day.
Watching The Amazing Race has become a family ritual, and this hunt, organized by Pogo Events, made us feel as if we were starring in our own mini-city version. We spent the next three hours trekking all over Midtown East and West, hunting down obscure objects and snapping selfies with them: Think everything from a Macy's bag, to a family on a picnic to the LOVE sculpture on Sixth Avenue.
In the process, we shared plenty of laughs, had plenty of fun and drew plenty of funny gazes from passersby as we tried to cram five (or more) people into every picture. We've rounded up the details on our Pogo Events hunt and three other family-friendly scavenger hunts that will help you see NYC in a whole new way, or even create a fun birthday party adventure or celebrate another special occasion.
RELATED: NYC Summer Fun Guide: Festivals, Beaches, Water Parks, Outdoor Movies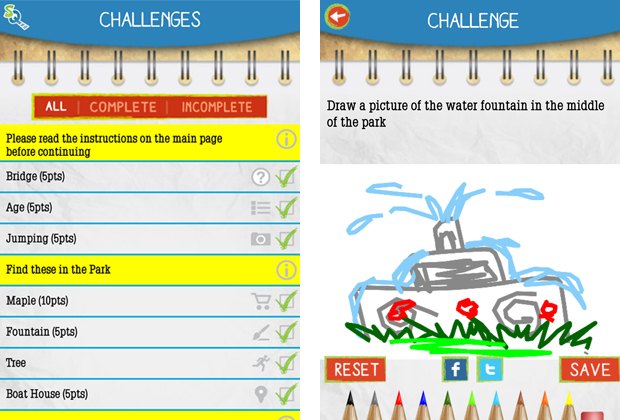 Families download the Scan-Quest app that leads them through the Pogo Events hunt challenge. Image courtesy of Scan-Quest.
Pogo Events
$25 per person
Pogo Events has more than 40 "Amazing Scavenger Hunts" to choose from and it will customize a hunt for a small group. At a public hunt you arrive at designated start/end points armed with a smartphone and the Scan-Quest app, from which you scan the hunt's unique QR code and get to work snapping selfies of items and places. Though there is a time limit (two to three hours), you work at your own pace and are free to choose your own route. You are awarded points at the hunt's end based on what you've accomplished; you are not penalized for what you haven't.
The theme of our hunt was, unsurprisingly, Mother's Day, so our items included flowers and chocolate-covered strawberries. Among the places we were asked to visit was Babies "R" Us, where we scared an expectant mother by asking for a picture with her baby bump. Another was Mother Burger. Each item you check from your list earns points. Expect some theme-specific trivia and drawing challenges that can be completed in the app, too. My daughter had to draw a family portrait, which entertained her on one of our many subway rides. Bonus points are awarded for completing these, and we earned even more points by returning to the designated start point during a specific half-hour window to perform a "detour." My family had to write a song confessing their undying love for me, earning an extra 50 points.
When the hunt was over, we returned to the venue to have our points tallied. We surprised ourselves by finishing just out of the prizes, in fourth place despite completing the hunt with a 2-year-old (sans stroller), 6-year-old, and 10-year-old. There were at least 20 other teams competing. Unlike some hunts, this one wasn't designed to include kids, but we had plenty of fun and are looking forward to bringing friends along on our next Pogo Events adventure. A word to the wise: Make sure you're armed with an unlimited MetroCard because sticking to public transportation is a rule.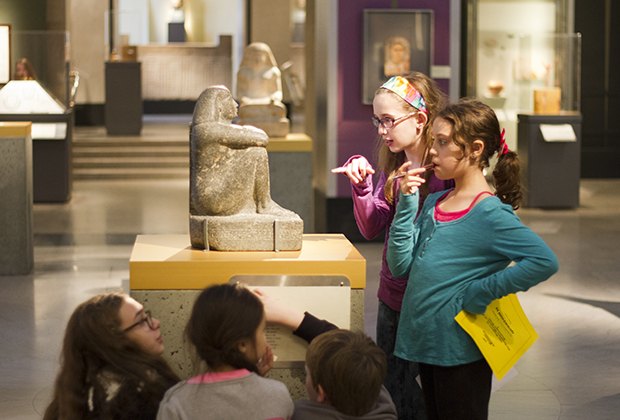 Watson Adventures offers kid-specific scavenger hunts. Photo courtesy of the venue.
Watson Adventures
$18-$30.50 for children; $22-$42.50 for adults
Watson Adventures focuses its hunts on specific locations or buildings. My kids have participated in hunts that were fully contained in Grand Central; my husband has done a grown-up-only Midtown movie hunt and the company has many options indoors and out from which to choose. During a Watson Adventure hunt, you're not collecting objects or selfies, but fun facts and trivia. You are given a clue that will lead you to a specific spot, some new knowledge or perhaps just a giggle. Watson sponsors kid-specific hunts such as the Secrets of Central Park, which takes you on a tour of the park below 72nd Street. Pay attention to ages when you book. Some hunts are for adults only, others cater to kids as young as 7, while some are 10 and older. Hunts usually last two hours, with a half-hour of added time for setup and post-hunt scoring. Planning a party? Watson Adventures also offers private hunts.
RELATED: Hoodwinked Escape Room Opens in Harlem for Family Mystery Fun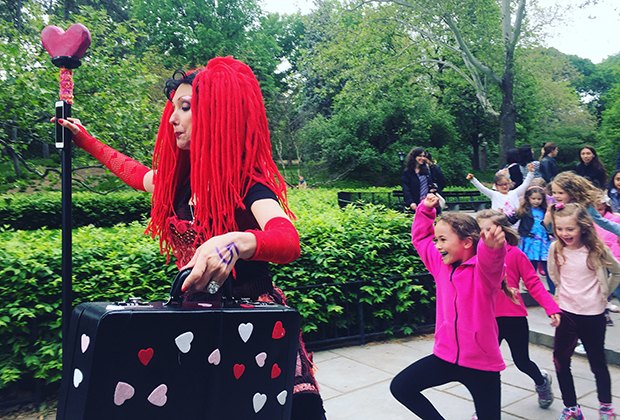 Kids tour Central Park in an Accomplice the Show hunt. Photo courtesy of Accomplice.
Accomplice the Show
$60 and up per child (includes one adult); $1000 for a private group of 12 or less kids
Part immersive theater experience, part scavenger hunt, Accomplice the Show takes kids on a two-hour outdoor adventure through Central Park. During the current show, The Quest for the Seven Teeth, kids follow the story of Franklin and his mission to find teeth for his cousin, the tooth fairy. Kids help Franklin solve puzzles to keep the story moving. Accomplice can be booked by private groups of up to 12 kids (or more in certain cases), but you might be able to find some single tickets on the calendar. It's a splurge, but snacks are included. Best for kids ages 6 to 11. The innovative theater-scavenger event also offers shows for adults.
Stray Boots
$5 and up per person
For the do-it-yourself crew, Stray Boots offers a cross between a neighborhood tour and a scavenger hunt; we've profiled the company in the past. The idea is to explore a familiar destination in a new-to-you way and Stray Boots offers hunts in many neighborhoods. Using a smartphone app, you download the hunt before heading out and answer specific questions to advance from one clue to the next.
Top image: Among the challenges on our POGO Events hunt was finding someone wearing a Mets cap. Photo by the author.