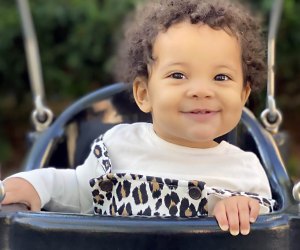 Where to Take a Baby or Toddler When You're Up Early in Brooklyn
Early to bed, early to rise; that seems to be the motto of babies and toddlers. Small urban homes mean that early birds can't be as loud or active as they want to be, so where can you go at the crack of dawn with a baby or toddler when "The City That Never Sleeps" is hitting the snooze button?
Here is a handy list of destinations for the babies of Brooklyn who like to get an early start.

Pier 6 and other playgrounds in Brooklyn Bridge Park make for a beautiful morning outing.
Rule the Playground
Early mornings are especially baby-friendly times to visit the local playground: No big kids to dodge, and a baby can be as loud and as adventurous as they please. Some of our favorite playgrounds (that open at 6am) include Fort Greene Park for the playground and paved walking loop, Domino Park in Williamsburg for the elevated walkway, playground, and fog bridge; Crispus Attucks Playground (on Classon between Fulton and Lefferts) for the stroller-accessible terrain and baby bucket swings; and Brooklyn Bridge Park for the long walking trail and multiple play areas.

Nothing quite beats a fresh donut, so head to Dough for a or another bakery for fresh warm donuts. Photo courtesy of Dough
Make Time for Donuts
Coffee, bagels, and donuts are all in demand in early morning hours. In our neighborhood, Dough (on Lafayette Avenue at Franklin Avenue) opens at 6am and makes fresh donuts in small batches throughout the day. It isn't a place to sit and play, but you and your toddler can take in the scene and grab a bag of delicious donuts before heading on to grand adventures.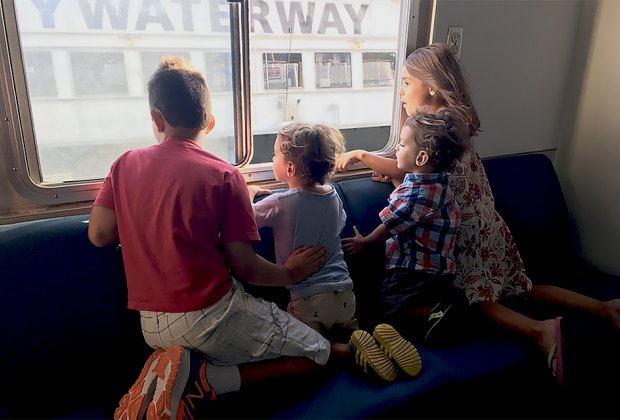 Hop on a ferry for a morning ride. Photo by Sara Marentette
Ride Until You Can't No More
Some little ones get a big kick out of vehicles; after all, the wheels on the bus go round and round all over town. If the weather is bad and you are up before the workday rush hour, the Franklin Shuttle or the Manhattan-bound Q or N trains are a good and cozy diversion because they spend time above ground for interesting window views.
If you have your sea legs, consider a ride on a ferry. The East River route of the NYC Ferry stops in Greenpoint, North Williamsburg, South Williamsburg, and Dumbo. The entire route will take you from Wall Street to East 34th Street. The South Brooklyn route of the NYC Ferry goes from Bay Ridge to Sunset Park to Red Hook to Brooklyn Bridge Park to Dumbo, and then on to Wall Street.
NYC Ferry begins service at 7am and costs $2.75 to ride. Tickets can be purchased via the NYC Ferry app or onboard, and children under 44 inches tall ride FREE.
Explore Miles of Aisles
I love browsing in grocery stores when I travel abroad, and an epic grocery experience at home is exciting as well. The new Wegmans in the Brooklyn Navy Yard certainly counts as epic, and it opens its doors each day at 7am. Roam the mostly-empty aisles working on language skills with your early riser, naming items in the market cafe, bakery, and floral departments.
Target is also open at 7am every day at City Point in Downtown Brooklyn, with a nice selection of children's books and toys. There is also a small Starbucks Cafe inside with tables and chairs, and fewer people working on computers than the usual NYC coffee shop.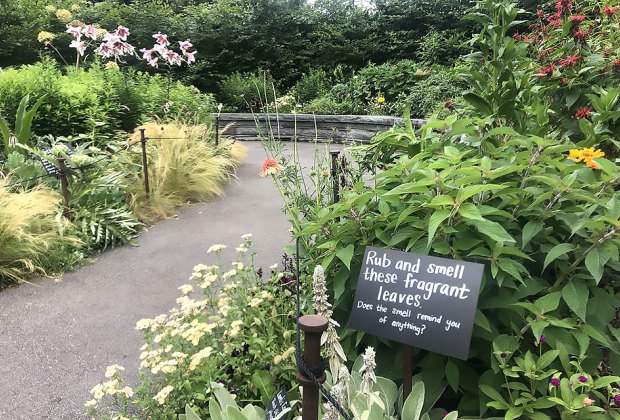 Stroll through the Brooklyn Botanic Gardens. Photo courtesy of the BBG
Have a Garden of Your Own
The Brooklyn Botanic Gardens, which has one of the most engaging and lovely children's gardens in the city, is open at 8am from Tuesday to Friday March through November, and at 10am from December through February. Children 12 and under pay no admission fee, and admission is FREE for adults every Friday from 8am until noon. During the winter months, admission is FREE during the week!
Book It
Libraries are a great place to pass the time with a baby or toddler, even though they might not be open at sunrise. Brooklyn's Central Library branch at Grand Army Plaza opens at 9am, and has a large youth section as well as three computers dedicated to children under the age of 8. There is a cafe inside the lobby, and gentle fountains line the steps leading to the grand entrance, which are fun to play in during warmer months.
See a Landmark up Close
Grand Army Plaza, visible from the Central Library, features a large archway and impressive fountain and has wide open space to roam. It is also a fun place to take photos. If you need wide-open spaces on an early morning, the Brooklyn Heights Promenade is a promising destination with plenty of park benches and stellar skyline views of Manhattan. Or maybe you have a crying baby who likes to stay on the move: The pedestrian path on the Brooklyn Bridge might be just the ticket for an early-morning stroll. Grab the morning gogo juice of your choice and take care to stay in the pedestrian lane to avoid being struck by a speedy cyclist (seriously). Make sure to go to the bathroom before you embark, as there are no facilities mid-journey.